Newsletter Summer Term 2
Dear Parent/Carer
The staff were commenting on how well all of the children settled back into school last week and how they had all worked so hard. This is typical of our children and a very well done to them all!
1.Our Talking Topic
This week we looked at the life of "St Theresa", who despite suffering from illnesses dedicated her life to god by helping other people. She made a difference to people's lives by doing little things for others, as it is often the little things that show that someone cares. Please talk to your child about this.
2.Our Value; Responsibility
This is something we teach regularly that children and families have certain responsibilities. It was disappointing last week to have so many children without PE kits and book bags as all the staff were ready for the week's lessons and parent/carers had been reminded. Newsletter and by text. Well done to Elliott Kilvington & Devante Keen-Johns R1, Amith Puli & Jayden Griffiths R2, Ayse Gurses & Francesca Zander Y1, Claire Johnson & Peter Ashley-Williamson Y1/2, Ryan Bithal & Alyssa Stanley Y3M, Eve Tams Y3J, Skye Lea-Shaw & Jackie Li Y4, Michal Chmielewski & Angel Evans Y4/5, Oliver Williams & Anet Yohannan Y5/6, Jake Bamford & Natalia Kulik Y6 who have all shown extra, mature responsibility this week.
3.Y6 "My World" Project
This is something new for Y6 and will involve them looking at the world of work and skills needed. They have 5 educational visits led by a facilitator, visiting different venues and the project emphasises the importance of developing self-confidence, raising self-esteem and resilience. It is being offered to all of Y6 in the top two classes and finishes with a Celebration event and Mock Graduation at Stoke City Football Club. It will be a fantastic project for the group after their tests in May and a great Transition Event towards high school preparation. All of Y6 are working very hard in booster classes.
4.School Clubs
We have organised some after school clubs and sent the letters out. A few parents/carers commented that their child had not got a place which is a pity, but they were all oversubscribed and we looked at who had not done a club all year first. We can only do so many, as all staff have two meetings after school and senior staff three. These are voluntary activities if staff take them. There are no clubs for Y4 or Y6 this term. Y4 will all be offered a place on the teams for Tri Golf, Indoor Tennis and Tag Rugby already arranged and Multi Skills Competition to be arranged. Y6 have had a lot of money spent on them in the "My World" Project. Please see the Exterior Notice Board outside of the office for club information. The first picture below shows a KS2 Computing Club taken at lunchtime by Mrs Bayley, the second picture is of Y1 after school Ipad Club, researching.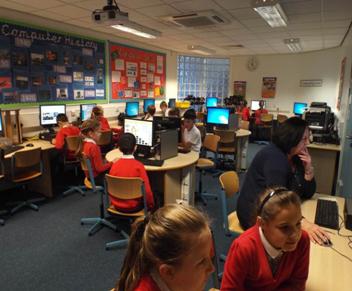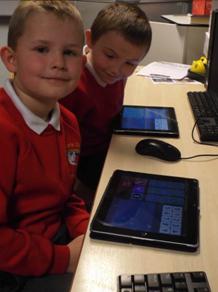 5.Events In School Last Week
Very well done to Jamie Paredes who passed her distinction award in ballet.
Y4 had a Level 1 cycling course and were complimented for their effort and wonderful manners.
6.Fundraising
We have been asked by a local school as one of the Stoke 6 group to fundraise for a little Y1 boy Lucas from Penkhull who died from a brain tumour before Christmas. His parents are trying to raise funds to support research into the disease and the local hospital. So on Friday we are selling juice and biscuits for 30p to all classes. Please support this effort which will comfort a family suffering from a tragic loss.
7.Class Of The Week

R2 at the end of the day during story time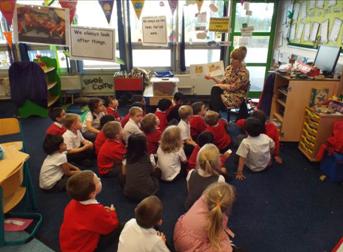 8.Style Mile
This was something we introduced this year on top of PE to help children's physical wellbeing and fitness. All classes go out at least once a week and stride, walk, jog or amble round a mile course. Mrs Scott and Mr Swindail take reception children out every day where possible and they have noted how the children's fitness has improved. It also helps address the Government's worry about childhood obesity. All the children love doing this at St John's as they know so much about the importance of healthy lifestyles.
9.Attendance And Punctuality
Mrs Ramsden in charge of attendance and has recently successfully completed a School Attendance Officer Certificate after 9 months of training.
Children in Y4 and Y5 whose attendance is over 95% and has had no more than 2 lates (no exceptions) have been offered a free reward visit on a Saturday in May to World Museum Liverpool for their attendance. Children in Y1, Y2 and Y3 who meet this criteria, will be getting an attendance prize shortly as well. Good attendance and punctuality are important life skills and are both very important at St John's, we like to reward these families.
10.Names In Clothing
Please can you check that jumpers and cardigans are named as we have had some this week discarded with no name which makes dismissing classes difficult with 30! Thank you for your help here.
11.Staff News
Miss Whalley and Mrs Halfpenny have both had gorgeous baby daughters this week and we send them all our very best wishes and love.
12.Illegal Parking
I have had a photo and complaint about a white car parking on the zig-zag lines at prohibited times. This has been forwarded to the Parking Enforcement Officer. Included in the Newsletter is a Postcode Map showing where all of our families live. I note that the majority live within walking distance, now that we have the finer weather please try to walk your child to school, it is so much healthier.

13.Reminder Next Week
Swimming starts for Y3M Y3J and Y4/5. Children need to bring their kit in a separate bag and need a swimming cap which can be purchased for £1 from the school office.
Next Thursday 28th is Y1/2 Class Assembly. The children are looking forward to seeing you.
14. Lates

Friday
10
Monday
0
Tuesday
3
Wednesday
2
Thursday
8
15. Home School Link Worker Information
Wednesday 27th April – We have a "Buzz Bus" that will be on our Sports Ground at 2:30pm. It shares information on activities and services at the Children's Centres, please come along and have a look.
Friday 6th May – All Welcome to an informal, relaxed Coffee Morning at 9am. Free coffee, tea, biscuits and chat.
16.Dates for your Diary

Monday 9th – 12th May
KS2 SATS ~ AM only
Saturday 21st May
European City of Sport Fun Run ~9:30am
Tuesday 14th June
Sports Day 1 (weather permitting)
Tuesday 21st June
Sports Day 2 (Alternative Date)
Friday 24th June
Sports Day 3 (Alternative Date)
Monday 27th June
Sports Day 4 (Alternative Date)
Saturday 2nd July
Community Summer Fair ~ 12:00-2:00pm
Tuesday 5th July
End Of Year Concert ~ 1:00pm & 6:00pm
Wednesday 6th July
End Of Year Concert ~ 9:30am
Tuesday 12th July
Y6 Leavers Presentation ~ 6:00pm
17.Celebration Assembly Dates

Thursday 28th April
Y1/2 ~ Class Assembly ~ 9:05am ~ All Welcome
Friday 20th May
Y1 ~ Class Assembly ~ 9:05am ~ All Welcome
Friday 10th June
R1 & R2 ~ Class Assembly ~ 9:05am ~ All Welcome
18.Celebration Assembly
Our children/classes who received awards on 15/04/16 were:
1B ~ Anayah Shazad
1/2 ~ Satrika Sumod
2C ~ Anashe Mutize
3J ~ George Baldwin
3M ~ Delin Nageem
4E ~ Charlie Simpson
4/5 ~ Jazsadaphorn Babickas
5/6 ~ Harvey Tams & George Barnett
6H ~ Jack Eaton
Mrs Bloor's Award: Jacob Sinpson
Dusty Bin (tidy classroom): Y4E
Y6 Prefects Award: Y1B
Smart School Uniform: Rubina Mahnoor
Lunchtime Supervisor's Award: Peter Ashley & Kian Murphy
Time for Sport: Y6
Walk to School: Y4/5
Lunch Time Award: Y1
Attendance Awards given out for data collected w/b 21/03/16:
Whole School Attendance: 93.6% (Government target is 95%)
Class Attendance:
1st Place ~ Y6 ~ 100%
2nd Place ~ R2 ~ 98.6
Pupil Attendance Awards:
1, Claire Jihnson
2, Leah Rose Walker
Water World Voucher: Oliver Brereton-Lewis
19.Attachments
Postcode Plot – See number 12 above
Yours sincerely
Mrs P Bloor
Headteacher