Newsletter Summer Term 3
Dear Parent/Carer
We had a lovely learning week last week and I visited every class twice during the week noting how happy and busy all the children were with their learning. We are so proud of all your children, as you must be.
1.Our Talking Topic
This week we have looked at stories from other countries. The children have been told about people from other countries and cultures to make them realise how we are just a small part of a big world.
2.Our Value; Co-Operation
This is a key value at St. John's and involves everybody working together. It is a strength of our community. Very well done to Maria Xanthopoulou & Theo Molyneux Y6, Alan Babu & Kiera Wieldon Y5/6, Ryan Davis & Chanelle Tooth Y4/5, Haya Jamil & Joel Sheldon Y4, Madison Steadman & Joseph Machin Y3J, Joda Tagboto & Rhys Wooliscroft Y3M, Anto Yohannan & Bethany Morrey Y2, Cindy Li Y1/2 and Jayden Barlow Y1, who have all been noticed showing special co-operation this week.
3.Road Traffic Accident
Sadly, on Friday after school one of our Y6 children were knocked over on the crossing by Tesco on the A34. She has been at Alder-Hay Hospital in Liverpool, having suffered a fractured shoulder and skull. She was, as parents have acknowledged, very lucky and it is super to note she is making a recovery. A pupil in Sneyd Green was killed last week playing in the street after school.
This highlights why road safety is so important and the need for parents/carers to park and drive responsibly. We have spoken this week to all of the classes about the need to walk safely, not to play near parked cars and how to use crossings safely. This is something we do regularly and will be an important focus in our Health and Well Being week in July. Please talk about road safety at home with your family. All parents/carers can do their bit to help, so no other family has to go through this horrific experience, by parking, if they need to away from the school and not clogging up the streets just because it takes effort to walk further. Also, to drive no more than 20 MPH near to school as speed above this can kill a child. I will be following up road safety near the school with the council, PCSOs and parking enforcement officers. I do so hope we never have one of our precious children injured by a car again.
4.Building Project
We are delighted to report that we have been successful in a bid from the Lichfield Diocese for £85,000 to turn the wasted decking area off the hall into a learning area for small groups and 1 to 1 work/meetings. The Diocese have always thought highly of the school and have always supported us well. We are hoping this will be done over the summer and will be another great addition to the school.
5.Lunchtime And After School Clubs
The lunchtime Scooter Club (some were going too fast for the picture!)
Miss Pickerill's after school Healthy Making and Baking Club. The Y2 children were making healthy sandwiches from fresh ingredients. Last week they made fruit kebabs. They all looked so good they ought to be writing a recipe book!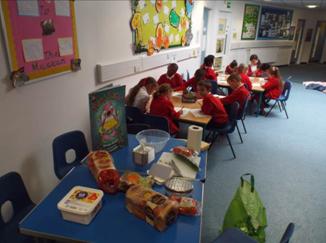 6.Class Of the week

Y3J working on a Plant Experiment during a Science lesson.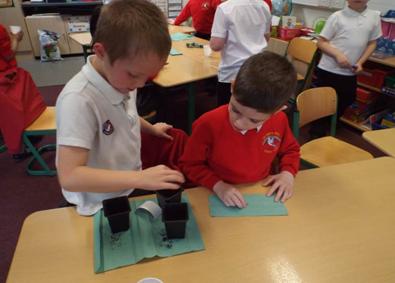 7.Events/Activities In School Last Week
Thank you to parents/carers who attended the Book-Start Project in R1 and R2. It is so important that books are shared with the children.
Y4 had the opportunity to undertake Bikeability Level 1 and 15 children impressed the trainer with their knowledge and outstanding manners. Very well done this group.
Last week we had a whole school Faith and Prayer Week with all the classes looking at aspects of prayer from the different faiths in our school community. It is so important that children respect and know about the faith of others. I had a Diocese Advisor tour the school and he watched two classes working on this, he was impressed with the children and the quietness of the school.
Very well done to Macey Simpson who was awarded the Player of the Tournament at a recent Stone Dominoes under 8's girl's Football Cup Final. The team are short of girls for the next season if anyone is interested?
Very well done to Isabelle Godwin who came first in a recent Ballet Competition.
8.City of Sport Fun Run
This is to give you plenty of notice about the 2km Fun Run we are hosting for children and families in the area on Saturday 21st May at 9:30am. The city wants as many of these events to take place on the same day to celebrate Stokes City of Sport Status. Miss Pickerill is leading a team to organise it and all successful competitors will be given a special Stoke on Trent Medal.
Children and adults can run, jog, amble or walk even with pushchairs! This will be a great community event that is free to take part. Please put the event in your diary.
A sheet outlining reasons why you should do the fun run is included with the newsletter.
9.School Uniform
Thank you for sending the children into school again this term looking so smart. It does so help to create our family atmosphere and the right learning atmosphere. A few children are in trainers which are not part of our uniform and not good for growing feet .We do use uniform adherence when selecting children to go out on sporting and representative opportunities as a way of thanking families who support the school policies. Mrs Beech-Daly who has a pupil at the school tells me Tesco sell school shoes from £8.
10.Reminders
On Friday 29/04/16 we are selling juice and biscuits for Lucas, the little boy at The Willows who died from a brain tumour. His family want to raise money for research and the hospital.
Y3J and Y3J need their swimming kits tomorrow (29/04/16); these classes along with Y4/5 have 10 swimming weeks this term.
Next Monday is a bank holiday and the school is closed on Thursday as the council have taken the premises for the Police Commissioner and Council Elections.
11. Lates

Friday
1
Monday
13
Tuesday
4
Wednesday
4
Thursday
2
12.Dates for your Diary

Thursday 5th May
Police Elections ~ Training Day
Monday 9th – 12th
May KS2 SATS ~ AM only
Saturday 21st May
European City of Sport Fun Run ~9:30am
Tuesday 14th June
Sports Day 1 (weather permitting)
Tuesday 21st June
Sports Day 2 (Alternative Date)
Thursday 23rd June
EU Referendum ~ Training Day
Friday 24th June
Sports Day 3 (Alternative Date)
Monday 27th June
Sports Day 4 (Alternative Date)
Saturday 2nd July
Community Summer Fair ~ 12:00-2:00pm
Tuesday 5th July
End Of Year Concert ~ 1:00pm & 6:00pm
Wednesday 6th July
End Of Year Concert ~ 9:30am
Tuesday 12th July
Y6 Leavers Presentation ~ 6:00pm
13.Celebration Assembly Dates

Friday 20th May
Y1 ~ Class Assembly ~ 9:05am ~ All Welcome
Friday 10th June
R1 & R2 ~ Class Assembly ~ 9:05am ~ All Welcome
14.Celebration Assembly
Our children/classes who received awards on 11/04/16 were:
1B ~ Jayden Barlow
1/2 ~ Leah-Rose Walker & Peter Williamson-Ashley
2C ~ Theodore Pinto
3J ~ Robin Craggs
3M ~ Osman Hashem
4E ~ Kiera Tatler
4/5 ~ Brodie Sinclaire
5/6 ~ Solomon Johnson
6H ~ Kieran Tonks
Mrs Bloor's Award: Isabelle Westwood
Dusty Bin (tidy classroom): 5/6
Y6 Prefects Award 5/6
Smart School Uniform: Aliya Davidson & Lina Al-Hussein
Lunchtime Supervisor's Award: Dylan Colclough & Jagoda Kulik
Good to be Green KS1: Bethany Morrey & Humaira Shakil
Good to be Green KS2: William Cooper, Beth Brennan, Rasa Babickas & Kira Reilly
Time for Sport: Y6
Walk to School: 4/5
Attendance Awards given out for data collected w/b 22/4/16:
Whole School Attendance: 96.6% (Government target is 95%)
Class Attendance:
1st Place 100% Y1/2, Y2C & Y6
2nd Place 99.2% 1B
Pupil Attendance Awards:
1, Holly Butler-Gaskell
2, Tyler Hodgkinson
Water World Voucher: Jagoda Kulik
15.Attachments
1, Fun Run Benefits
2, Badminton Sessions
Yours sincerely
Mrs P Bloor
Headteacher