Newsletter Summer Term 4
Dear Parent/Carer
As we finish an unusually short week, with the promise of better weather to come, it has been lovely to see the focus of the children.
1.Testing
There has been a lot in the press about parents/carers boycotting tests for KS1 children. Unsurprisingly, our parents/carers are far too sensible for this! Testing in some form is carried out regularly in all classes, it is the way we see what the children need to be taught to move their learning forward. Children in Y2 had some Maths Tests this week and the results will inform the next steps. Yes they are harder as the Government have increased expectations (KS1 children need to know what a verb, adjective, noun and adverb are) but if they know that they will be better writers, it's worth doing and we all want the best outcomes for all our children. Again, in Y6 they need to know what model verbs, adverbials etc. are, but again they use these in their writing lessons and did so this week.
Next week KS2 children have their tests which they have been thoroughly prepared for and many of the children are looking forward to them as a challenge, they know it will help them when they do other tests leading to their GCSEs. The tests are on the following days, in the mornings – we always give the children toast beforehand!
Monday-English, Reading, Tuesday- English, Grammar, Punctuation and Spelling, Wednesday Maths paper 1, Arithmetic, Thursday- Maths 2.
Can all Y6 parents/carers please ensure their child arrives punctually on that day, as we have two pupils with broken limbs who have to have a scribe as per the regulations, and we will need to start punctually.
2.Class Of The Week

Y1 creating an African beat in music with Miss Chapman. It sounded wonderful!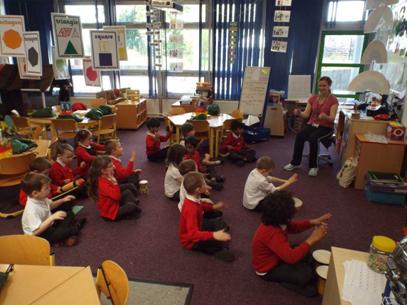 3.Road Safety
A student who works in the school has told me that over the weekend she saw pupils from Y2 running in between parked cars on the road and causing problems for traffic. On a week when a 7 year old died after school and we had our own accident, this is very worrying. Please speak to your children about road safety and check where they are playing. They are all so very precious.
4.School Swimming
This started last week, very well done those who achieved their beginner's award on the first week; Lina Al Hussain, Isabelle Godwin, Grace Leese, Alyssa Stanley, Oliver Woodward and Ethan Hill. A reminder that school swimming is all about being safe and children are not allowed to wear goggles, unless they have a medical issue. It is all about teaching children from the start to be safe, children do not walk round with goggles on. Children need either a one piece costume for girls or swimming trunks or speedos but not shorts for boys. Last week four children had no coat and unfortunately the first bus broke down. Please ensure your child has everything they need.
5.School Clubs/Activities

Drama Club in a characterisation warm up with Mr Wright.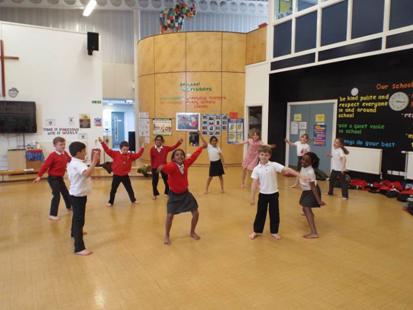 6.Events In School Last Week
Well done to George Baldwin, Beth Brennan, Emma Brennan, Jessica Cotterill, Aiden Johnson, Berrie Johnson, Jackie Li, Kane Sylvester, Ronnie Stimson, India Vickers and Eliza Williams who represented the school in a short tennis competition this week. They did not get through to the final but Miss Cruxton reports there were some good matches.
Thank you to the families who supported the juice and biscuits for Lucas. It raised £80 and this has been passed to the family who are fund raising for research into brain tumours.
Very well done to Alan Babu Y5 who won a commendation in a recent gifted and talented design competition organised by Mrs Wolfe. He and his family will be invited to a special presentation in June.
Very well done to Miss Pickerill who has passed a National Anti-Bullying Award following additional study.
7.Lates
Next Saturday pupils in Y4 and Y5 with 95.5% or better attendance and no more than 2 lates (no exceptions) are being taken on a Saturday to an Attendance Reward Visit. It will be a lovely day. Children in Y1, Y2 and Y3 who meet this criteria will be given a special art pack as their reward. Good attendance is very important for educational success.
8.Time4Sport Holiday Camps
The perfect way for your children to have fun, stay fit, be safe, make new friends and learn during the school holidays. Open for children aged 4-12! FLEXIBLE AND AFFORDABLE HOLIDAY ACTIVITIES. Our early drop off and late pick-ups make our holiday clubs accessible for children with working parents. For more information please see the Time4Sport Website. http://www.time4sportuk.com/holiday-camps/
9. Lates

Friday
0
Monday
Bank Holiday
Tuesday
5
Wednesday
7
Thursday
Training Day
10. Home School Link Worker Information
Health Guidelines
We have been given new health guidelines about how much time your child should be off when ill. If your child has been sick or has diarrhoea they must be off for 24 hours AFTER the last bout of illness. But if they have both at the same time then they must be off for 48 hours AFTER the last bout. We do still expect children to come in with colds, sore throats and headaches. If we have any doubt about your child we do ring to ask you to come and fetch them.
11.Dates for your Diary

Monday 9th – 12th May
KS2 SATS ~ AM only
Saturday 21st May
European City of Sport Fun Run ~9:30am
Tuesday 14th June
Sports Day 1 (weather permitting)
Tuesday 21st June
Sports Day 2 (Alternative Date)
Thursday 23rd June
EU Referendum ~ Training Day
Friday 24th June
Sports Day 3 (Alternative Date)
Monday 27th June
Sports Day 4 (Alternative Date)
Saturday 2nd July
Community Summer Fair ~ 12:00-2:00pm
Tuesday 5th July
End Of Year Concert ~ 1:00pm & 6:00pm
Wednesday 6th July
End Of Year Concert ~ 9:30am
Tuesday 12th July
Y6 Leavers Presentation ~ 6:00pm
12.Celebration Assembly Dates

Friday 20th May
Y1 ~ Class Assembly ~ 9:05am ~ All Welcome
Friday 10th June
R1 & R2 ~ Class Assembly ~ 9:05am ~ All Welcome
Yours sincerely
Mrs P Bloor
Headteacher