Newsletter Summer Term 5
Dear Parent/Carer
As we finish another busy week with typically mixed weather, let's hope we get more regular sun soon to cheer every-one up. Although in school, all our pupils cheer us up every day!
1.Our Thinking Topic
This week we have been thinking and talking about responsibility. Please talk to your child about this.
2.Our Value; Friendship
This is something our children have in abundance. Very well done to all the children at St. John's. We are very proud of all our pupils!
3.Y6 SATs
These were completed successfully this week and every Y6 pupil did their very best and handled the tests in a mature, positive way with no undue pressure due to the way the children have been taught. We feel the grammar and maths tests went especially well.
The children had toast every morning, a new water bottle and Jaffa cakes at break to keep up energy levels. Three children with fractures/injuries had to be scribed for as per the strict regulations. We always seem to have some Y6 with injuries every SAT's week!
As Orlando's mum said to me "you have not put them under that much pressure". But they have been taught very well by Mrs Halfpenny, Mrs Peake, Mrs Wolfe, Mrs Bayley and myself, as we want the best possible standards for all children as they go to high school, this has meant sometimes pushing them academically to get to the next level quicker. When they go to high school they will reap the benefit of this excellent preparation.
The reading test was difficult and if children don't get to Y6 as fluent readers they won't be able to reach the required standard. So, it is crucial that children are heard to read at home at least 4 times a week. Sadly, we have some families, luckily a small minority, who are letting down their children.
Y6 were brilliant and their families can be very proud of them! On Friday they start their My World project linked to transition and the world of work, involving 6 visits starting with Stoke City on Friday!
4.Events In School Last Week
A group of pupils took part in the Sunday Service at St John's Church. They all looked fantastic and completed their readings brilliantly. A special very well done to Eleanor Williams, Declan Matthews ,Orlando Heselwood, Sasha Steele, Sam Cole, Georgia Piesse-Mills, Anthony Evans, Angel Evan and Evie Beech-Daly who gave up time on a Sunday to represent the school.
A group of Y4 pupils took part in a Paralympics Sporting Competition last week and won first prize, which is excellent news. Very well done to Evie Beech-Daly, Lennon Gladwin, Ricardo Gordon, Milly-Mae Gray, Erin Hill, Ruby Howard, Matthew Ingram, Jackie Li, Jensen Nyuyen, Ranudi Premadasa, Joel Sheldon, and India Vickers who came in first place in the tournament. Miss Cruxton reported how well the group behaved and worked together.
Well done to Joseph Machin who gained his Beginner's Award in swimming.
Another group took part in a tag rugby competition at Trentham High School. Very well done to Tyler Baldwin, Lily-May Barlow, Dylan Colclough, Lennon Gladwin, Ricardo Gordon, Erin hill, Skye Lee-Shaw, Ben Morris, Jenson Nguyen, Charlie Simpson, Oliver Woodward and Anopa Mutize who Mr Walter ranked as the player of the tournament.
Any-one interested in joining a mini rugby team at Trentham Rugby club should contact 07966901335
Well done to the lower KS2 children who have bought in excellent models showing the journey of a river. It is great that families work together to help learning and extend vocabulary.
Well done to Oliver Woodward who has been given a Scholarship to play for Port Vale.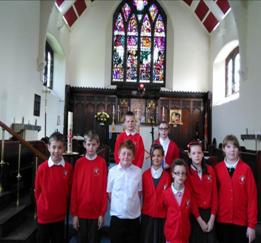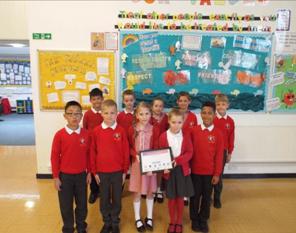 5.Class Of The Week
Y1/2 working on block graphs in maths.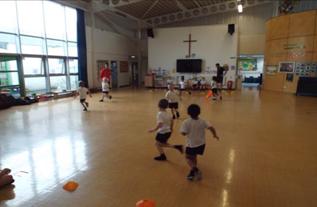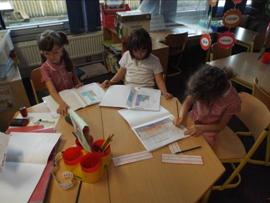 6.Clubs/Activity Groups
Reception mini-kickers
7.School Routines
All KS1 and KS2 classes have water bottles for the children, they are filled every morning and sterilised each week. They don't take the place of drinks with meals in the hall or with the packed lunches, but they allow children to quench their thirst at certain times of the day.
8.No Cars On The Sport's Ground This Friday
We have a special My World Project for Y6 linking transition work with the world of work and skills needed. There are 6 visits organised that need a prompt start. So, on Friday no cars will be allowed to park on the sport's ground. All families may use the drop off zone and drive slowly round. Or better still walk to school or park and stride. This will also be happening on 18th May, 27th May, 10th June, 22nd June and 1 other day when we need punctual departures. This is so we maximise the learning on hiring expensive coaches for our visits that we subsidise significantly. Mrs Barnes in the office was asked to pay £21 for a visit to Cannock Chase at another school.
This is the normal routines of all other schools who do not open their grounds to parents/carers at all.
I have had another complaint this week from a resident about a parent blocking a drive and being abusive. The resident apparently called the police. Please be considerate to our neighbours!
9.Attendance Reward
On Saturday 39 children from Y5 and Y4, whose attendance is 95% or better with no more than 2 lates are being taken to Liverpool. This is a reward for good attendance and should be a good experience for them. Luckily we have 4 staff who are prepared to give up their time on a Saturday to reward the children and families. Children in Y1, Y2 and Y3 who meet this criteria will have a prize to take home on Monday.
10.Next Week In School
Y6 (Mrs Peake's class) Level 2 Cycling
Thursday and Friday. Bikes are being provided if needed. Any issues please contact Mrs Ramsden.
11.City Of Sport Fun Run
This is on Saturday 23rd May at 9:30. All taking part in this free event will get a special medal.
12. Lates

Friday
4
Monday
1
Tuesday
7
Wednesday
1
Thursday
5
13. Home School Link Worker Information
As the weather has been so changeable over the past week we have had days where children have not brought coats into school and we have had rain in the afternoon, this makes it difficult for the children to play outside. If the weather is looking uncertain can you please ensure your child brings a coat, it is better for them to not need one than to not have one should it rain.
14.Celebration Assembly Dates

Friday 20th May
Y1 ~ Class Assembly ~ 9:05am ~ All Welcome
Friday 10th June
R1 & R2 ~ Class Assembly ~ 9:05am ~ All Welcome
15.Dates for your Diary

Saturday 21st May
European City of Sport Fun Run ~9:30am
Tuesday 14th June
Sports Day 1 (weather permitting)
Tuesday 21st June
Sports Day 2 (Alternative Date)
Thursday 23rd June
EU Referendum ~ Training Day
Friday 24th June
Sports Day 3 (Alternative Date)
Monday 27th June
Sports Day 4 (Alternative Date)
Saturday 2nd July
Community Summer Fair ~ 12:00-2:00pm
Tuesday 5th July
End Of Year Concert ~ 1:00pm & 6:00pm
Wednesday 6th July
End Of Year Concert ~ 9:30am
Tuesday 12th July
Y6 Leavers Presentation ~ 6:00pm
16.Celebration Assembly
Our children/classes who received awards on 06/05/16 were:
1B ~ Daniel Polhos
1/2 ~ Daniel Isi Efefaroro
2C ~ Adam Guenane
3J ~ Lekshmi Manesh & Angelina Abraham
3M ~ Tyler Conway
4E ~ Ricardo Gordon
4/5 ~ Erin Hill
5/6 ~ Kenzi Shepherd-Moss
6H ~ Jake Bamford
Mrs Bloor's Award: Arahbela Arvesu-Parsery & Raul Miah
Dusty Bin (tidy classroom): R1
Smart School Uniform: Arahbela Arvesu
Lunchtime Supervisor's Award: Christion Smith & Angelika Szkarska
Y6 Prefects Award: 3J
Lunchtime Award: Y4
Walk to School: Y6
Attendance Awards given out for data collected w/b 25/04/16:
Whole School Attendance: 96.8% (Government target is 95%)
Class Attendance:
1st Place 2C ~ 99.2%
2nd Place 1/2 ~ 99.1%
Pupil Attendance Awards:
1, Chad Varquez
2, Isabelle Westwood
Water World Voucher: Jack Eaton
17.Attachments
Yours sincerely
Mrs P Bloor
Headteacher