Newsletter Summer Term 6
Dear Parent/Carer
We have had a lovely learning week in school with all the classes engrossed in their learning and wanting to do their best. Our pupils, your children, are really very special to us all.
1.Our Talking Topic
We have been thinking about honesty this week and I told the children a story about telling lies and how a little lie can lead to further lies. The children were told that honesty is always the best policy, which I know parents/carers teach.
2.Our Value; Honesty
This is one of our key values and taught in all classes daily. It is also the strength of all our pupils. When there is a behaviour issue we can always rely on the children to tell the truth. Very well done to Sdan Osman & Jackson Faber Nursery, Phoebe Sykes & Lewis Crags R1, Cisco Handy & Rattan Sangaraju R2, Elliot Pye, Zarrar Jamil 1B, Izza Fatima & Pia Cousins 1/2, Davis Kurian & Theodore Pinto 2C, Isabelle Godwin & Archie Hambleton 3M, Robert Brian & Adithya Sunil 3J,Tyler Baldwin & Lily-May Barlow Y4, Alexander Morrey & Ranudi Premadasa Y4/5, Harvey Tams & Nicole Steele Y5/6, Laynee Tunnicliffe & Chad Varquez Y6 who have all shown great honesty this week, very well done!
3.Academy Status
Our Academy conversion has been approved by the Department of Education. It probably will not be finalised until January. We shall and are working with Christchurch C.E. Primary at Fenton and St Mary's C.E. atTunstall already and this group will be part of the Anglican School's Alliance. We are also part of the Stoke 6, as schools working together is the way that education improves. The school will not be changing its name, nor its ethos, which is so well supported by parents/carers.
4.Class Of The Week
All Y6 at the My World visit to Newcastle Community Fire Station.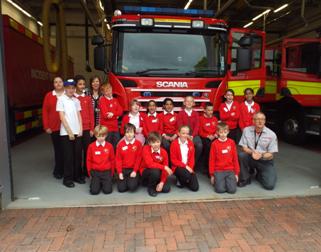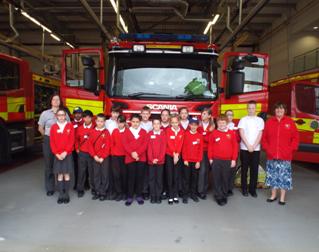 5.Good Attendance Reward Visit
On Saturday 39 Y4 and Y5 children, whose attendance was 95% or over with no more than 2 lates, were treated to a free visit to World Museum Liverpool. They also went into the Albert Dock area and visited the Titanic Exhibition. They thoroughly enjoyed the visit which was also a reward for families that send their children regularly to school. Very well done to this group.
The class with the best attendance this year will also have an extra visit in lesson time as an extra incentive, as there is a clear link between good attendance and attainment.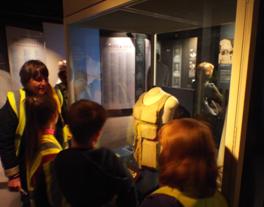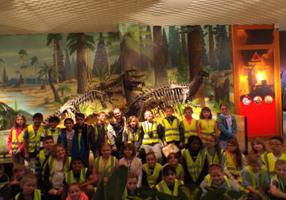 6.Events In School
Well done to the Y2 children who have had reading tests this week to assess progress and identify next steps.
Swimming Awards: Beginner's Certificate Vithak Wickramatunga and Amber-Louise Gregory.
Y6 enjoyed the first two of their My World visits and work associated with it.
Maria Xanthopoulou is undertaking the Donna Louise Family Fun Run on 22nd May if anyone wants to sponsor her, the form is in the office.
A group of children took part in a Tri golf competition on Monday. Very well done to Alan Babu, George Barnett, Ryan Davis, Angel Evans, Jerome Juguilon, Ellie Moreton, Brodie Sinclaire, Harvey Tams, Keira Whieldon and Anet Yohannan.
7.School Disco
We are having a disco next Thursday for KS1 and KS2 children (no reception pupils) from 3:00pm to 4:30pm. All children are invited, except those who have had a red card since Christmas. This is 7 children whose behaviour has disrupted learning, so do not deserve the treat. It will cost £2 which includes a drink and crisps. There are some other refreshments etc. to buy as well. Clubs on Thursday will not take place.
8.Events In School Next Week
On Wednesday there will be class photographs. No individual ones unfortunately, can be taken on this day.
Also on Wednesday we are fundraising for the Anthony Nolan Trust for people with blood cancer and trying something different that Y6 suggested. We will be selling ice creams and lollies for £1. If you wish your child/children to take part please bring the £1 into school on the Wednesday. Mrs Burgess will collect the order at 9:30 and then collect the ice creams. No late money can be included. We will remind the children and send texts the day before.
9.School clubs
Can we remind parents/carers that we are very strict on collection from clubs/visits. So if the box is not ticked to say whether the child can walk or is being collected, then we will presume that your child will be collected. Thank you for your help here.
Make and Bake Club
This week children dug up potatoes which they have successfully grown, the children used these potatoes to make their own healthy potato salad with the help of Miss Pickerill.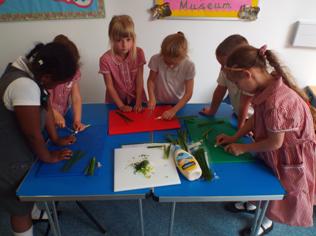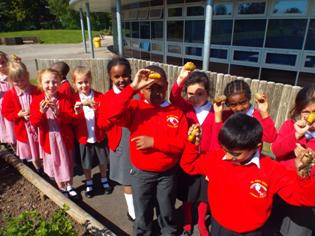 10.Building Work In School
The project to convert the outside quad to a learning area has started this week and will take 12 weeks. There is little disruption to the school .It will provide another super learning area for small groups and meetings and will help the children.
Can I remind breakfast club children that they should not be on school premises before 8:10am as we do not take responsibility for them before 8:15am. A few are being dropped off too early!
11.City Of Stoke Fun Run
A reminder to you all that this is on Saturday at 9:30am here at St John's to celebrate the city sporting status. The pedestrian gate will open at 9:00am (no cars allowed on site) and runners need to be registered by the office area. All competitors get a medal after going round the 2 km course. It will take place whatever the weather and what a lovely energetic event for all the family to experience.
12.After School Trim Trail
Our KS2 trim trail is used extensively at break time and lunchtime by KS2 children supervised by staff. No child is allowed on after school and it was positioned so no child, under supervision of parents/carers at home time, should be anywhere near it. The children do know this! Thank you for your help.
We had an accident last week caused by children engaging in rough play. They have all been told again this is not allowed and anyone engaging in it will be sent in. Can we also remind parents/carers that the school grounds are a no eating zone after school. It is not good for children to be eating whilst walking, snacking is not part of our healthy lifestyle teaching.
13.Idea For Birthday Present
We have noticed that the time questions at KS1 and KS2 tests were not particularly well answered. Why not buy your child a watch for their birthday and help them to learn to tell the time and work out problems using time?
14. Home School Link Worker Information
Hopefully this year our family picnic will take place. For the last two years we have had to cancel due to the good old British weather.
It takes place on Wednesday 8th June 1.30pm-2:30pm. You should have all received a letter with a reply slip. If you are attending please make sure the reply slip is returned to school no later than Friday 27th May. We need to know who is attending so staff will be able to plan for those who will still be in class. Let's keep our fingers crossed for good weather!
15.Dates For Your Diary

Saturday 21st May
European City of Sport Fun Run ~ 9:30am
Tuesday 14th June
Sports Day 1 (weather permitting)
Tuesday 21st June
Sports Day 2 (Alternative Date)
Thursday 23rd June
EU Referendum ~ Training Day
Friday 24th June
Sports Day 3 (Alternative Date)
Monday 27th June
Sports Day 4 (Alternative Date)
Saturday 2nd July
Community Summer Fair ~ 12:00-2:00pm
Tuesday 5th July
End Of Year Concert ~ 1:00pm & 6:00pm
Wednesday 6th July
End Of Year Concert ~ 9:30am
Tuesday 12th July
Y6 Leavers Presentation ~ 6:00pm
16.Celebration Assembly Dates

Friday 20th May
Y1 ~ Class Assembly ~ 9:05am ~ All Welcome
Friday 10th June
R1 & R2 ~ Class Assembly ~ 9:05am ~ All Welcome
17.Celebration Assembly
Our children/classes who received awards on 13/05/16 were:
1B ~ Tyler Hodgkinson
1/2 ~ Matthew Piesse-Mills
2C ~ Theodore Pinto
3J ~ Ethan Hill & Sarayu Baddam
3M ~ Hollie Bentley
4E ~ Lily May Barlow
4/5 ~ Michal Chmielewski
5/6 ~ Jamie Paredes
6H ~ All of Year 6
Mrs Bloor's Award: Lina Al Hassein & Vithakshi Wickramatunga
Dusty Bin (tidy classroom): Y2C
Smart School Uniform: 3M
Lunchtime Supervisor's Award: Skye Lea-Shaw & Cindy Li
Time for Sport: Y6
Walk to School: 1/2
Lunch Time Award: 5/6
Water World Voucher: Megan Proudlove
Attendance Awards given out for data collected w/b 02/05/16:
Whole School Attendance: 96.2% (Government target is 95%)
Class Attendance:
1st Place: 2C, 4/5 & 5/6 ~ All got 100%
2nd Place: 3J ~ 98.9%
Pupil Attendance Awards:
1, Molly Hancox
2, Harvey Tams
18.Attachments
Big Book Sale:
As part of our ongoing work at St John's to encourage our children to enjoy reading, we are planning to hold a Big Book Sale in support of the National Literacy Trust.The Big Book Sale is a chance for us all to enjoy books, share a love of reading and raise money to help give disadvantaged children across the UK the literacy skills they need to succeed.What we need from you are donations of children's books. You may have books at home which your own children have grown out of but could be enjoyed by others. Please send your (good condition) pre-loved books into school by Tuesday 24th May and we will be holding the Book Sale on Wednesday 25th straight after school in the KS1 playground if dry (indoors otherwise) and most books will be just 50p. Let's work together to share books, promote reading for pleasure and raise some money for disadvantaged children.

Our thanks in anticipation of your donations.
Yours sincerely
Mrs P Bloor
Headteacher