Newsletter Summer Term 7
Dear Parent/Carer
We finish for half term after a very busy and concentrated period, having completed statutory tests in Y2 and Y6 and other testing. This enables staff to note progress made and identify the next steps. All the staff are very pleased with the progress made in all of the classes.
1.Our Talking Topic; Courage
This week we have been thinking about courage and how it takes this to stand up for what you believe in, even when others are doing differently. The children were told the story of Daniel and how he had the courage to take a stand and say no. Please talk to your child about this and not following the crowd.
2.Our Value: Kindness
This is a value that our children have in abundance. Very well done to all the children.
3.Stoke on Trent City of Sport Fun Run
Thank you to all those who participated in our fun run on Saturday to mark Stoke-on-Trent's City of Sport status. It was a 2 kilometre track and we had 89 people who completed it and received their medal. The council are trying very hard to make people in the city fitter and enjoying physical activities. It was nice to be a part of this.
A special thanks to Miss Pickerill who organised the event and our marshals and first aiders, Mrs Wooliscroft, Mrs Ramsden and Mrs Matthews. Ilana Steventon was the top girl and a visitor the top boy, who both came in behind Miss Morris. Thank you to all who supported this event.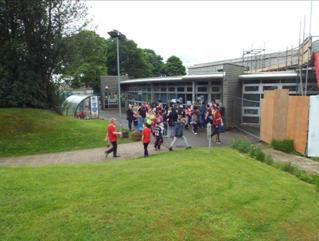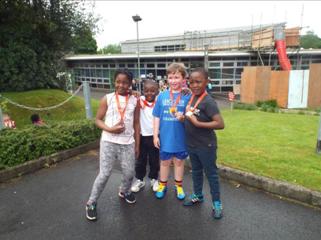 4.Homework This Week
This week there will be no written homework instead all children are asked to go on 2 walks to get some fresh air and exercise, we will talk about this after half term. May is National Walking Month and has been identified as such for the health benefits of walking.
5.Our Active Lunchtimes
KS2 in the ball cage on the top yard and KS1 playing with hoops to be happy and healthy.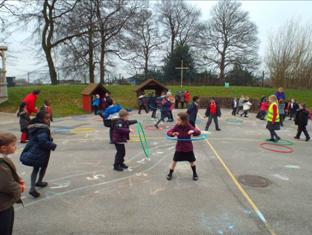 6.Community Summer Fair
This will be held on Saturday 2nd July from 12-2pm and is our main fundraising event of the year which finances extra resources for your children. Each class is collecting items for a stall.
We would ask for parent/carers to chase up any contacts for raffle prizes as this is always very successful. Please help us to collect some super prizes for our families to win. Any offers of help will be gratefully received. Please let the office know if you can help on the day.
7.Events In School Last Week
Thank you so much to the Y1 parents/carers who enjoyed the Class Assembly on treating everyone the same, although we are all different. It is such a big stage for our younger pupils but they did brilliantly. Very well done Y1 who are all growing in confidence.
Swimming Awards Length Certificate Carley Bithell and Ethan Hill.
Very well done to Y6 who undertook Bikeability Level 2. The course does involve riding on the road and road knowledge which is essential as Y6 will be making their own way to different high schools in September. The group had a theory test as well.
Well done to a group of Y4 children who took part in an after school multi-skills competition. A super effort from Dylan Colclough, Haya Jamil, Leona Johns, Aiden Johnson, Vaughn Juguilon, Sedra Osman, Joel Sheldon, Charlie Simpson, Keira Tatler, Ella Whitehurst & Eliza Williams.
Thank you to those who supported the Anthony Nolan blood cancer charity fund raising
Event. We raised over £200 and thank you to a group of Y6 who helped to organise this.
8.Behaviour Awards
The children whose behaviour has been exemplary both inside and out of the classroom will have received their Diamond Award by class teachers today. We have also given behaviour awards in reception classes as well. Some children have received their next behaviour award and some will need to wait a few more weeks.
Our standards at St John's are high, as other children should not have their learning or playtimes disrupted by a few. A few parents/carers have questioned disciplinary actions recently which is disappointing and they sought to blame others. Good behaviour is the responsibility of everyone. However, we teach in our British Values that all are governed by rules that they have to be obeyed in society. All children are rewarded for good behaviour and taught about the consequences when rules are broken and your children are brilliant in understanding this. We expect parents/carers to support this life skill.
9.Staff News
Mrs Clarke comes back after maternity leave and takes over R2. Miss Morgan who has done an excellent job has got a full time post in a city school, following being appointed out of area. Stoke-on-Trent now has problems attracting good teachers, which are so essential in our drive to raise standards, so this is great news and we thank Miss Morgan for all her hard work and effort.
10.Northwood
A group of children have been selected for a Gifted and Talented sporting opportunity on Tuesday 28th June. However, any child whose behaviour is an issue in school will not be taken, we have reserves ready!
11.Zoolab Day

Early years had a Zoolab Day looking at animals and how they use their senses to find their food. They saw a millipede, snail, tarantula corn snake gerbil and cockroach. This is one of our many WOW days we organise free of charge for the children.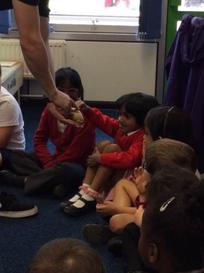 12.Global Food Week
This week we have different classes trying food from other countries. The children have enjoyed trying these foods.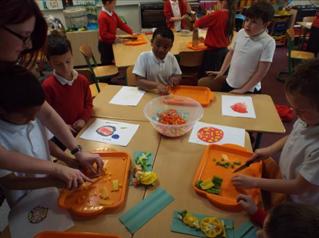 13.Y6 French Visit
We plan to take the current Y5 children to France again in January to the Somme region, a visit which has such an impact on learning and self- esteem over the last few years. Letters have gone out for a visit costing £80 with a heavy subsidy from school as we know the impact this has despite the work it entails. (A member of staff is paying £250 for a 3 day visit in this country for their child)
At the time of writing we have had 20 deposits and forms back and this is not a viable number as we can't afford to hire supply staff. So, surprisingly the visit is in doubt. We had an after school meeting yesterday which 2 families attended and I will put off making the decision as to whether it goes ahead till after half term and contact to see if there are individual issues.
I would urge parents/carers, whose children will be in their last year of primary school, to think about the wonderful opportunity that this is. Our experience of the two children who missed out this year is that they regretted it. If families are not keen on this type of visit away from Stoke we shall plan future visits for the cohort accordingly. If you are in need of any information please contact me.
14.School Disco
This was today after school and very successful. (Children who received a red card were not allowed to attend) It raises money for school fund to buy extra like all the food for Week. We don't have Early Years children as the older children requested this and sometimes it is good training for children to learn to wait.
15.Diary Events After Half Term
Wednesday 8th June Y3M and Y3J are visiting the synagogue during the morning.
The same day is the family picnic.
Friday 10th June 9:10 R1 and R2 classes' assembly. Parents/Carers are cordially invited.
16.Dates for your Diary

Tuesday 14th June
Sports Day 1 (weather permitting)
Tuesday 21st June
Sports Day 2 (Alternative Date)
Thursday 23rd June
EU Referendum ~ Training Day
Friday 24th June
Sports Day 3 (Alternative Date)
Monday 27th June
Sports Day 4 (Alternative Date)
Saturday 2nd July
Community Summer Fair ~ 12:00-2:00pm
Tuesday 5th July
End Of Year Concert ~ 1:00pm & 6:00pm
Wednesday 6th July
End Of Year Concert ~ 9:30am
Tuesday 12th July
Y6 Leavers Presentation ~ 6:00pm
17.Celebration Assembly Dates

Friday 10th June
R1 & R2 ~ Class Assembly ~ 9:05am ~ All Welcome
18.Celebration Assembly
Our children/classes who received awards on 20/05/16 were:
1B ~ Whole Class
1/2 ~ Maya Suran
2C ~ Lucas Conway-Kendall
3J ~ Robert Brian
4E ~ Benjamin Morris
4/5 ~ Luke Brian
6H ~ Jasmin Dhillon
Time for sport ~ 2C
Mrs Bloor's Award: Stephanie Muyakana
Smart School Uniform: Ryan Webster
Lunchtime Supervisor's Award: Freyjh Kristof & Maria Xanthopoulou
Water World Voucher: Michal Chmielewski
Attendance Awards given out for data collected w/b 09/05/16:
Whole School Attendance: 96.4% (Government target is 95%)
Class Attendance:
1st Place 2C ~ 99.4%
2nd Place 4E & 5/6 ~ 98.5%
Pupil Attendance Awards:
1, Elliot Craggs
2, Nancy Doward
19.Attachments
Donna Louise Fun Run
Community Summer Fair
Half Term Activities >page 1< – >page 2<
Cooking at home
Yours sincerely
Mrs P Bloor
Headteacher