Newsletter Summer Term 8
Dear Parent/Carer
As we start back after half term to glorious weather; let's hope it lasts, and helps our new half term start with happiness and good positive thoughts. The staff have been busy preparing learning in all the classes. We have a very full and busy half term organised for your children with lots of exciting learning opportunities.
1. Our Talking Topic
We have been thinking this week about who or what is more important in our lives and whether or not these things are worth working hard for, also any changes we may need to make. The children were told the about Jesus' parable of treasure found in a field and how Jesus once said "the kingdom of heaven is like treasure in the field". The children concluded love, family, nature and happiness were more important than material things. Please talk to your child about this.
2. Our Value; Respect
This week we have been focussing on 'respect' and how important it is to show this. Very well done to: Ismail Saygili & Sneha Miah Y6. Solomon Johnson & Ellie Moreton Y5/6, Amelia Harvey & Chloe Barlow Y4/5, Joel Sheldon & Evie Beech-Daly Y4, Angelina Abraham & William Kidd, Y3J, Liam Davis & Evan Davies Y3M, Grace Wain & Theo Lovell Y2, Sasha Steele & Humaira Shakil Y1/2, Ashton Barnett & Evie Mai Bourne Y1, Thomas Cahill & Riley Tams R2, Alicia Sanil & Chloe Steele R1, Chelsee Hodgkinson & Zachary Allen Nursery, who have all shown wonderful respect this week.
3. Class Of The Week
R1 busy exploring their new play area on Tuesday afternoon.

4. Active Lunchtimes
Nursery and KS1 enjoying busy active lunchtimes.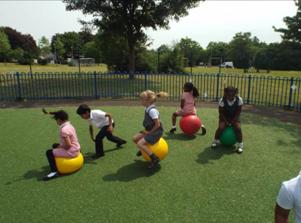 5. End Of The School Day
I had a complaint recently about a younger child pushing another into a parent and despite knowing he had a blue with orange coat and missing tooth they couldn't identify him. Children have been told that behaviour going home is just as important as in school. Please make sure the younger children stay with you, as although we have some staff on duty each day, other staff are busy planning, taking clubs and marking.
Can I also remind families that it is great to see more scooters and bikes used, to have a healthy way to travel to school, but the rule is they must be walked on school grounds. We have disabled parents/carers and children with broken bones who we need to protect. Cycle permits are available from the office. Thank you for your support here.
6. Class Attendance Prize
A new incentive this year is to promote good attendance, as the link with learning is proven. There is an award for the class with the best attendance. The class is getting a free visit to Awesome Walls in Longton and will have a special cake made by one of our parents Mrs Gravante.
We are pleased to announce that the prize will go to Y2 for 97.5%, congratulations Y2! Well done to this class, the reward visit is on the morning of Thursday 16th June.
The next two classes with the best attendance were Y6 with 97.3% and Y4/5 with 97%. Very well done!
7. Events In School Last Week
Beginners Swimming Award – Robert Brian, Emma Brennan, Angelina Abraham, William Kidd, Fareedah Ibrahim, Tyler Conway and Sanjay Arokiaswanny.
All the classes enjoyed an Art Focus Day developing their art skills.
Four school Council representatives visited the Willows as part of the Stoke Six group of schools to learn about what the different schools do. Other meetings are planned. Well done to Harvey Tams, Zagros Negeem, India Vickers, and Anet Yohannan-who conducted themselves brilliantly representing the school.
Global food week before half term saw classes looking investigating and making food from Greece Y6, Australia Y1, Brazil reception, Spain Y4, USA Y1/2, China Y2, India Y5/6, Italy Y3J, Mexico Y3M, Sweden Y4/5. The children all enjoyed this and learning about other countries.
The school disco was enjoyed by many children and raised £230 for school funds.
The ice cream sale raised £257.90 for the Anthony Nolan trust. Thank you for your support.
8. Big Book Sale
A huge thank you to all those families who donated books for our sale and to those who came along and bought books from us. It was lovely to see children enjoying choosing from the many books we had to offer and heading home with a new "good read" for the evening! With books costing just 50p or less, some families went home with their arms full!
Thanks to your support, we raised over £35 for the Literacy Trust who help some of the poorest children in the country have access to books. We will be holding our next Big Book Sale is on Wednesday 22nd June, so once again all donations of books are very much appreciated and we hope to see even more of you stocking up your children's bookshelves with purchases from our stall.
9. Swimming Lessons
If any parents/carers are interested New-4-Me swim school do private lessons at the M-Club opposite school, they can be contacted on 07999813271.
10. Councillor Barnes Article
Councillor Barnes is one of our Governors and wrote an article for the Evening sentinel about parenting which is on the back of the newsletter and contains some wise words.
11. New Signing In System
Over half term we had a new electronic signing in and registration system introduced which reduces the need for manual registration. Although the dinner register will still be taken each day at the moment. We also had 4 new whiteboards installed in classrooms and the project to turn the courtyard into a learning space is continuing. St John's is always striving to improve facilities for your children.
12. Events Next Week
On Monday KS2 classes all have a special Science lesson taken by a provider on classification and the eco system.
On Tuesday weather permitting it is Sport's Day – Early Years and KS1 9:30am and
KS2 1:30pm. Please ensure your child has their PE kit in school so that they can take part.
On Tuesday at 6:00pm we have our new intake meeting in the school hall.
Y6 are on a 'My World' visit Thursday morning. They will be back for lunch.
13. Reminders
Both reception classes are going to Amerton Farm on Monday 20th June in connection with the whole school project on healthy food and farming. The visit is heavily subsidised at £3 and will be a lovely experience for the children to see animals that gives us food and some endangered species.
14. Testing Information
All Y2 children have been given a fact sheet for your information about the tests that the children have completed at the end of Key Stage 2. This is the first year of the new tests following the introduction of the New Curriculum.
15. Staff News
Mrs Firkin leaves us today to take up a Reception teaching post in a City school following training at St John's. We wish her every success for the future and thank her for all her efforts.
16. Community Summer Fair
This will be held on Saturday 2nd July from 12-2pm and is our main fundraising event of the year which finances extra resources for your children. Each class is collecting items for a stall. We are collecting small raffles prizes and groceries this next week please help if you can.
We would ask for parent/carers to chase up any contacts for raffle prizes as this is always very successful. Please help us to collect some super prizes for our families to win. Any offers of help will also be gratefully received. Please let the office know if you can help on the day.
17. Lates
Any one arriving late will have their times recorded accurately as parents/carers log them in. We still have children often the same families arriving late disrupting the office and more importantly, other children's learning and of course, their learning.
Monday
14
Tuesday
3
Wednesday
10
Thursday
10
Luckily the vast majority of families arrive on time. We had a pupil arrive on Monday 14 minutes late with no PE kit, despite texts to families, saying it was the traffic although all my staff, some who travel further and many have their own children to organise were on time. Can I remind families that our doors open at 8:45am and all children need to be in school for 8:55am. Children that are late have to go to catch up club, as they have missed learning. Class teachers are continually talking to me about the effect children coming late have on their teaching.
18. Home School Link Worker Information
Fire Check
If you want your home fire risk check which is free of charge please phone 08000241999
Be safe in the sun
Sunburn doesn't just happen when you're on holiday. In the UK the sun is at its strongest between March and October, especially from 11am to 3pm.
You can burn when you are not expecting it, such as during a walk or sitting in your garden. Even if it's cool or cloudy, it's possible to burn at other times of the day and year.
There is no safe or healthy way to get a tan from sunlight. Getting a tan provides little protection against later exposure to sunlight and the resulting skin damage outweighs any later protective effect.
Sun safety tips
Spent time in the shade from 11am to 3pm from March to October.
Make sure you never burn.
Cover up with suitable clothing and sunglasses.
Remember to take extra care with children
Use at least SPF15 sunscreen.
Websites
Please remember that some websites are unsuitable for children. Please make sure you know what your children are looking at on computers/laptops/iPads etc. at home. Speak to your children about what is appropriate and what is not, Thank you.
19. Dates for your Diary

Tuesday 14th June
Sports Day 1 (weather permitting) KS1 9:30am & KS2 1:30pm
Thursday 16th June
2pm School close for the day.
Monday 20th June
Amerton Farm Visit R1 & R2
Tuesday 21st June
Sports Day 2 (Alternative Date)
Wednesday 22nd June
Big Book Sale after school
Thursday 23rd June
EU Referendum ~ Training Day
Friday 24th June
Sports Day 3 (Alternative Date)
Monday 27th June
Sports Day 4 (Alternative Date)
Saturday 2nd July
Community Summer Fair ~ 12:00-2:00pm
Tuesday 5th July
End Of Year Concert ~ 1:00pm & 6:00pm
Wednesday 6th July
End Of Year Concert ~ 9:30am
Tuesday 12th July
Y6 Leavers Presentation ~ 6:00pm
20. Celebration Assembly Dates

Friday 10th June
R1 & R2 ~ Class Assembly ~ 9:05am ~ All Welcome
21. Celebration Assembly
Our children/classes who received awards on 27/05/16 were:
1B ~ Grace Eaton
1/2 ~ Claire Johnson
2C ~ Charlie-Ann Hindmarch
3J ~ Jack Barlow
3M ~ Joshua Brerton-Lewis & Oscar Dix
4E ~ The Whole Class
4/5 ~ Nela Polhosova
5/6 ~ Claude Polhosova
Mrs Bloor's Award: Amin Miah
Smart School Uniform: Amelia Harley
Lunchtime Supervisor's Award: Aiesha Hashemo & Brodie Sinclaire
Water World Voucher: Beth Brennan
22. Attendance Awards given out for data collected w/b 16/05/16:
Whole School Attendance: 96.1% (Government target is 95%)
Class Attendance:
1st Place 3J 98.6%
2nd Place Y1/2 98.3%
Pupil Attendance Awards:
1, Xu Li
2, Lily-May Barlow
23. Thursday 16th June
As you know The European Championships are taking place in France. It is a lovey opportunity for children to follow sport and learn about other European countries. England are playing Wales at 2 o'clock. So, in order to let families watch most of the match we will let children be collected at 2pm but not before. Any child that can't (including Small steps) will of course be still taught. That way all children and staff will be home for the second half when I expect England to score 3 goals! England like Stoke City are a great second half team!
24. Attachments
Summer Sports Camps
Sentinel Article
Euro 2016 Menue
Yours sincerely
Mrs P Bloor
Headteacher