Newsletter Summer Term 9
Dear Parent/Carer
Despite having to cancel sport's day, we have had a lovely and very full learning week in school.
1.Out Talking Topic
This week we have been thinking about "perseverance" even when the going gets tough. The children were shown the story of an Olympic Athlete Derek Redmond, who trained despite lots of injuries and was injured leading the 400metres semi-final, but crossed the finishing line with the help of his dad. The children were told that sometimes they will face situations where they need to show perseverance. Please talk to your child about this.
2.Our Value; Responsibility
We talk about this a lot in school teaching children they need to be responsible and not look to blame others, an easy way out.
4.Good Attendance Tea Party
Very well done to Isabella King, Jessica Chittock, Lucas Conway-Kendall, Rhihena Miah, Ella Curzon, Nela Polhosova and Yash Bhuller who were all served tea and biscuits to celebrate their good attendance and were picked out of the hat.
5.Y6 French Visit
I am happy to announce that the visit to Rue, France in January 2017 is now viable. 34 of the cohort are signed up for this 3 day 2 night residential visit for a cost of only £70 and places have been booked (My staff with children would wish that their children's school would do one at this cast!)
The school is subsidising this by £120 because it has such an impact on pupil attainment. 6 families have chosen not to take advantage of this. The first non-refundable deposit is needed now and further payments can be made at any time to the school office. There will be a meeting for parents/carers on Thursday 30th June to see the venue and to ask any questions.
6.Active Lunchtimes
KS1 being busy and active at lunchtime.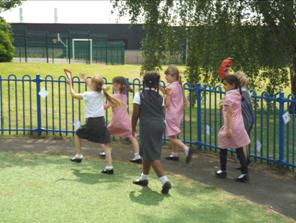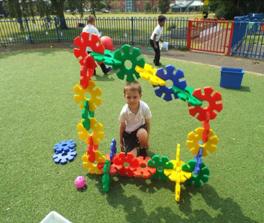 7.Newsletter Error
There was an error last week on the back of the Newsletter that said the school would close at 2pm on Thursday. That is not the case. What I said was that in order to make sure our attendance does not dip, I will avail families of the opportunity to collect children at 2 (not before ) if they wish them to watch some of the football. Those of you who have been with us a while, will know that I never close the school even when it snows and others do.
This will only apply if children are collected by parent/carers. Other children will be taught by the staff as usual, although some are planning to have the match on in the background. After school clubs will also still be on as usual, I hope that clarifies our issue.
8.KS1 And KS2 Concert; A Night At The Musicals
Children are beginning to practice and I know you will love this, which is an opportunity for all our pupils to perform in front of an audience. We will put on 3 performances, Tuesday 5th July at 2pm and 6pm and one at 9:30am on the 6th July.
We do one at night for working parents/carers, but there is an expectation that children come back unless there is a pressing reason, especially in KS2. My staff have to arrange additional childcare as well. Staff have said they want to continue this practice, but need your support. Letters regards costumes will be going out shortly.
9.Events In School Last Week
The family picnic was a great success and we were lucky with the weather. Thank you for your support and Mrs Ramsden for organising it.
On Monday KS2 had a Science Day looking at animals and their habitats. They saw and touched a gerbil, African snail, Madagascan cockerel, a tarantula and a python. The children loved this learning opportunity we provide free at St John's.
The reception class assembly was very well supported and the children were wonderful.
Some Y3 children had an additional learning opportunity making a clay model at the Potteries Museum and we were complimented on their lovely manners!
Some Y5 and Y4 children met school councils from other schools and were complimented on their behaviour and efforts.
10.Next Thursday
The school is closed on Thursday 23rd June as we are a Polling Station. Staff are in for training.
11.Events Next Week
Both reception classes visit Amerton Farm on Monday to see farm animals and endangered species.
We will try for Sport's Day on Tuesday 21st June EY and KS1 am and KS2 at 1:30pm. If wet it will be Friday 24th then Monday 27th. The forecast for June is poor and these are the only dates allocated. On these days because all of the children are with staff and we are not using our sports ground EY and KS1 parents can park on the sport's ground but must move their vehicles at the end as we need the area for break and dinner times. If it goes ahead on the Friday we have 2 coaches that need entry for swimming early so this will not be the case. KS2 parents/carers can similarly use the sports ground on this one occasion but the gate will not be open before 1:20pm.
Y6 are visiting Tatton Park as part of their Transition Project.
All clubs are now finished. (Clubs finish Friday 17th June)
There will be no newsletter next week.
12.Summer Community Fair Saturday 2nd July 12pm-2pm
Our main fundraiser, we are collecting bottles and chocolates next week.
13.Taekwondo Grading's
This very successful club had a grading last week and the following were successful:
Yellow Belt
Elliot craggs, Matthew Ingram, Harvey Tams, Lily-May Barlow, Tyler Baldwin,
Aiden Johnson, Luke Brian, Alan Babu, Kiera Whieldon, Jamie Paredes, Zara Khan, Yashbir Bhullar, Anet Yohannan, Dylan Colclough, Zsadapnorn Babickas and Skye Lea-Shaw.
Yellow/Green Belt
Holly Chatterton, Kenzi Shepherd-Moss, Ellie Moreton.
Green Belt
Natalia Kulik, Jake Bamford, Declan Matthews and Ethan Kidd.
Very well done to this group who have worked hard and listened well to the coach.
Thank you for your support.

14. Home School Link Worker Information

15.Dates for your Diary

Monday 20th June
Amerton Farm Visit R1 & R2
Tuesday 21st June
Sports Day 2 (Alternative Date)
Wednesday 22nd June
Big Book Sale after school
Thursday 23rd June
EU Referendum ~ Training Day
Friday 24th June
Sports Day 3 (Alternative Date)
Monday 27th June
Sports Day 4 (Alternative Date)
Saturday 2nd July
Community Summer Fair ~ 12:00-2:00pm
Tuesday 5th July
End Of Year Concert ~ 1:00pm & 6:00pm
Wednesday 6th July
End Of Year Concert ~ 9:30am
Attendance Awards given out for data collected w/b 23/05/16:
Whole School Attendance: 96.8% (Government target is 95%)
Class Attendance:
1st Place 2C & 4/5 100%
2nd Place 3M 99.3%
Pupil Attendance Awards:
1, Tyler Barlow
2, Eve Tams
Lunchtime Supervisor's Award: Bethany Morrey & Aaron Sajan
Water World Voucher: Joseph Machin
16.Attachments
Conures Advert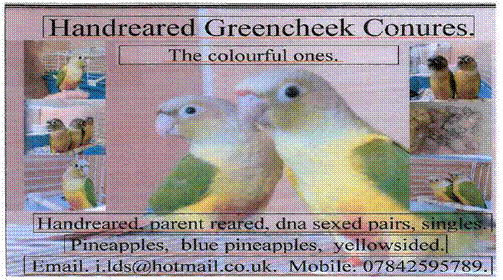 Face 2 Face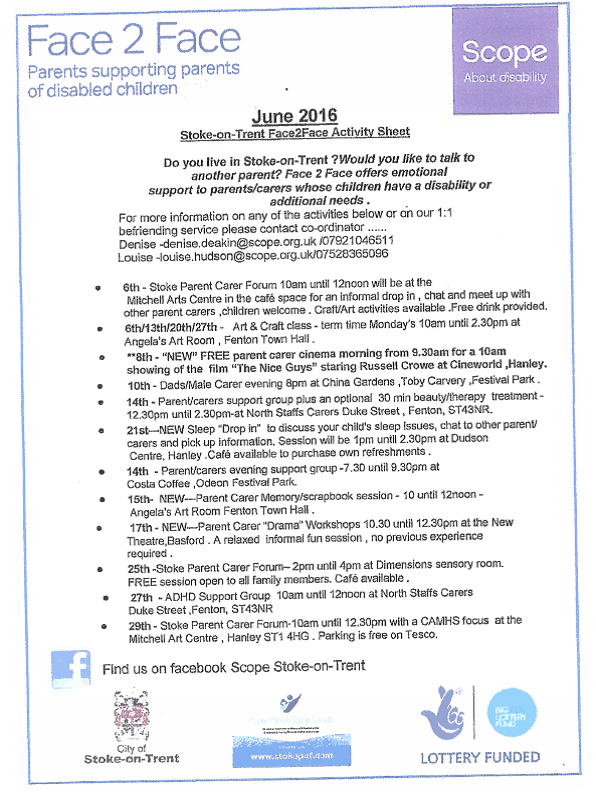 Parents/Carers Questionnaire: Teaching and Learning May 2016
How we will teach reading – 100% thought we teach it well.
Has your child's reading improved – 100% agreed it had.
Do you hear your child read 4 times a week? – 95% agreed they did + 3% mainly did.
Rewarding reading – 100% thought it was a good idea.
Suggestions to improve reading included – more 1 to 1 reading, practice expressive reading, use of role play, more story books. Catch up with parents more regularly to see what can be improved. Hear read little and often, sometimes think 4 times a week is too much for young children. Greater choice of reading books, new books, "carry on the good work".
Does your child enjoy PE? – 100% agreed children enjoy PE.
Coloured PE bags – 98% agreed they helped.
Extra swimming kit – 100% agreed with this.
Style Mile – 100% agreed this is a good idea.
Fitness Test – 100% agreed good idea.
Suggestions to improve lunchtime included – activity games, more activities, football competition, playing games, going walks/park, specific sports club at lunch time. "Everything's good at lunchtime", "my child enjoys lunchtime".
Suggestions also included incorporate use of trampoline. Getting dance lessons, more variety, keeping fit, different activities.
Concert KS1/KS2 – 100% enjoyed the concert.
Suggestions to improve the concert – singing and music is good, refreshments for parents, comfortable chair for OAP's, pregnant mums. More speakers, more planning, better audio system.
Thank you for letting us have your views which are always important. It is lovely to note parents/carers satisfaction with our reading. It is wonderful to see that the majority of parents/carers hear their child read at least 4 times a week. All the educational research point to it being the most important determinant of language and literacy and that parents/carers that read to their babies give them a head start. (I have put this research on the parents' page of our website). Your support for our Reading Reward Schemes is also great.
Your support for our focus on healthy lifestyles and physical fitness is also pleasing to note. Our new style Mile is engaged by the children and already impacting, we will repeat the fitness tests.
Our KS1/KS2 lunchtimes are also very well supported by parents/carers.
As a result of your views:
We will continue to prioritise reading and give rewards for reading at home.
We will continue teaching guided reading as well as 1 to 1 reading which we try to increase.
We will continue to buy in extra swimming and make lunchtimes as active as we can.
We will also be continuing to sell PE bags (better quality) to all classes that will be colour coded by year group, (£3.50 normal price) as well as providing a PE top/shorts for all children next year.
Our concert will be musical and contain some speech. We will consider the sound issue.
Things we cannot do:
At lunch time (when teaching staff have their statutory break), we do a lot of activities; football, basketball, skipping, running, golden mile but we have limited staff and time to deliver any more activities. Also we will add a KS1 fitness first session.
Trampolining in school required a specific qualification, which has always surprised me that manufacturers can sell them so freely.
We do provide chairs to disabled persons at our concert and those in need. We appreciate that pregnancy is a condition and we are considerate to those parents/carers with any physical issues.
We have purchased more indoor games for wet lunchtimes to encourage co-operative play. We will look at getting a dance club next year after school and a new sport, dependant on staff uptake and demands.
I will speak to my TA's who staff lunchtimes to see what other activities we could do in the time after lunch. Reception pupils are doing the Style Mile every lunchtime.
Thank you for your views and help.
~~~~~~~~~~~~~~~~~~~~~~~~~~~~~~

Yours sincerely
Mrs P Bloor
Headteacher