Newsletter Autumn Term 10
Dear Parent/Carer
We have had a lovely learning week in school and I have seen children enjoying their learning in all classes.
1) Our Talking Topic
This week we have been thinking about 'cooperation' and how it is a very important part of living together in any community, at home and at school. The children were told the story from the bible of how a group of friends helped a man who could not walk, by lowering him through the roof and he was healed. This would not have happened unless his friends had worked together. Please talk to your child about how they can show cooperation.
2) Our Value; Honesty
This is something our children are fantastic at and we spend time in class talking about how important this is. Very well done to Emile Taylor, Archie Bourne Nursery, Ameerah Ibrahim R1, Charlie Harvey R2, Ellie Ruane, Enis Kolasinac Y1, Delarni Fox, Elliot Pye, Jack Cahill Y1/2, Anannya Sinilraj Y2, Daniella Gradiz, Adam Guenane Y3, Robin Craggs, Delin Negeem Y3/4, Sheza Hanif, Ethan Hill Y4, Hao Yu, Ella Whitehurst Y4/5, Chloe Barlow, George Barnett Y5/6, Jack James, Jamie Paredes and Kenzi Shepherd-Moss Y6, who have all been noticed for being especially honest this week.
3) Class of the Week R2
The class were busy writing their weekend news.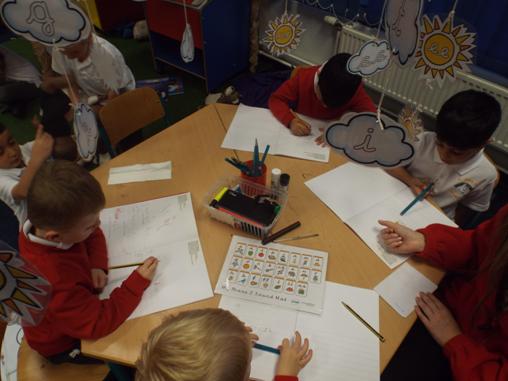 4) School Clubs
Y1 busy outside at the Monday Movers lunchtime club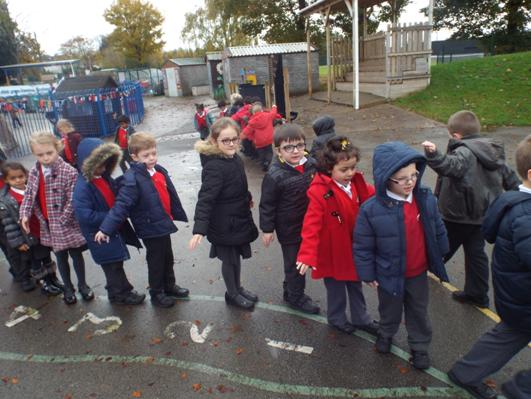 5) Letters Home
The office is having to chase up children from all the Key Stage 2 classes, who have not yet returned the Stanley Head Outdoor Education Visit form. Second letters have been given out now. However, the office team have other work to do each day and will not be chasing children who do not return letters for these visits again. These visits are heavily subsidised for families. Please check your child's book bag each day.
6) Events in School Last Week and This Week
We had a minutes silence on Friday to commemorate Armistice Day which all the children fully respected, as we remembered those who gave their lives for our freedom. Did you notice the special 'Lest We Forget' flag on our flag pole that we have up this week?
4 classes, Y1/2, Y2, Y3 and Y3/4, had a special Eden Project lesson on how to look after the environment and energy conservation, which is so important.
KS2 classes took part in a Holy Communion Service taken by Rev. Chris Ruston which they watched and some participated in so respectfully.
7) Homework
Many parents/carers wanted us to set extra homework and there are some competitions that have been set that will be of interest to you, a prayer competition and a writing and design competition are going out and could be useful on these cold dark nights. However, some children are not completing the normal homework, which is why we are offering an end of term disco for children who receive a 'golden ticket' for this. All our homework is consolidation of learning and gives you a chance to help your child progress.
I set and mark Y6 homework which ranges from outstanding to awful. This is the year group that will have to get used to 3 pieces of homework every night at high school!
8) Homework Reward Visits
To reward good homework and routines, I am taking 45 children to Liverpool with Miss Pickerill, Mr Wright and Mrs Beech-Daly, for an open top bus tour of the city and a World Museum visit on Saturday 26th November, which is a free reward. It has been offered to children who have handed homework in on time to Mrs Peake and Miss Mazzei, with no exceptions. If your child has not had a letter in Y6 and Y5/6, they have not completed all their homework or it has not been of the required standard. Four children can't go and these places have been offered to Y5 in Y4/5, who meet the same criteria. High schools just give a no notice detention! It is therefore important that we get the children into a routine of completing homework and handing it in on the correct day.
9) Children in Need
This has been organised by Mrs Peake's class who have their Class Assembly on Friday. The children wanted a non-uniform day, wearing spots for a £1. They are also selling cakes and crisps for 50p. It is a normal learning day however, and we have 2 swimming classes and PE lessons that day, but please support this great cause and Y6's efforts.
10) Reading Tips
In your questionnaire results you requested some information about reading and tips which are both included with this newsletter.
11) School Routines for New Families
We do ask that packed lunches are put in a lunch box and a drink is included. We have had some children bringing carrier bags and leaving my staff to get rid of them. Yesterday two Co-op bags had food in that was hardly touched. We ask that all packed lunch children take home their waste so you can see what your child has eaten.
12) Messages to Staff
The person on the door can give messages to staff and Mrs Ramsden and I go out each morning. Class teachers and staff who dismiss children can be spoken to after all the children have safely been collected. We are very hot on this at St. Johns.
We are always happy to discuss anything that can help the children in our joint responsibility for your child's education. All we ask is that we are spoken to politely, as you would expect us to speak to you.
13) Christmas Events
Lots of planning is already taking place and we will outline details of Christmas Events next week. Another reminder for parents/carers that we buy everything for the Christmas Party Day. A few new families have already asked what they need to bring but we don't require you to bring anything. We just ask that you support our events.
We are continuing to collect items for the Christmas Fair and would like to thank you for all donations so far. We are however, still in need of gifts and hamper items. Each week we will be collecting the following items;
Week Beginning 14th November we will be collecting toys, games and books, including soft toys.
Week Beginning 21st November we will be collecting bottles (wine/pop etc.) and packets (food items/crisps).
Week Beginning 28th November we will be collecting small prizes/tombola prizes, including unwanted gifts.
Week Beginning 5th December we will be collecting sweets/chocolate/biscuits/cake.
14) Help Needed
Unfortunately, it has come to our attention that 2 of our benches have been taken from the top yard. We would like to ask your help in trying to find them. The benches are each about 6ft in length, one green and one blue. If anyone has any information which would lead to their return, we would be grateful if you could let us know.
15) Home School Link Worker Information
On the last questionnaire that was sent out with the newsletter, a few parents/carers asked for some sessions that we hold in school to be done later, so working parents/carers can attend.
On Wednesday 30th November, Miss Mazzei will be holding a Phonics Session at 5pm in school, for Nursery to YR2, which will last about 30 minutes. This will give you hints and tips on how to help your child and give you the chance to ask any questions that you might have.
16) Dates for your Diary

Friday 18th November
Children in Need
Monday 21st November
Y5 & Y6 New Vic Theatre Visit – Snow Queen
Thursday 24th November
Stanley Head PE Activity Day – Y4
Monday 28th November
Stanley Head PE Activity Day – Y3/4
Tuesday 29th November
Stanley Head PE Activity Day – 5/6
Wednesday 30th November
Stanley Head PE Activity Day – 4/5
Wednesday 30th November
3:15-4:30pm New Nursery/Reception Intake 17 Walk Around.
5pm Phonics Session Nursery to YR2 parents/carers
Thursday 1st December
Stanley Head PE Activity Day – Y6
Friday 2nd December
Stanley Head PE Activity Day – Y3
Wednesday 7th December
EY Nativity 9:15am
Thursday 8th December
KS2 Christmas Concert at Church 9:30am
KS1 Christmas Concert at Church 2:00pm
Friday 9th December
Grandparents Christmas Lunch
Christmas Fair 3:00-4:30pm
17) Celebration Assembly Dates
(Parents/Carers are invited to attend; Starts at 9:15pm)

Friday 18th November
Y6
Thursday 24th November
Y4/5
Thursday 19th January
Y4
18) Celebration Assembly
Our children/classes who received awards on the 11/11/16 were:

Y1B
Aaron Reid
Y1/2H
Anayah Shazad
Y2C
Angel Johnson
Y3J
Ansh Bhati
Y3/4E
Theodore Pinto
Y4W
George Baldwin
Y4-5M
Beth Brennan
Y5/6
Amin Miah
Y6P
Anna Ozman
Mrs Bloor's Award
Summer Austin & Claire Johnson
Dusty Bin Awards
Y1
Y6 Prefects Award
Y3
Smart School Uniform
Bailee Sutton & Sarah Yu
Lunchtime Supervisor's Award
Grace Wain & Aliya Davidson
Time for Sport Award
Y6
Walk To School Award
Y3/4
Eco Trophy
Y6
Lunchtime Trophy
R2
Player Of the Match
Brodie Sinclaire
Change for Life
Grace Eaton, Macey Simpson, Daniel Isi-Efefaroro & Mason Kidd
Good to be Green Award
KS1 – Joshua Webster & Jayden-Thomas Fielding
KS2 – Molly Hancox, Rasa Babickas & Megan Proudlove
Water World Voucher
Leah-Rose Walker
19) Attachments
Yours sincerely
Mrs P Bloor
Headteacher