Newsletter Autumn Term 11
Dear Parent/Carer
As November seems to be galloping along quickly, it has been lovely to hear the children practising Christmas songs and working on producing lovely handwriting; which is a focus this week.
1) Our Talking Topic
This week we have been thinking about 'prayer' and how prayers that children are taught when young, could bring comfort and peace in future times. Many children have entered our Prayer Competition and two lovely prayers are attached to the newsletter; well done Jack James Y6 and Charlie-Anne Hindmarsh Y3. All of the entries are beautiful and will be kept in a special file for use in school. Please talk to your child about this!
2) Our Value; Kindness
This week we have been thinking about how we can all do small things to help each other and how important this is.
All our children are brilliant at this, but a special well done to Aaron Reid, Kyle Silvester Y1, Aliya Davidson, Cisco Handy Y1/2, Mason Kidd, Jagoda Kulik Y2, Lola Howard, Claire Johnson Y3, Anashe Mitize, Neha Rejith Y3/4, William Kidd, Alyssa Stanley Y4, Kira Tatler, Matthew Ingram Y4/5, Amin Miah, Erin Hill Y5/6, Harvey Tams, Keira Wieldon Y6, Brendon Hitchcock, Lola
Westwood Nursery, Rowan Williams, Aaliyah Tinsley R1, Kevon Ratnayake, Jackson Faber R2.
3) Class of the Week R1
Children busy working on their writing.
4) School Clubs
Each lunchtime by rota, all the Key Stage classes have an ICT club staffed by Mrs Bayley. The children really enjoy this club that is targeted to the children who are up to date with their homework.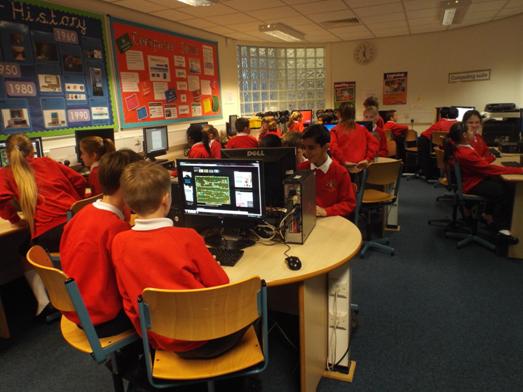 5) Christmas Activities/Events
Hopefully these will help at this busy time of the year; for your diary or to put on the fridge!
Wednesday 7th December
Early Year's Nativity in school, Nursery and Reception
Thursday 8th December
KS2 Christmas Concert (Y3-Y6) 9:30am at St John's Church
Thursday 8th December
KS1 Christmas Concert (Y1&Y2) 2:00pm at St John's Church
Friday 9th December
School Christmas Fair from 3.00-4.30pm
Monday 12th December
Reception visit to Amerton Farm
Wednesday 14th December
EY and KS1 Christingle Celebration 9:15am in school
Wednesday 14th December
KS2 (Y3-6) Christingle Celebration 2:00pm in school
Thursday 15th December
Party Day/Disco in school time, come in own clothes
Friday 16th December
Christmas Jumper Day, we finish at 2:00pm as rooms need tidying
Christingle Boxes will be sent home on Friday, we always make a contrition to the Children's Society, who support vulnerable families. Please can you collect small change in them?
6) Christmas Fair Donations
We are continuing to collect items for the Christmas Fair and would like to thank you for all your donations so far, however we are still in need of small prizes for children. Each week we are also collecting the following items;
Week Beginning 21st November we will be collecting bottles (wine/pop etc.) and packets (food items/crisps).
Week Beginning 28th November we will be collecting small prizes/tombola prizes, including unwanted gifts.
Week Beginning 5th December we will be collecting sweets/chocolate/biscuits/cake.
7) Children in Need
The school raised £413 last Friday, which is a fantastic total. Thank you so much for your support.
Mrs Peake's Y6 class did a super job promoting it, by designing posters and making cakes. Thank you to parents/carers who also donated cakes. This is the highest total we have ever raised. Well done to everyone.
8) Events in School Last Week and This Week
Thank you to parents/carers who attended Mrs Peake's Y6 Class Assembly on Children in Need. It was very informative and the children spoke really well and with great confidence.
Well done to a group of Y6, who attended an Indoor Athletics Competition at Trentham High School. The team came third and a special well done to George, Ryan, Jack, Stephanie, Michal, Keneth, Molly, Anet and Jamie who won their events.
Very well done to the following children who have gained their swimming certificates;
Jack James – Beginners Certificate
Hao Yu – Length Certificate
Keneth Bautista – Proficiency Certificate
All of Y5 and Y6 went to the New Vic Theatre for a performance of the 'Snow Queen'. It was a wonderful production and as Mrs Spiers, our chair of governors commented, "we were the best behaved school there". The children really appreciated this subsidised visit.
Well done to Abbi Dunn who has been made a prefect.
Last week we read all the classes a story about bullying and gave out the strong message that it is unacceptable and the importance of children needing to tell an adult. No school can ever say 'it does not happen here', but what we do is talk about it, and as you know, act if there is an issue. It does help that we have so many kind and thoughtful children at our school. Your children are a credit to you!
9) School Visits
All KS2 are visiting Stanley Head before Christmas and KS1 are having a Story Book Adventure Day there in January 2017 and Reception are going to Amerton Farm to see Santa. All of these visits are subsidised for all the children, as we consider them important. My staff with children at other schools say their school visits are not subsidised. However, if we are going to do any more, we must have the contributions in, as we are like a small business and cannot over spend. Thank you for your support.
10) Kenya
We are sending a pack of work and pictures to our partner school in Kenya. Any extra pictures, writing or letters would be great, as they have over 100 children in every class and a real thirst for education.
11) Homework
Staff are sending out words to learn for the songs for our forthcoming productions. Homework the next 3 weeks will be reading, spelling and tables learning only. I know families enjoy learning songs with their children at this time.
12) Competition Reminder
Draw a picture for Mrs Amison's dinner trolleys. Entries must be in by Wednesday 7th December. There will be a prize for those chosen. Good luck!
13) Help Needed
We have our Christmas Fair on Friday 9th December and we are asking for your help on the day. If you are available from 1.30pm to help set up and then run a stall, we would be very grateful. If you can help, please give your name to Mrs Ramsden. Many thanks.
14) Cashless Update
As we informed you earlier in the term, from January 2017, we are terminating our contract with sQuid and moving to ParentPay. Attached to the newsletter is some important information for you about the ParentPay service.
15) Dates for your Diary

Thursday 24th November
Stanley Head PE Activity Day – Y4
Monday 28th November
Stanley Head PE Activity Day – Y3/4
Tuesday 29th November
Stanley Head PE Activity Day – 5/6
Wednesday 30th November
Stanley Head PE Activity Day – 4/5
Wednesday 30th November
3:15-4:30pm New Nursery/Reception Intake 17 Walk Around.
5pm Phonics Session Nursery to YR2 parents/carers
Thursday 1st December
Stanley Head PE Activity Day – Y6
Friday 2nd December
Stanley Head PE Activity Day – Y3
Wednesday 7th December
Early Years Nativity 9:15am in school
Thursday 8th December
KS2 Christmas Concert 9:30am at St John's Church
KS1 Christmas Concert 2:00pm at St John's Church
Friday 9th December
Grandparents Christmas Lunch
Christmas Fair in school 3:00-4:30pm
Monday 12th December
Amerton Farm Visit – Reception
Wednesday 14th December
9:15am EY and KS1 Christingle Celebration in school
2:00pm KS2 (Y3-6) Christingle Celebration in school
Thursday 15th December
Christmas Party Day/Disco in school time – come in own clothes
Friday 16th December
Christmas Jumper DaySchool Closes at 2pm for Christmas Break
Wednesday 4th January
Term Starts
Thursday 5th January
Stanley Head PE Activity Day – Y1/2
Friday 6th January
Stanley Head PE Activity Day – Y2
Monday 9th January
Stanley Head PE Activity Day – Y1
16) Celebration Assembly Dates
(Parents/Carers are invited to attend; Starts at 9:15pm)
Thursday 24th November Y4/5
Thursday 19th January Y4
Further Dates to follow after Christmas
17) Celebration Assembly
Our children/classes who received awards on the 18/11/16 were:
Y1B Senuka De Alwis
Y1/2H Jayden Thomas Fielding
Y2C Matthew Piesse-Mills
Y3J Jessica Chittock
Y3/4E Sackson Siju, Laiba Noman
Y4W Joshua Brereton-Lewis
Y4-5M Leona Johns
Y5/6 George Barnett
Y6P The Whole Class
Mrs Bloor's Award: Megan Proudlove
Smart School Uniform: Leighton Barnett & Ashton Barnett
Lunchtime Supervisor's Award: Lexi Fradley-Degg & Anto Yohannan
Time for Sport Award: Y4
18) Attendance Awards:
Given out for data collected w/b 7/11/16:
Whole School Attendance: 98.2% (Government target is 95%)
Class Attendance:
• 1st Place – Y6, 99.4%
• 2nd Place – Y3,Y3/4,Y4/5, 99.3%
Pupil Attendance Awards:
• 1st Place – Anannya Sinilraj
• 2nd Place – Rian Webster
Water World Voucher: Peter Ashley-Williamson
19) Attachments
Two Prayer Competition Entries

Topic: Dear GodI know that I am not

Perfect, I know sometimes

I forget to pray, I know

I have question my Faith,

I know sometimes I lose my temper,

But thank you for loving me,

Unconditionally and

Giving another day

To start over again.

Amen

Topic: Honesty

Dear Lord
Let us be honest
Please do not let our tongues slander to lie
Make sure the truth comes out all the time
Although we lie to save ourselves, please forgive our sins, thus
Protect us when the devil strikes and make us do bad sins
Dear Lord let us be honest

Amen

By Charlie-Ann Hindmarsh Y3
Yours sincerely
Mrs P Bloor
Headteacher