Newsletter Autumn Term 12
Dear Parent/Carer
The term is really progressing at a speed with our Christmas Concerts being practised. It is a lovely time of the year for all of the children.
1) Christmas Activities/Events Reminder
Hopefully these will help at this busy time of the year; for your diary or to put on the fridge!
Wednesday 7th December ~ Early Year's Nativity in school, Nursery and Reception
Thursday 8th December ~ KS2 Christmas Concert (Y3-Y6) 9:30am at St John's Church
Thursday 8th December ~ KS1 Christmas Concert (Y1&Y2) 2:00pm at St John's Church
Friday 9th December ~ School Christmas Fair from 3.00-4.30pm
Monday 12th December ~ Reception visit to Amerton Farm
Wednesday 14th December ~ EY and KS1 Christingle Celebration 9:15am in school
Wednesday 14th December ~ KS2 (Y3-6) Christingle Celebration 2:00pm in school
Thursday 15th December ~ Party Day/Disco in school time, come in own clothes
Friday 16th December ~ Christmas Jumper Day, we finish at 2:00pm as rooms need tidying
2) Stanley Head PE Days
All of KS2 will have had their subsidised visit to Stanley Head by Friday and have really enjoyed them. It is a lovely week to get the children active and out in the fresh air. The school used to go for a week before the cost went up to over £200 and families did not support it. However, all the children I have spoken to so far say it has been brilliant.
KS1 classes are having an Outdoor Literacy Adventure Day based on the book 'Gruffalos Child' in January. Please check all the slips and payments have been returned for the office.
3) Teddy Hospital Project; Reception
On Wednesday the Reception classes had students from Keele Medical School setting up a carousel of activities for a teddy bear hospital. The children learnt about bandaging, they carried out operations, learnt about kitchen hazards, phoning 999 and healthy eating. All the children thoroughly enjoyed this important learning opportunity. Who knows, we could have a future doctor in the group?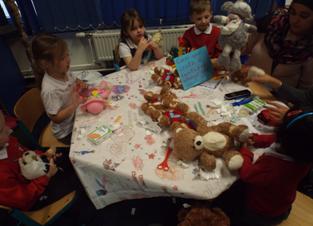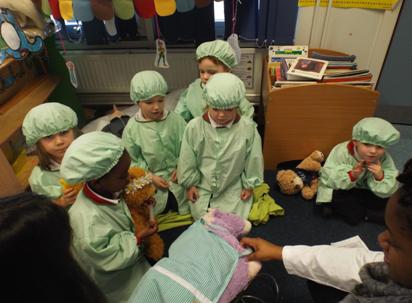 4) School Christmas Fair – Friday 9th December
Today all the children were treated to a pantomime, Dick Whittington, which is an annual event, and Mrs Peake's Y6 class had their treat day at Stanley Head. We pay for this from the proceeds of the Christmas Fair and so need all our families to come along next Friday, straight after school so we can make some money to book again next year. Please put the date and time in your diary – all the children really enjoy this event!!
We are still asking for donations from you for raffle prizes and will be collecting the following items this week and next:
Week Beginning 28th November we will be collecting small prizes/tombola prizes, including unwanted gifts.
Week Beginning 5th December we will be collecting sweets/chocolate/biscuits/cake.
5) Nursery Information
Part time children in the Nursery are being given 3 full free days, so the children do not miss out on any exciting events. They can come in on the Concert Day, the Grandparent's Christmas Dinner day and Party Day on the last Thursday of term.
6) Safeguarding
Safeguarding is everyone's responsibility and if you are worried about a child please look at the Safeguarding Board Website www.safeguardingchildren.stoke.gov.uk. There are 670 children in care in Stoke and 375 on the Child Protection Register. I represent primaries on the Safeguarding Board and although the numbers are very high, it is good to know these children are now safe. The main cause of this is the toxic trio of drugs, alcohol abuse and domestic violence.
7) E-Safety
All the staff have completed an additional on-line training course and all children in the top 3 classes and our e safety monitors will be doing it this week. It is being offered to parents/carers as well and information about the course has already been sent out. There are still places available for parents/carers who would like to complete the course in school, this session will take place on Tuesday 6th December at 9.00am. Anything that helps keep your children safe when using social media, I am sure you will agree, is a good thing.
8) Christingle Collection
Thank you so much for returning the tubs or money bags for our collection for the Children's Society. Every little bit helps this wonderful charity that looks after vulnerable families all year round. Please remember that every child needs an orange for Christingle, please send these into school next Friday 9th December.
9) Events in School; Liverpool Reward Visit
On Saturday 47 children in Y5 and Y6 whose homework record was exemplary, were rewarded with an Open Bus Tour of the city and a visit to the World Museum Liverpool, where they took part in a hands on science event and toured this great museum. It was a really good day and showed the children the benefits of hard work. Miss Pickerill, Mr Wright and Mrs Beech-Daly commented on the children's excellent behaviour and common sense during the day. Very well done to this group.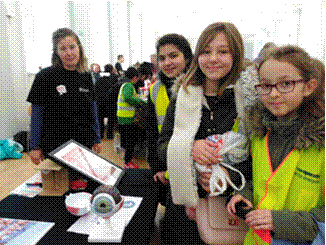 10) Golden Ticket Disco
This week class teachers will give out tickets for an after school, free disco to children in KS1 and KS2 who have completed their homework regularly and to the required standard. The disco will be on Monday 12th December from 3.00-4.00pm, in school uniform, but with lots of competitions. Again, it is showing these children who are taking responsibility for their own learning that this brings rewards, as it does in life.
11) Lates
In frost/snowy weather we do leave the registers open later. Like the staff, please set out earlier so that you are not rushing. It is lovely and warm in school so any boots or extra clothing can be left in the cloakroom.
12) Behaviour
We are coming up to our next Behaviour Award which most children are on track for, but we have a few children whose behaviour at break and lunch times recently is a cause for concern. We send children in and will contact parents/carers if this continues. Children who have received red cards and more than 2 yellow cards will be paying back some time on Party Day, so our children always see the benefit of good behaviour.
13) Party Day
A reminder that we are providing all the food for the Party Day, vegetarian and special diets will be catered for.
14) Swimming Awards
Very well done to Lekshmi Manesh, Charlie Simpson and Keira Tatler, who have passed their Beginner's Certificate.
Megan Proudlove, Solomon Johnson and Stephanie Muyakha, who passed their Length Certificate.
Lina Al Hussein, Jessica Cotterill, Beth Brennan, Milly-Mae Grey, Grace Leese, Joseph Machin, Joel Sheldon, Oliver Woodward, Dylan Colclough, Keira Whieldon and Ricardo Gordon, who passed their Elementary Award.
India Vickers, Ranudi Premadasa, who achieved their Proficiency Certificate.
Ella Curzon who passed her Bronze Challenge.
All the children have been working extremely hard at school swimming this term and achieved these excellent awards. Unlike many other schools we prioritise school swimming as it is an important life skill. Very well done to all these children.
15) Home School Link Worker Information
Some of our Year 6 children went to B&M on Friday to sing. Well done to Nancy Doward, Carly Bithell, Anet Yohannan, Molly Hancox, Kenzi Shepherd-Moss, Rusne Kaupyte, Stephanie Muyakha, Kiera Whieldon, Abbi Dunn and Declan Matthews. Thank you to those who came to support us. In 40 minutes we raised £38.00 which will go to school funds. We all had a great time.
16) Dates for your Diary

Friday 2nd December
Stanley Head PE Activity Day – Y3
Wednesday 7th December
Early Years Nativity (Nursery and Reception) 9:15am in school
Thursday 8th December
KS2 Christmas Concert 9:30am at St John's Church
KS1 Christmas Concert 2:00pm at St John's Church
Friday 9th December
Grandparents Christmas Lunch
Christmas Fair in school 3:00-4:30pm
Monday 12th December
Amerton Farm Visit – Reception
Wednesday 14th December
9:15am EY and KS1 Christingle Celebration in school
2:00pm KS2 (Y3-6) Christingle Celebration in school
Thursday 15th December
Christmas Party Day/Disco in school time – come in own clothes
Friday 16th December
Christmas Jumper Day
School Closes at 2pm for Christmas Break
Wednesday 4th January
Term Starts
Thursday 5th January
Stanley Head PE Activity Day – Y1/2
Friday 6th January
Stanley Head PE Activity Day – Y2
Monday 9th January
Stanley Head PE Activity Day – Y1
17) Celebration Assembly Dates
(Parents/Carers are invited to attend; Starts at 9:15pm)
Thursday 19th January Y4
Further Dates to follow after Christmas
18) Celebration Assembly
Our children/classes who received awards on the 24/11/16 were:
Y1B Ennis Kolasinac
Y1/2H Delarni Fox
Y2C Peter Ashley-Williamson
Y3J Anna Ozman
Y3/4E Rhys Wooliscroft
Y4-5M Joel Sheldon & The Whole Class
Y5/6 Aleksi Vrapi
Y6P Jamie Parades
Mrs Bloor's Award Kiera Tatler
Smart School Uniform Dylan Colclough
Time for Sport Award Y3
19) Attendance Awards
Given out for data collected w/b 14/11/16:
Whole School Attendance: 97.8% (Government target is 95%)
Class Attendance:
• 1st Place – Y2, 100%
• 2nd Place – Y1, 99.3%
Pupil Attendance Awards:
• 1st Place – Jayden Fielding
• 2nd Place – Vicky Yu
Lunchtime Supervisor's Behaviour Award: Lily-May Barlow & Ellie Ruane
Water World Voucher: Aliya Davidson Y1/2
20) Attachments
Top Reading Tips for December
During this Festive time it can be harder to keep reading, but there are lots of great Festive books on sale. For example: Santa is coming to Stoke-on-Trent.You can even read them for free if you have a computer, ipad or kindle. Search: Project Gutenberg-Book categories-Children's Bookshelf. There are lots of categories to choose from, which also has pictures. . I particularly like (from the Christmas bookshelf), 'Twas the Night Before Christmas'. Or try out: Children's Picture Books and read some Beatrix Potter

Remember that you can use Bug Club to enjoy reading together because it also has comprehension questions. Just remember to write it in your child's diary.

Look out for next months 'Mazzei's Monthly Reading Tips.

Mickeys Theatre School Leaflet – Free First Session
Yours sincerely
Mrs P Bloor
Headteacher