Newsletter Autumn Term 13
Dear Parent/Carer
As we finish the penultimate week of term with our traditional Nativity and Concerts, it brings home how near Christmas and the end of term is and what a special time Christmas is for children and families.
1) Class of the Week; Nursery
At the dress rehearsal.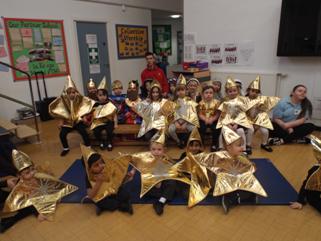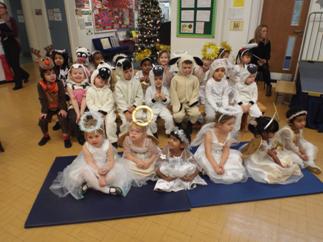 Busy painting scenery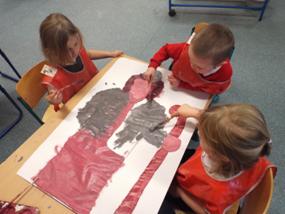 2) Events in School This Week
We have been testing children the last two weeks in maths to assess progress and the next steps. Maths ages will be sent out in January. We have also been undertaking SEN testing and some results will be sent home next week. Y1 have been tested in phonics and those results will be sent out in January.
The Early Years Nativity was wonderful and I know families really enjoyed this. All the children looked and performed brilliantly. When you consider the children's age and the number of people in the audience, their performances were stunning. We hope you enjoyed it.
KS1 and KS2 had their concerts at the church and I know families really appreciate these occasions to celebrate Christmas. All these events involve a lot of hard work and preparation from all the staff, but it is worth it. Thank you for your help with the costumes and learning the words. It is events like this, involving your children that give priceless memories.
Well done to the following children who passed their Swimming Certificates last week:
Jensen Nguyen – Proficiency Certificate, Chloe Barlow – Elementary Certificate and Amin Miah – Length Certificate.
3) Next Week; Reminders
On Monday R1 and R2 go to Amerton Farm.
Please send in an orange by Tuesday at the latest, so your child can make a Christingle during our RE focus lesson on Tuesday.
On Wednesday at 9:15am, Early Years and KS1 (Y1 & Y2), will all be taking part in a Christingle Celebration and Service. This is in the school hall and is another opportunity to see your little ones. We have changed it this year so all classes are involved and more children are speaking.
On Wednesday at 2:00pm, KS2 (Y3-Y6), will be having their Celebration and Service in the school hall. Parents/Carers are cordially invited to attend.
To help you, the gates will stay open in the morning until 9:13am. We will start punctually at 9:15am. In the afternoon to help you, we will open our sport's ground as classes will not be using it at 1:40pm and close the gates at 1:57pm. We will begin promptly at 2pm. Please be punctual as there will be no admittance once the Service starts.
Thank you for your kind donations to the Children's Society, which looks after vulnerable families throughout the year.
All the children thoroughly enjoyed the pantomime Dick Whittington. It was lovely to see them having so much fun.
Thursday is Party Day and children can come in party clothes. We are providing all the food free and classes will play games, have a turn at a disco and generally have a fun packed day. Please send children in with sensible footwear and a coat as they will be having breaks and outdoor play as usual.
Friday is Christmas Jumper Day. Children may wear a Christmas jumper instead of their sweat shirt but the rest of their uniform as normal.
4) Golden Ticket Disco
We have had some queries about the Golden Ticket, given to children in KS1 and KS2, for regular homework of a good standard. A few parents/carers have said their child does homework, but does not hand it in. As you can see from the picture below, each class has special boxes for homework, which all the children are aware of.
Not handing it in on the correct day, Monday, means it misses being marked and the new homework is also missed. We do teach children about personal responsibility. Homework also needs to be of a good standard, which the teacher would usually expect in the classroom. Stoke- on-Trent was in the press this week following a letter from Ofsted, about low, unacceptable standards of education. Our KS2 results were above National Standards which means better than schools in the affluent areas of Surrey. But it needs everyone, I believe, to play their part and some families are not supporting their children by not helping with homework and not hearing their children read. Children only get one chance of a good education. Luckily for St John's, the vast majority of our families share in our vision of educating all our children for a bright future. For those children with a ticket, the disco is on Monday from 3-4pm and you can bring in your best disco clothes. No money is needed and there will be games, competitions and prizes.
5) End of the Day
Can I please remind parents/carers that we do not give out sweets or treats after school. We are a healthy school and do not let children eat on school premises. Also, we have a number of children with dietary issues and food intolerances, so have to be aware of medical and legal issues. If your child has a birthday, we encourage families to send in a book for the class to share.
6) Nursery Information
When collecting children from the Nursery, please can all parents/carers and children stand behind the red line so that staff can safely dismiss the children from class.
7) Golden Mile
Very well done to Y2 who have passed their Golden Mile 5 Mile Award, after a terms work at this lunchtime club.
8) Help Needed
Our last 2 benches have been stolen by thieves' from the top yard. So there are 2 blue and 2 green ones about. We would love to know of their whereabouts, so these thieves, who steal from children can be prosecuted; please inform us if you have any information.
9) School Christmas Fair
Thank you for your support in sending in prizes. We have some lovely stalls, Christmas gifts, lots of wonderful raffle prizes and special stalls for the children. Please come along and support this event on Friday, straight after school. It is free, but the money raised will go towards paying for next year's pantomime and party.
10) Home School Link Worker Information
Thank you to those who took part in the e-safety course, either at home or in school. We hope that you found it useful and were given tips on how to keep your child safe when on-line.
Once again we took a choir to sing at the Cancer Unit at The Royal Stoke hospital. We have done this for a number of years and the staff and patients really appreciate it. Well done to Lily-May Barlow, Benjamin Morris, Angel Deacon, Brodie Sinclaire, Ellie Moreton, Megan Proudlove, Lily Groves, Grace Leese, Amber-Louise Gregory, Lina Alhussein, Evie Beech-Daly, Harvey Tams, Skye Lea-Shaw, Berrie Johnson, Joseph Machin and Joda Tagbota. They were not only complimented on their singing but on their behaviour too.
11) Fire Safety Reminder
Please can we remind everyone to remember to check your smoke alarms regularly, especially with Christmas lights and decorations in our homes at this time of year. There are details attached to the newsletter of the Community Advice Team, who offer advice and guidance on topics such as fire safety in the home.
12) Dates for your Diary

Friday 9th December
Grandparents Christmas Lunch
Christmas Fair in school 3:00-4:30pm
Monday 12th December
Amerton Farm Visit – Reception
Wednesday 14th December
9:15am EY and KS1 Christingle Celebration in school
2:00pm KS2 (Y3-6) Christingle Celebration in school
Thursday 15th December
Christmas Party Day/Disco in school time
– come in own clothes
Friday 16th December
Christmas Jumper Day
School Closes at 2pm for Christmas Break
Wednesday 4th January
Term Starts
Thursday 5th January
Stanley Head PE Activity Day – Y1/2
Friday 6th January
Stanley Head PE Activity Day – Y2
Monday 9th January
Stanley Head PE Activity Day – Y1
13) Attendance Awards
Given out for data collected w/b 21/11/16:
Whole School Attendance: 97.3% (Government target is 95%)
Class Attendance:
• 1st Place – Y4/5 100%
• 2nd Place – Y1 & Y5/6 99.3%
Pupil Attendance Awards:
• 1st Place – Molly-May Heywood-Cox
• 2nd Place – Kyle Silvester
Water World Voucher: Jake Roberts
14) Attachments
Yours sincerely
Mrs P Bloor
Headteacher