Newsletter Autumn Term 2
Dear Parent/Carer
We have had a lovely learning week at St John's and all of the classes are very happy and keen to get on with their learning. The children all look fantastic in our school uniform and are very confident, which is a great credit to you parents/carers. Thank you so much for your support which is so important!
We have now given Reception children their PE kit, meaning all children in the school have been provided with one. Pupil Premium children have also been given a school jumper. Uniform has been in the news recently but it is important to have standards in all areas of school life. Once one standard drops others do, and as an experienced Head I have seen this in other schools. We have high standards in everything, something that I know parent/carers support which is why we are in the top group of schools in the city.
1. Our Talking Topic
This week we have been thinking about all the sorts of things that will make this a successful year. The children were told the parable of the 'wise and foolish builder' and how it is important to everyone to have good strong foundations. We talked about the Paralympics and how the athletes have achieved through hard work and determination despite difficulties. Please talk to your child about this.
2. Our Value; 'Establishing Rules'
Very well done to all the classes in the school, who have made their own set of class rules to follow. We offer a special welcome to our new nursery children who are just starting their education. They are getting more settled each day.
3. Attendance Reward Visit
Last week we had two visits to Trentham Gardens for children that achieved 95% or higher attendance last year and no more than 2 late marks. The children all had a lovely time and were a credit to their families. One family of a pupil in last year's Y6 start the term with a fine for poor school attendance and another family has been fined in the courts. The Education Welfare Officer from the Local Authority monitors all attendance and punctuality.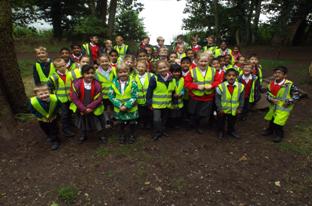 4. School Routines; Lunch Times
Children who have a hot dinner have their lunch in the Hall. Nursery children have their dinner in their classroom. Children from Reception to Y2 are provided with 'Universal Free School Meals' from the Government. Our meals all meet British Food standards. There is always plenty of choice including sandwiches and Mrs Amison and her team are really helpful to the children letting them try lots of different food that they want to. Any child who brings a packed lunch in this group has to eat in the Nursery as all the tables and kitchen staff are provided by the school meal service and not the school. All children go out for activities and exercise after lunch. KS2 hot dinner children come in by rota so all get a chance to be first. Sandwich children also come in by rota and eat in the packed lunch area by the hall. All children are fully supervised. We have guidelines for packed lunches and will be updating these in the light of new guidelines regarding how much sugar children should consume.
5. Class of the Week Y6
A group of Y6 working on a writing task.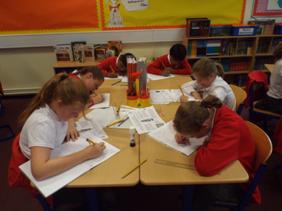 6. End of the School day
We had an issue this week, happily resolved, when a child ran off from their family. Please help us to keep the children safe by teaching them to walk with you. One or two families use wrist straps when children won't walk sensibly which is a super idea. All KS1 children had a lesson on walking safely and using the crossing. We teach until the end of the day and it is disruptive to staff and learning for children to be collected early. Please make all appointments after school. Any missed work can be caught up in the lunchtime catch up club.
7. Reading
Well done to Holly Barnett who completed a library reading passport over the summer. We are asking all parents/carers to hear their child read 4 times a week but some children are already falling behind in this. A reading prize will be our next reward focus in school.
8. Y6 SATs
We queried the marking of 3 of the reading tests and this has successfully improved our scores to Reading 72%, Writing 75%, Spelling & Grammar 78%, Maths 82%. These were new and harder tests and these results will put us high in the LA League Tables and will match National Standards. This is especially impressive, as we are an inclusive school and have children who are disapplied as they are working below the level of the tests and children on the SEN register but who still make progress from a lower starting point. It also shows that as a school we have great effective staff who work hard to successfully improve standards and life chances of your children.
9. Home School Link Worker Information
Attached to the Newsletter are the asthma care plans. These are important documents and should only be filled in if your child has been diagnosed with asthma by a doctor and has an inhaler. Please fill in, sign and return to school immediately. These will then go into the class. If you have more than one child with asthma or have any concerns with the forms please feel free to speak to Mrs Ramsden.
10. Responsibilities

Head Girl – Freya Knight
Deputy Head Girl – Lily Groves
Head Boy – Harvey Tams
Deputy Head Boy – Keneth Bautista
Prefects:
Alan Babu
Chloe Barlow
Jack James
Yashbir Bhuller
Angel Deacon
Solomon Johnson
Rusne Kaupyte
Zara Khan
Kenzi Shepherd-Moss
Molly Hancox
Jamie Paredes
Kira Reilly
Keira Whieldon
Megan Proudlove
Ellie Moreton
Stephanie Muyakha
Rasa Babickas
11. Dates for your Diary

15th September 2016
Good Behaviour Reward Visit
26th September 2016
Parents/Carers Nursery Workshop
30th September 2016
World's Biggest Coffee Morning
6th October 2016
School Individual/Family Photos – pre school siblings for family photos from 8.30am
24th- 28th October 2016
Half Term
12. Attachments
Asthma Care plans
After School Clubs Information
School Lunch Menus
Free Music Ensemble Evening Activities Leaflet
13. Local Events
City Music Service runs FREE weekly ensembles for pupils from all city schools. There are a range of exciting evening activities to participate in, catering for all abilities. Please see the attached information for details of these.
Yours sincerely
Mrs P Bloor
Headteacher