Newsletter Autumn Term 4
Dear Parent/Carer
The autumn term has started really well and we hope you are as pleased as all the staff are about your children's learning at St. Johns. All our new children have settled in really well as our pupils are very welcoming and really good at helping new pupils to settle in.
1) Our Talking Topic
This week we have been thinking about friendship and how we treat people. The children were told the Bible story of the 'Good Samaritan' who helped a stranger. The children were asked to help anyone they see who is upset, even if they do not know them and told about how important little everyday acts of kindness are. 'Do as you would be done by' is one of our mottos at St John's, please could you take the time to talk to your child about this.
2) Our Value; Kindness
This is something all your children are very good at.
3) Class of the Week
Y4W were working on the topic of 'evaporation' in Science.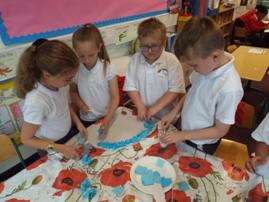 4) Y6 Responsibilities
Senior staff decided on some roles at the beginning of term but now all the children have a responsibility and others will follow. We speak to them regularly about setting examples as excellent role models in terms of work, behaviour and attendance and they have made an excellent start. Well done Y6!
Head Girl- Freya Knight
Head Boy- Harvey Tams
Deputy Head Girl- Lily Groves
Deputy Head Boy – Keneth Bautista
Prefects
Alan Babu
Chloe Barlow
Jack James
Yashbir Bhullar
Angel Deacon
Solomon Johnson
Rusne Kaupyte
Zara Khan
Kenzi Shepherd-Moss
Molly Hancox
Jamie Paredes
Kira Reilly
Keira Whieldon
Megan Proudlove
Ellie Moreton
Stephanie Muyakha
Rasa Babickas
Sports Leaders
George Barnett
Anet Yohannan
Zagros Negeem
Office Team
Megan Proudlove
Stephanie Muyakha
Ellie Moreton
School Council
Chair – Yashbir Bhullar
Secretary -Anet Yohannan
Assembly Team
Luke Brian
Brodie Sinclaire
Ryan Davis
Molly Hancox
Eco Leaders
Oliver Williams
Michel Chmielewski
Nancy Doward
Register Monitors
AM
Luke Brian
Ellie Moreton
PM
Abi Dunn
Carley Bithel
Computer Monitors
Aleksi Vrapi
Alexander Morrey
Playground Leaders
Aryan Raieissi
Declan Matthews
Ryan Davis
Elliot Craggs
Zagros Negeem
Peer Mediators
Chloe Barlow
Nela Polhosova
Chanelle Tooth
Amin Miah
Amelia Harvey
Alexander Morrey
Librarians
Abbi Dunn
5) Nursery Children
The staff are really pleased with how the Nursery children have settled in at the start of their educational journey. They all look beautiful in their uniforms and we thank you for your support. Please keep working at home on toilet training, if your child is not toilet trained, as this is very important if children are to be school ready.
6) Safeguarding
Safeguarding is everyone's responsibility and if you have a concern about a child there is plenty of excellent advice on the Stoke on Trent Safeguarding Board website www.safeguardingchildren.stoke.gov.uk
7) School Attendance
Included with the newsletter is a leaflet about the impact of attendance on your child's attainment and what we do to promote good attendance.
The Education Welfare Officer is working with us to improve our attendance and punctuality, which is also important. Each month letters will be sent out to those whose attendance needs monitoring and if there is no improvement seen, parents/carers will be invited to attend a meeting with Mrs Ramsden and the Education Welfare Officer. These meetings are usually short but gives you a chance to explain why your child's attendance/punctuality is not where it should be.
8) Events in School Last Week
• These are the KS2 representatives this year who have been voted in by their class mates. They met to decide the charities the school would fundraise for this year.
Y6: Yash Bhullar
Anet Yohannan
Y5/6: Anopa Mutize
Ryan Davis
Y4/5: Tyler Baldwin
Ella Whitehurst
Y4: Alyssa Stanley
Liam Davis
Y3/4: Anashe Mutize
Aneesha Sebastian
Y3: Thomas Hilditch
Jessica Chittock
• Swimming
Very well done to Aryan Raieissi and Alisaa Saji who achieved his beginner's certificate in school swimming last week.
• Food For Life; Bronze Award
The school has achieved this award after a year's work on looking at food and its important contribution to good health. Two children, Grace Wain and Anashe Mutize and their families received this award at Middleport Pottery on the school's behalf. Very well done!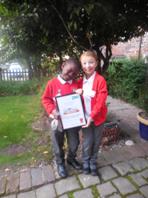 9) School Admissions Policy
Please see the attached St John's Admissions policy. This document gives an overview of the schools admissions practices, if you have any comments or suggestions please feel free to contact the school office.
10) Dates for your Diary

Monday 26th September
Parents/Carers Nursery Workshop
Friday 30th September
World's Biggest Coffee Morning at 9am & Fundraising Walk at 3:00pm
Thursday 6th October
School Individual/Family Photos – preschool siblings for family photos from 8.30am.
Stoke Town Girls Football – St Johns
Friday 7th October
Stoke Town Boys Football – St Johns
Tuesday 18th October
Y3/4 Football Festival – Crescent Academy
Thursday 20th October
Y5/6 Football Festival – Crescent Academy
24th-28th October
Half Term
11) Celebration Assembly Dates (Parents/Carers are invited to attend; Starts at 9:15pm)

Thursday 20th October
Y5/6
Friday 18th November
Y6
Thursday 24th November
Y4/5
Further dates to follow after Christmas
12) Celebration Assembly
Our children/classes who received awards on the 23/09/16 were:
Y1B Molly-May Heywood-Cox
Y1/2H Aliyah Davidson
Y2C Tyler Hodgkinson
Y3J Merin George
Y3/4E Aneesha Sebastian
Y4W Jeff Joseph
Y4-5M Lina Al Hussein
Y5/6M Elliott Craggs
Y6P Rusne Kaupyte
Mrs Bloor's Award Nancy Doward & Michel Chmielewski
Dusty Bin Award
Smart School Uniform
Lunch Time Supervisor's Award Erin Hill & Grace Eaton
13) Attendance Awards: Given out for data collected w/b 12/09/16:
Whole School Attendance: 94.5% (Government target is 95%)
Class Attendance:
• 1st Place – Y4/5, 99.3%
• 2nd Place – Y4, 99.2%
Pupil Attendance Awards:
• 1st Place – Ryan Davis
• 2nd Place – Nela Polhosova
Good to be green Awards: KS1 – Jacob Brear
KS2 – Lina Al Hussein
Water World Voucher: Erin Hill
14) Attachments
School Lunch Menu – Autumn Special
Yours sincerely
Mrs P Bloor
Headteacher