Newsletter Autumn Term 5
Dear Parent/Carer
As we start October, I hope you all feel as the staff do, that the term has started brilliantly and how settled all the classes are. A visitor to school last week commented on how happy all the children were and how smart they all looked, which is a great compliment to all our families and our school.
1) Our Talking Topic
This week we have been thinking about 'words' and how to use them. The children were told how gossip spreads very easily and how important it is to say kind words to people. Please talk to your child about this.
2) Our Value; Respect
This week we have been focusing on respect. We have a special rule at St. Johns "Give respect -get respect", which all the children know. Very well done to Rian Webster/Humaira Shakil Y2, Landon Coates/Aisha Hashemi Y3, Megan Proudlove/Jerome Juguilon Y6, Tala Alhussein/Jacob Brear Y1/2, Anopa Mutize/Zagros Negeem Y5/6, Lincoln Cotterill/Sarayu Baddam Y4, Zachary Allen/Arahbela Arvesu Reception and Bethan Hill/Joshua Clement Y3/4.
3) Class of the Week Y5/6
Y5/6 being taught 'guided reading and key skills'. All the classes have one group, teacher led, guided reading teaching session from 9 o'clock to half past nine every morning, while other groups complete a combination of key skills and 1 to 1 reading. This is a crucial learning time in every class and why children need to be in school by 8.50 am.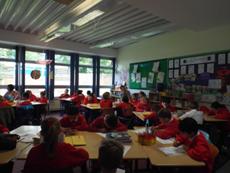 4) School Clubs
Here is the after school family club, 'Bringing Books to Life', taken by Miss Pickerill, enjoying reading, talking and acting out a story.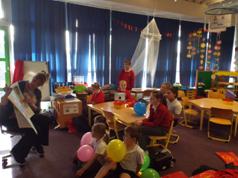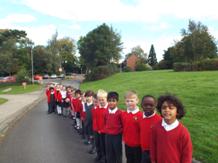 Also, the Y2 golden mile lunch time club that I take one dinner time, when the children log laps for a fitness certificate.
5) School Routines: Homework
As clarification for our new families, we set homework as per our policy on a Wednesday. This allows children the weekend to complete it, if they are busy with clubs and swimming lessons or go to a different family member on these days. We expect it in for Monday at the latest, (although it can be returned earlier) and it is then marked. Some children have been returning it late and asking why the homework is not in their book.
All class teachers keep a log of who completes it and this is used for good homework rewards. Research shows that homework can have an impact as it shows children that learning is not just done at school. All classes have a routine for marking and setting homework which is why it needs to be in on time.
I have recently had glowing reports about how well our last Y6 are doing in their high schools. The children I have seen already have said to me that they are set a lot more homework at high school and ask me to tell the children to get their homework routine sorted before they go to high school. I think this is very good advice. We do have detention time for children to catch up with homework at dinner time and KS2 children miss their computer club if it is not done.
6) Nursery
Good learning of reading and writing can start early and we have given all our nursery children a writing workbook to do at home. We hope your child enjoys this.
7) Packed lunches
Included with the newsletter is the Government advice regarding packed lunches.
8) Harvest
Our Harvest will be next week. Starting from Monday 10th October to Friday 14th October, we are collecting food for the Open Door charity which helps hungry and vulnerable people in the Stoke-on-Trent area. Please can every family send in a contribution? They are in particular need of tinned foods such as tuna or tomatoes. We thank you for your continued support for helping others.
9) Events in School last week
All the KS1 and KS2 classes had a maths/art workshop, 'Doodle Bug' the children were shown how to draw a carton by the artist and all thoroughly enjoyed our half termly WOW Day.
10) Target Sharing Open Evenings
Letters have gone out and appointments made for this important meeting. Staff are looking forward to sharing how your child has started and what you can do to help their learning. Children on the special needs register are having their Pupil Passport targets changed at this meeting so it is vital all families attend.
11) Home School Link Worker Information
We are having a number of children saying that they have come to school with no breakfast. This is the most important meal of the day and sets the children up for the day ahead. Please make sure they have a bowl of cereal or piece of toast before they leave the house.
12) Green Attendance Award Cards
Well done to everyone who went home with a green Attendance Award card on Monday. That means they had 100% attendance with no more than 2 lates for September. Remember that if they have 10 cards by June their name will be put into a prize draw to win a tablet!
13) Macmillan Cancer Support
A big thankyou to those who attended either the coffee morning or the walk on Friday in support of Macmillan Cancer Support. We raised a total of £200.05, which is a great amount. Thankyou!
14) Anti-Bullying Ambassadors
We now have our Anti-Bullying Ambassadors. These children will meet every half term to discuss issues and decide what strategies can be put in place. Fortunately we do not have much bullying here at St John's, if any at all, but if it does come to light the matter is dealt with speedily. Well done to Kenzi Shepherd-Moss, Zara Khan, Aiden Johnson, Ranudi Premadassa, Amber-Louise Gregory and Oliver Woodward. These children can be spotted around school with the green Anti-Bullying Ambassador badges on.
15) Office Information
Admissions Policy
In last week's newsletter we attached the latest Admissions Policy and asked for any comments for amendment of this policy. We are now in consultation period which will run for 6 weeks from 05/10/16. This policy will be for 2017/2018 which will cover the 2018/2019 intake. Please feel free to contact the office if you any comments to make on the policy.
Payments
At a governors meeting last night our bad debt for dinner & wraparound was discussed at length. The conversation was about being able to go anywhere and not paying in advance for goods – this would not be possible. Schools are increasingly becoming a business in their own right and responsible for all aspects of their funding and spending and all payments for goods sold to parents/carers are included within this. The decision has been agreed, as per our cashless system, that NO meals or wraparound places will be agreed without prior payment and therefore we ask you to make sure your Squid account is topped up accordingly. The office team have been asked to follow up any issues with regard to problems on how to use your account so please do pop in and see them if you need any help.
16) Local Events
Harriers Netball Club have launched their new junior netball sessions on Tuesday evenings at Stoke-on Trent College, Sports Academy, Cauldon Campus, Stoke Road. For those aged 8-11 years old the session is from 6-7pm and costs £2 per session. The first session is FREE.
17) Dates for your Diary

Thursday 6th October
Stoke Town Girls Football – St Johns
Friday 7th October
Stoke Town Boys Football – St Johns
Monday 10th October
Collecting food for Open Door project
Tuesday 11th October
Target Sharing Evening 3:15-5:15pm
Wednesday 12th October
Target Sharing Evening 3:15-5:15pm
Tuesday 18th October
Y3/4 Football Festival – Crescent Academy
Thursday 20th October
Y5/6 Football Festival – Crescent Academy
Monday 24th October
Holiday Sports Camp – Clayton Wood
24th-28th October
Half Term
18) Celebration Assembly Dates
(Parents/Carers are invited to attend; Starts at 9:15pm)
Thursday 20th October
Y5/6
Friday 18th November
Y6
Thursday 24th November
Y4/5
Further dates to follow after Christmas
19) Celebration Assembly
Our children/classes who received awards on the 30/09/16 were:
Y1B
Sophie-May Birchall
Y1/2H
Holly Gaskell
Y2C
Mason Kidd
Y3J
Lola Howard
Y3/4E
Anto Yohanna
Y4W
Rubina Mahnoor
Y4-5M
Dylan Colclough
Y5/6M
Alexander Morrey
Y6P
Carly Bithell
Mrs Bloor's Award
Chanelle Tooth
Dusty Bin Award
Y6
Smart School Uniform
Savannah-Mae Bromley,Alicia Sanil,Sofian Mohammed and Brendan Hitchcock
Time for Sport
Y3
Walk to School Award
Y3/4
Lunch Time Trophy
Y1
Good to be green Awards:
KS1 – Michael and Cisco Handy
KS2 – Sarah Yu and Lola Howard
Water World Voucher:
Milly-Mae Gray
20) Attachments
Information Leaflet – October Half Term Sports Clubs at Trentham High School
Yours sincerely
Mrs P Bloor
Headteacher