Newsletter Autumn Term 6
Dear Parent/Carer
It has been lovely to share with you, at the Target Sharing Evening this week, your child's achievements and targets so far this term. There were so many lovely comments about how the school is meeting your child's needs. Education is really a joint partnership and our working together is crucial.
1) Our Talking Topic
This week we have been thinking about how we are all special and unique, how we all have talents and something to give and that God wants to use each one of us.
2) Our Value; Respect
This week we have asked the children to go out of their way and show more respect. It is something they are very good at already and a source of pride to all the staff. A special well done to Riley Tams, Sadia Hashemi Y1, Vicky Yu, Caleb Dalton-Williams Y1/2, Isaac Williams, Isabella King Y2, Merin George, Elizabeth Solomon Y3, Dania Mousa, Theodore Pinto Y3/4, Joshua Brereton Lewis, Rubina Mahnoor Y4, Fareedah Ibrahim, Kiera Tattler Y4/5, Charlie Simpson, Zagros Negeem, India Vickers y5/6, Freyah Knight, Keneth Bautisa, Kira Reilly Y6 who have all shown excellent respect this week.
3) Class of the Week
Y3/4 has been finding out about 'Henry V111' and were making their own portraits of him.
4) School Club
This is the after school French Club 'French for Rue', the venue of the forthcoming French residential for Y6, getting to grips with speaking French in a café with Mrs Wolfe.
The lunch time 'boot camp scooter club' were expending energy, logging laps and having a lovely energetic time with Miss Cruxton.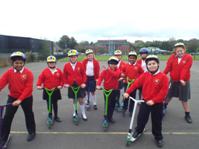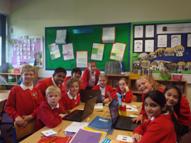 5) Year 2, City 7's
Amid much excitement, all the Y2 children have been signed up for Stoke City Y2 scheme. The Stoke mascot visited the children and they were all given a Stoke shirt, goodies and a voucher for 2 tickets to a match. This has been funded by the school and events like this show why we need you to support school fundraising events. Our Christmas Fair is on Friday 9th December and we are collecting raffle prizes now, so please have a look round when you are out shopping this weekend and get a raffle prize for the school and if you have any contacts please badger them for a donation. All the money raised goes on your children and the excitement of the Y2's shows that we spend it wisely.
Let's hope this helps Stoke win on Saturday!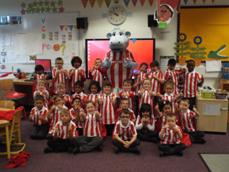 6) Events in School Last Week and This Week so far
Well done to Ruby Howard who passed her Beginner's Certificate at school swimming.
Well done to the girl's football team who played in a tournament last week and had a loss, draw and a win. They really played well. A special well done to Evie Beech–Daly, Miss Pickerill's star player and Brodie Sinclaire, my star player.
Well done to the boy's football team who took part in the ESFA 7 a-side tournament at St Johns. They played well but came across some good teams and had a super result against St Thomas Aquinas. A special well done to Jack James, Mr Walter's star player and Zagros Negeem, my star player.
7) School Disco
This is on Thursday for Y1 to Y6 and is for good behaviour. Any child who has had a red card this term will not be allowed to attend and there are 6 children so far. We are letting the group attend who have had a few yellow cards, to let them see what they might be missing unless they focus their behaviour.
We do not let Nursery or Reception attend as they are too young and the older pupils requested this, as they want to have fun.
The cost is £2 and that includes a drink and crisps. There are some other refreshments including drinks available for 50p (we do not allow children to buy more than 2 chocolate bars). There are also some toys at £1 and £2 if you wish your child to buy something.
There will be no clubs on this night.
8) Early Years Animal Lady Visit
On Tuesday Nursery and Reception had a visitor who brought in a variety of animals to show the children.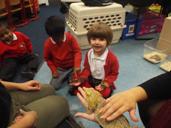 These included 2 snakes, a hedgehog, a spider, an owl, a gecko and a honey bear. The children were fascinated and they all had a chance to touch the animals. It was a lovely practical learning opportunity for our younger children to help improve speech and language.
9) Homework
Last Friday we had 30 children in catch up club for not reading 4 times a week (or more if they are on the SEN register and new to English) at home or not doing homework, as well as the late catch up club. This is far too many and we are asking for your help to make sure all the children read and complete their homework.
I was talking last night to Y6 parents/carers about getting children ready for high school by the children becoming independent learners, which is a life skill – it just means getting into a routine.
I know we have some families who read at breakfast or on the way to school, Mrs Stanley and others like Mrs Barnett who practice tables whilst getting tea and allocating set times on 2 nights to do homework. My own staff with children do this.
We have decided that any child in KS2 who does not complete homework will not be allowed in the lunch time computer club and it will be a criteria for selecting children for additional learning opportunities, as we will ask class teachers who deserves it. Please help us to aid your child's learning.
One or two parents were asking about extra work. We do distribute letters from companies but the best thing families can do is lots of reading and discussion and learning tables. Supermarkets sell workbooks very reasonably for maths, spelling etc. There is also the on line My Maths and Active Learn that can extend learning.
10) PE Kits
We had a visitor from school today, who remarked how smart all the children looked in the PE kits that school provides. As a reminder to new parents/carers children are not allowed to do PE in earrings for health and safety reasons. Our cloakroom also looks really organised with the colour coded PE bags and we can keep track of ones that are lost. Thank you for your support.
11) Cursive Handwriting
As a result of requests from parents/carers a copy of cursive script is attached to the newsletter.
12) Home School Link Worker
A reminder that if your child is off for more than 3 days, medical evidence needs to be seen so that attendance can be authorised. Some schools ask for a doctor's note which costs around £25, we don't ask for that. All we need to see is either an appointment card to say you have attended the doctors or the medicine that has been prescribed. If your child's attendance goes below 90% all absences will be unauthorised.
13) Dates for your Diary

Tuesday 18th October Y3/4
Football Festival – Crescent Academy
Thursday 20th October Y5/6
Football Festival – Crescent Academy
24th-28th October
Half Term
Wednesday 2nd November
3:15pm-4:30pm New Nursery/Reception Intake & walk around
Friday 18th November
Children in Need
14) Celebration Assembly Dates
(Parents/Carers are invited to attend; Starts at 9:15pm)

Thursday 20th October
Y5/6
Friday 18th November
Y6
Thursday 24th November
Y4/5
Further dates to follow after Christmas
15) Celebration Assembly
Our children/classes who received awards on the 7/10/16 were:
Y1B
Enis Kolasinac
Y1/2H
Cisco Handy
Y2C
Cindy Li, Oliver Brereton Lewis
Y3J
Robyn Whieldon
Y3/4E
Ryan Bithell
Y4W
Samuel Kuruvilla
Y4-5M
Matthew Ingram
Y5/6M
Aiden Johnson, Lily-Mae Barlow
Y6P
Declan Matthews
Mrs Bloor's Award
Nela Polhosova
Dusty Bin Award
Y2
Smart School 1half
Arahabela Arvesu, Anto Yohannan
Time for Sport
Y6
Lunchtime Supervisor's Award
Joel Sheldon, Michael Jimenez Junior
Lunch Time Trophy
Y3
Players of the Tournament
Molly Hancox, Evie Beech-Daly
16) Attendance Awards
Given out for data collected w/b 26/09/16:
Whole School Attendance: 97.7% (Government target is 95%)
Class Attendance:
• 1st Place – Y5/6, 99.6%
• 2nd Place – Y6, 99.4%
Pupil Attendance Awards:
• 1st Place – Liam Davies
• 2nd Place – Alan Sose
Good to be green Awards: KS1 – Joda Tagbota and Amber Gregory
KS2 – Jayden Fielding and Maira Mashonganyika
Water World Voucher: Eve Tams
17) Attachments
Yours sincerely
Mrs P Bloor
Headteacher