Newsletter Autumn Term 7
Dear Parent/Carer
As we finish for half term, I hope you feel as the staff do, that we have had an excellent start to the academic year. All the children are working hard and making super progress as they always do at St John's.
1) Our Talking Topic
This week we have been thinking about 'hard work' and how talent alone is not enough. The children were shown an Olympic Athlete, Amy Tinkler, who won a gold medal in Rio at the age of 16 and still had her GCSEs to work for! She only achieved this by working hard and by her and her family making sacrifices. The children were told that we all have talents, but that hard work is needed to achieve their potential.
2) Our Value; Cooperation
This week we have asked the children to think about all the times they cooperate with others and how important this is. Very well done to Declan Matthews, Zara Khan Y6, Amin Meir, Elliot Craggs, Y5/6, Amith Puli, Alfie Barlow Y1, Jayden Fielding, Holly Gaskell Y1/2, Freya Kristof, Macey Simpson, Jagoda Kulik Y2, Thomas Hilditch, Bethany Morrey Y3, Grace Wain, Theo Lovell Y3/4, Berrie Johnson, Matthew Ingram Y4/5 who have all demonstrated extra cooperation this week.
3) Class of the Week Y3
The class were busy learning numbers in French.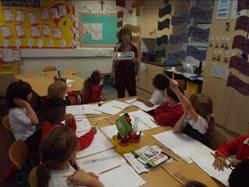 4) Harvest
Thank you so much for your Harvest contributions to the Open Door Food Bank Project that feeds families from Stoke who are in need. They were most generous contributions.
5) Target Sharing Evening
Thank you so much to the families who came last week to find out how their child has settled and discuss the next steps on their learning journey. We had some lovely comments and the questionnaires will be analysed shortly. Over the whole school 79% of parent/carers attended, which is below our target of 85%.
6) School Clubs
This week I looked in at the after school 'Bolt's Bullets Running club', taken by Miss Morris and 'Bringing Books to Life', taken by Miss Pickerill. All the children were enjoying their clubs.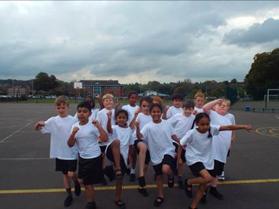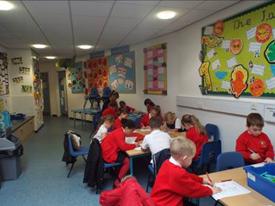 7) Reminder
A reminder that in the Home School Agreement it states that children do not eat or drink on the school premises. It is far better to use rewards as an occasional treat.
8) Events in School last Week and this Week
Very well done to:
Chanelle Tooth Y6 who passed the Beginner's Certificate in school swimming.
Y5/6 mixed group who took part in a Tag Rugby Competition.
Yash Bhullar, Freyah Knight, Harvey Tams and Anet Yohannan who represented the school at the King's Hall, for a Local Democracy Meeting with local councillors.
This week, children from KS2 were selected to compete in the South Stoke Cross Country Competition. They all thoroughly enjoyed the event and tried their very best during the run. A special mention to Oliver Westward for coming 4th place in the Year 4 boys' competition. The children who competed from Lower Key Stage 2 were: Anashe, Theadore, Delin, Dania, Fareedah, Berrie, Oliver, Oscar, Adithya, Kane, Ryan and Tyler. Well Done!
9) Fund Raising Disco
This was tonight and I am sure the children will have enjoyed themselves. We had a few calls about Reception children attending, but we never allow them to attend as the older children do not like it. Also it is sometimes good for children to have to wait until it is their turn to join in an activity.
10) Behaviour
On Friday children whose behaviour has been outstanding will receive their Bronze Behaviour Award and a special pencil. This is the first in a series of six that we award in KS1 and KS2. Early Years have their own Behaviour Certificates. We are always so proud of our pupils who always do the right thing, 'our always children'.
Some children who have received yellow and red cards will not be getting their award till later, which of course is only fair.
11) Energy Saving Tips
This week the school's Energy Monitors thought of ways that you can save energy at home. Here are their ideas:
Shut down/turn off computers and i-Pads when they are not being used.
Turn off the TV and any lights when you leave a room.
Fill your kettle with just the amount of water you need, so it won't waste energy boiling a full kettle.
If electrical items are not being used turn the switch off at the plug. For e.g. microwave and kettle.
12) Christmas Fair
Our Christmas Fair is on Friday 9th December and we are now collecting toiletries for raffle prizes. So if you could please have a look around when you are out shopping during half term and get a raffle prize to support our school fundraising, we would be grateful. The holiday may also be a good time to sort any unwanted/unused toys still in good condition to donate too – get your children to give them a clean and pop them into school once we are back – thankyou.
13) Dates For Your Diary

24th-28th October
Half Term
Wednesday 2nd November
3:15pm-4:30pm New Nursery/Reception Intake 17 Walk around
Friday 4th November
Juice/Biscuits for Kenya
Friday 18th November
Children in Need
Monday 21st November
Y5 & Y6 New Vic Theatre visit – Snow Queen
14) Celebration Assembly Dates
(Parents/Carers are invited to attend; Starts at 9:15pm)

Friday 18th November
Y6
Thursday 24th November
Y4/5
Thursday 19th January
Y4
Further dates to follow after Christmas
15) Celebration Assembly
Our children/classes who received awards on the 14/10/16 were:
Y1B
Alfie Barlow
Y1/2H
Ashton Barnett
Y2C
Freyja Kristoff
Y3J
Paige Adlington
Y3/4E
Osman Hashemi
Y4W
Alan Sose
Y4-5M
Kiera Tatler/Milly Mae Gray
Y6P
Yashbir Bhullar
Mrs Bloor's Award
Evan Davies Y4, Sadia Hashemi Y1
Dusty Bin Award
Y3
Smart School Uniform
Leona Johns
Time for Sport
Y6
Lunchtime Supervisor's Award
Apama Arokiaswamy/ Aiesha Hashemi
16) Attendance Awards
Given out for data collected w/b 3/10/16:
Whole School Attendance: 96.6% (Government target is 95%)
Class Attendance:
• 1st Place – Y3/4 99.2%
• 2nd Place – Y2 98.8%
Pupil Attendance Awards:
• 1st Place – Charlie-Ann Hindmarsh
• 2nd Place – Ryan Bithell
Good to be green Awards: KS1 – Jayden Y1/2, Callum Y1/2
KS2 – Oliver Y4/5, Sedra Y4/5
Water World Voucher: Holly Barnett
17) Attachments
Yours sincerely
Mrs P Bloor
Headteacher