Newsletter Autumn Term 8
Dear Parent/Carer
As we restart after half term with the staff and pupils visibly rejuvenated, we have had a lovely learning atmosphere in school and a great start to this very busy half term, which is when children make a lot of academic progress.
1) Our Talking Topic
This week we have been thinking about 'giving' and how we should give thanks for all the wonderful things we have. The children were told the story of two children from Kenya, living in an orphanage, who had only a little food but still appreciated their chance to go to school and the little food they had grown in their gardens. We are so very lucky and should give thanks to God.
2) Our Value; Resilience
This week we have been thinking about 'resilience' and the need to keep trying, to never give up even when things become hard. Very well done to Y6 who have all completed lots of reading over half term and know they have to get to a high standard to pass their SATS tests. A special well done to George Baldwin, who despite having broken leg, did not want to miss school and is back in.
3) Teaching and Learning Review
The school has had a teaching and learning review this week which we have periodically. It has gone very well and the inspector was very complimentary about your children's behaviour and how keen they were to learn. She said they were lovely, which we all know, and how proud you should be of them and St John's.
4) Class of the Week
Y2 playing instruments in time to different music.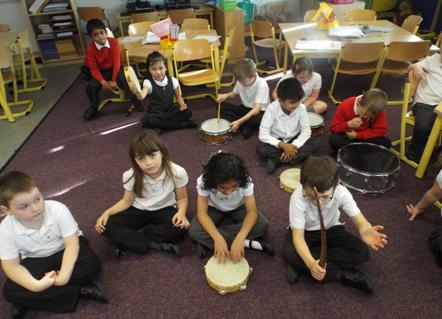 5) School Clubs Picture
This is the afterschool Taekwondo Club working under the coach Mr Peter Johnson for their next grade.
6) School Uniform
Now we have the colder weather could we make another plea from class teachers that all uniform is labelled. It wastes learning time looking for items of clothing. Also a few children have been wearing fancy hair adornments. We only allow red or black bands etc and black, red or grey tights. At St John's we have high standards in everything which I know parents/carers appreciate.
There is a bag of unnamed lost property in the community room if any parent/carer wishes to look through it.
7) Events in School Last Week
Very well done to Oscar Dix, Matthew Ingram and Eliza Williams who have gained their Beginner's Certificate in swimming.
Also Dylan Colclough, Jessica Cotterill, Milly-Mae Gray, Joseph Machin, Aiden Johnson, Anopa Mutize, Aleksi Vrapi, Aryan Raieissi and George Barnett who successfully achieved their Length Certificate which is the minimum standard the government set for children in Y6. At St. John's we help this by prioritising the purchase of school swimming from our budget as children seem to no longer have swimming lessons at high schools as once was the case.
Football Festival Y4 and Y6 took part in a Football Festival. All enjoyed the competitive matches. Well done to Ryan Davis Y6 Player of the Tournament for 2 super goals and Liam Davis Player of the Tournament for a super goal keeping display.
Y5&Y6 Cross Country – very well done to Evie Beech-Daly 10th and Brodie Sinclaire 12th who competed brilliantly with the team against 10 other schools.
Well done to the group of children selected for the Holiday Sport Camp at Clayton organised by Time 4 Sport.
A special well done to all the many children who got their Behaviour Award in Early Years and the Bronze Award in KS1 and KS2. We are so proud of you!
School Disco – This raised £311.69 for school funds and was thoroughly enjoyed by the children.
8) School Christmas Fair
Save the date and the time; Friday 9th December 3.00-4.00pm. We have already had some great Raffle Prizes donated, including family tickets to Sealife, Legoland, Emma Bridgewater Experience and Gladstone Pottery Museum, so please come along and support this event as the money raised at the Christmas Fair subsidises school visits for families.
Any parents/carers who want to help, please leave your names at the school office. If you have any ideas for fund-raising please see Mrs. Oldfield.
9) Juice and Biscuits this Friday 4th November
This is to buy another cow for our partner school in Kenya, Matili FYM. Please can children bring in 50p for a treat of chocolate biscuit and juice!
10) Parent/Carer Questionnaire
The results of the recent questionnaire are attached to the newsletter and they are very positive. Suggestions taken as a result of your views have also been outlined. Your views are always important as it is by working together that we can educate your child.
11) Sporting Opportunities
We had 4 Extra Curricular Competitions in the week before half term and a football practice on Friday, which was lovely and healthy for the children. For each one we had children who did not return the slips and others who did, but did not bring trainers for cross country. So in future any sporting letter will have a date for replies and after that date other children will be picked. We do not let children do cross country or football in black pumps, so if your child is in KS2 please be aware that both black pumps and trainers are needed.
12) Stanley Head Visits
All KS2 classes are visiting Stanley Head Outdoor Education Centre this term for a PE Activity Day. This visit is heavily subsidised for all the children at £3 (the real cost is more like £15). Please send the money and forms in as soon as possible. KS1 are hopefully going after Christmas.
13) School Times
Can I remind our new families that we do not allow children on school premises till 8:40am as we open the doors at 8:45am, so children should be in school learning for 8:55am. All key stages finish at 3.00pm.
14) FREE Book Donation
Our school was chosen to receive £250 worth of FREE books for our library/classrooms from Autoneum GB Ltd. They are a local manufacturers based in Stanley Matthews Way, who wished to make a contribution to local education and asked their staff for ideas. Luckily for us a previous parent works at this establishment and put forward our school – we are very grateful for this donation and have sent a letter of thanks on behalf of our pupils.
15) Home School Link Information
With Christmas fast approaching, please be aware of the age limit that the games have for X Box, Playstation etc. This information is there to direct parents/carers on what sort of games they are and their suitability for your child.
Some children have mentioned that they play Grand Theft Auto. This is rated for adults aged 18 and above, so is not suitable for our children.
Bonfire Night is just around the corner and we have included some information in the newsletter about Firework Safety. Please could parents/carers talk to their children about Firework Safety to make sure everyone has a safe and enjoyable time.
16) Cashless Update
As many of you are aware we first introduced our Cashless Catering system via LA City Catering, who at that time won a bid to install this system in all schools that had requested it. At this point the provider of both the catering system, Cunninghams, and the financial system, sQuid, were already in place and all schools adopted these practices. Over the years we have had many instances when these systems were failing to provide the services schools required and no more so than recently when sQuid updated their system causing so many problems to you all, and ourselves! Schools now have the overall responsibility for the catering systems and so we have been in constant exchange with LA City Catering to offer a better service to yourselves and our catering staff, which will then provide us with a better financial system that we can all work with.
As from January 2017 we are looking to terminate our contract with sQuid (on Friday 16th December) and move to ParentPay; other schools are raving about how easy it is for parents/carers to use and schools have a better knowledge & understanding of the system. As a school we will do everything we can to help you close your present account in December and open your new one as soon as we have all the relevant information.
With this in mind can I ask you to make sure that those who have large balances on their children's dinner accounts do start to reduce these and only pay in to the present 'Dinner/Catering Purse' what you know you are likely to use before the end of the term. All trip/uniform payments can continue as they are at present but we will close this section before the last week of term and will accept cash payments, if needed. Any dinner money still owing to you at the time of closure will be passed directly to the school and entered manually on to your child's account; you will receive an individual letter from the school office. Any accounts that are in arrears may be subject to additional administration costs as sQuid pay all school meals taken by your child directly to the school and therefore would need to claw back all outstanding monies – please do make sure your child's account is never in arrears as they can be refused a meal.
PLEASE LOOK OUT FOR MORE INFORMATION LATER THIS TERM!!
17) Office Information
Your child will be bringing home a form on Friday evening, will you please check the details, amend if necessary, then sign and return to school as soon as possible so that records we hols for your child are up to date.
18) Dates for your Diary
Friday 4th November
Juice/Biscuits for sale – raising money for Kenya
Friday 18th November
Children in Need
Monday 21st November
Y5 & Y6 New Vic Theatre Visit – Snow Queen
Thursday 24th November
Stanley Head PE Activity Day – Y4
Monday 28th November
Stanley Head PE Activity Day – Y3/4
Tuesday 29th November
Stanley Head PE Activity Day – 5/6
Wednesday 30th November
Stanley Head PE Activity Day – 4/5
Wednesday 30th November
3:15-4:30pm New Nursery/Reception Intake 17 Walkaround
Thursday 1st December
Stanley Head PE Activity Day – Y6
Friday 2nd December
Stanley Head PE Activity Day – Y3
19) Celebration Assembly Dates
(Parents/Carers are invited to attend; Starts at 9:15pm)

Friday 18th November
Y6
Thursday 24th November
Y4/5
Thursday 19th January
Y4
Further dates to follow after Christmas
20) Celebration Assembly
Our children/classes who received awards on the 20/10/16 were:

Y1B
Riley Tams
Y1/2H
Lexi Fradley Degg
Y2C
Isabella King
Y3J
Elizabeth Solomon
Y3/4E
Robin Craggs
Y4W
Hollie Bentley
Y4-5M
Oliver Woodward
Y5/6
Zagros Negreem & The Whole Class
Y6P
Oliver Williams
Mrs Bloor's Award
Chloe Barlow
Smart School Uniform
Jackie Li
21) Attachments
Yours sincerely
Mrs P Bloor
Headteacher