Newsletter Autumn Term 9
Dear Parent/Carer
As we enter the period of dark nights and colder weather, it has been lovely to see the children so well wrapped up. Please help us by making sure all the coats are named.
1) Our Talking Topic
This week we have been thinking about 'getting on and falling out' and the importance of listening to each other and spending time listening to friends. Please talk to your child about this.
2) Our Value; Friendship
We are lucky at St John's in that we have lovely children who are so friendly to each other. They have done a brilliant job helping our new pupils settle in so well. We had a very successful teaching and learning review this week and the visitors commented on how friendly and keen to learn your children were. A special well done to Skye Lea-Shaw, Jackie Li Y5/6, Joel Sheldon, Joda Tagboto Y4/5, Jaques Theron, Joshua Webster, Michael Jimenez Junior Y1/2,Rezwan Raieissi, Aleina Grace Y1, Oscar Woodward, Hanna Maria, R2, Harvey Lewis, Lola Marshall R1, Katy Yu, Thomas Gregory Nursery ,Stephanie Muyakha, Oliver Williams Y6,Angelina Abraham, Oscar Dix, Beth Brennan Y4/5, Ninan Thomas, Eve Tams Y4, Jack Barlow, Holly Barnet, Rhys Wooliscroft Y3/4, Surra Osman, Dylan Wright, Robyn Whieldon Y3,Satvica Sumod, Peter Ashley-Williamson Y2, who have all been displaying this quality really well this week.
3) Class of the Week
As part of the science topic the children were testing which gloves were best for washing up.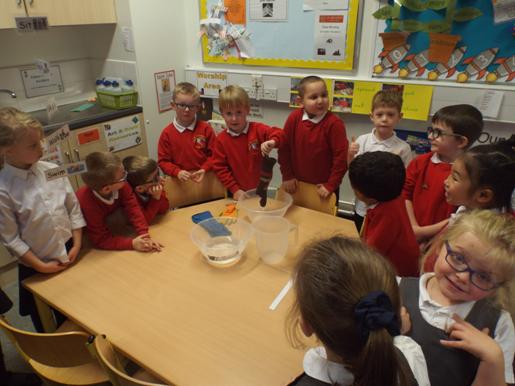 4) Cow for Kenya
Thank you so much for supporting this event, we raised £146. The School Council chose the name 'Delilah' for the cow. Some work and letters will be going to our partner school very shortly.
5) Hearing Your Child Read Week
This week why not focus on reading every night with your child, as it is not the weather for going out. Chat about the stories and ask your child questions. There are some reading tips attached to the newsletter.
6) Green Flag Award
This week we had a visit to check we were doing everything for our Green Flag Award. You will be delighted to know everything went well and we have our accreditation still. There is a lot of work done in lessons on recycling, saving energy and making children aware of how important it is to look after our planet. Ask your child for some tips. The assessor complimented the children on their knowledge and enthusiasm. Very well done to everyone!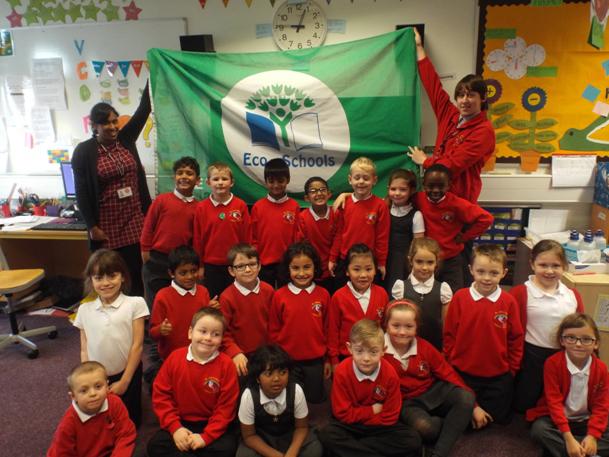 7) Parking by the School
Part of our work looking after the environment is to encourage children to walk to school, as a healthier and environmentally friendly option, or to park and stride so that parents/carers are not causing congestion in the nearby streets. Many families who live away from St John's, as we are a popular school, share transport and do this already. Sadly a few parents/carers still park thoughtlessly and I have had complaints from residents this week.
The council is going to make all the roads in the area, including Wheatly Avenue and Springfield Road 'resident only' parking shortly, to solve the issue of hospital parking. Please be considerate and aware of young children when you are near the school.
8) Christmas Fair
We are starting to receive donations for the Christmas Fair, but are still in need of more tombola prizes. If you could please have a look around if you are out over the weekend and get an item for this, we would be grateful. Each week we will be collecting the following items;
Week Beginning 7th November we will be collecting toiletries, including any unwanted gifts.
Week Beginning 14th November we will be collecting toys, games and books, including soft toys.
Week Beginning 21st November we will be collecting bottles (wine/pop etc.) and packets (food items/crisps).
Week Beginning 28th November we will be collecting small prizes/tombola prizes, including unwanted gifts.
Week Beginning 5th December we will be collecting sweets/chocolate/biscuits/cake.
Thank you for all your donations
9) Events in School this Week
KS1 Multi Skills Competition. Well done to Grace Eaton, Delarni Fox, Mason Kidd, Hashim Mehmood, Daniel Polhos, Humaira Shakil, Anannya Sinilraj and Macey Simpson, who had a great time and enjoyed all the sports events.
Well done to Y6 for helping organise the juice and biscuits.
Well done to the Eco Warriors and Eco Council for their Green Flag work
10) Children in Need
Y6 are organising this event this year and Mrs Peake's class will be taking a class assembly on the theme. The children have requested a non-uniform day for a £1 donation, but can children wear at least one item with spots on. The children will also be selling cakes on the day for 50p. If anyone would like to help and donate cakes, could we ask for them to be in by Thursday 17th December? We always involve the children and take their views on this topic, however, it will of course be a normal learning day and Y5/6 and Y4/5 swim on that morning so kits still need to be brought in as normal. Y6 are hoping you support this event.
11) Dates for your Diary

Friday 18th November
Children in Need
Monday 21st November
Y5 & Y6 New Vic Theatre Visit – Snow Queen
Thursday 24th November
Stanley Head PE Activity Day – Y4
Monday 28th November
Stanley Head PE Activity Day – Y3/4
Tuesday 29th November
Stanley Head PE Activity Day – 5/6
Wednesday 30th November
Stanley Head PE Activity Day – 4/5
Wednesday 30th November
3:15-4:30pm New Nursery/Reception
Intake 2017 Walkaround
Thursday 1st December
Stanley Head PE Activity Day – Y6
Friday 2nd December
Stanley Head PE Activity Day – Y3
Wednesday 7th December
EY Nativity 9:15am
Thursday 8th December
KS2 Christmas Concert at Church 9:30am
KS1 Christmas Concert at Church 2:00pm
Friday 9th December
Grandparents Christmas Lunch
Christmas Fair 3:00-4:00pm
12) Celebration Assembly Dates
(Parents/Carers are invited to attend; Starts at 9:15pm)

Friday 18th November
Y6
Thursday 24th November
Y4/5
Thursday 19th January
Y4
More dates to follow after Christmas
13) Celebration Assembly
Our children/classes who received awards on the 04/11/16 were:

Y1B
Lewis Craggs
Y1/2H
Michael Junior Jimenez
Y2C
Grace Eaton
Y3J
Lola Howard
Y3/4E
Charlie-Ann Hindmarsh
Y4W
Alyssa Stanley
Y4-5M
Katy and Mary Conkova
Y5/6
Ella Curzon
Y6P
Jack James
Mrs Bloor's Award
Ethan Kidd & George Baldwin
Smart School Uniform
Holly Barnett
Lunchtime Supervisor's Award
Molly Hancox & Lewis Craggs
Time for Sport Award
Y6
Walk To School Award
Y6
Eco Trophy
Y3
Lunchtime Trophy
Y1
Man Of the Match
Liam Davies
14) Attendance Awards
Given out for data collected w/b 17/10/16:
Whole School Attendance:
98.7% (Government target is 95%)
Class Attendance:
1st Place – Y3/4 & Y4/5 100%
2nd Place – Y6 99.4%
Pupil Attendance Awards:
1st Place – Abbey Filcock
2nd Place – Leah-Rose Walker
Good to be green Awards:
KS1 – Ashton Barnett & Humaira Shankil
KS2 – Robert Brian & Michal Chmielewski
Water World Voucher:
15) Attachments
Yours sincerely
Mrs P Bloor
Headteacher