Newsletter Spring Term 1
Dear Parent/Carer
We wish all our families a Happy New Year and hope you had a lovely family time over Christmas. We have started the Spring Term really well as this is the main term for children making progress. All the children were happy to be back last Wednesday and looked really smart in their school uniform. Thank you for your support.
1) Our Talking Topic
This week we have been thinking about kindness, something the children are really good at. They were told how important it is to show what our heart is like by doing good things and growing a good heart within you. Please talk to your child about this.
2) Our Value; Friendship
Very well done to David King Y4, Lekshmi Manesh, Joseph Machin Y4/5, Ella Curzon, Ryan Davis Y5/6, Rusne Kaupyte, Jerome Juguilon Y6, Aaradhya Bhati, James Kelly Nursery, Ajeesa Saji, Summer Austin R1, Jade Filcock, Aaron Godwin R2, Harrison Cotterill, Lewis Craggs Y1, Thomas Cahill, Lily Guenane Y1/2, Grace Eaton, Esa Haq Y2, Paige Adlington, Kevin Babu Y3, Ryan Bithell, Rhihena Miah Y3/4, who have all shown extra great friendship this week.
3) Class of the Week
A group working on a Mayan timeline.
4) School Clubs
Y1/2 taking part in Tuesday Twisters, Reception taking part in the Golden Mile and lunch time play.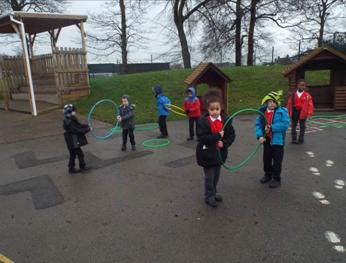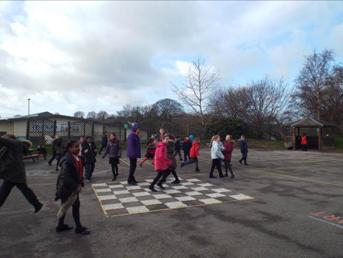 These clubs and activities take place at lunch time. All our children are so happy at lunch times, as we make them very busy times.
5) Events in School This Week and Last
All the three KS1 classes had a lovely activity day at Stanley Head Outdoor Centre and thoroughly enjoyed the day being fit and active. The children always have lovely fun memories from these visits.
6) Reminders
Can we please remind our new families that children are expected to wear school shoes not boots, as they have to be comfortable on the carpet. In bad weather boots can be kept in the cloakrooms. Also children are not allowed to do PE in earrings and it would be helpful for the younger children to leave them at home on PE days.
7) Home School Link Worker Information
Well done to everyone who took a 100% attendance reward card home last week. This is number 4, so if you have collected 4 cards you are still in the running to be in the prize draw at the end of the school year to win a 7 inch tablet. To receive a card, your child must have 100% attendance for the month and no more than 2 lates. Please remember that the Government figure for attendance is 95%-100%. We also monitor lates.
8) Coffee Morning
On Friday 27th January 9am-10:15am, we are holding a coffee morning in the community room. You are all invited to come along for an informal get together with other parents/carers. Coffee, tea and biscuits are provided.
9) Change4Life – Free Be Food Smart App
The new 'befoodsmart' app was launched today. It looks at the amount of sugar, salt and saturated fat found in foods. It provides useful hints and tips aswell as food detective activities for children and mini missions for them to complete. The link below will take you to the site where you can download the app and find additional information such as healthy recipes etc.
https://www.nhs.uk/change4life-beta/be-food-smart
10) Class Information Booklets
These have now gone out so you can see what your child is doing each day and what their topics are. Homework for all classes is given out on a Wednesday, to be returned the following Monday, so every class is the same. KS1 children have an English and a Maths homework this term.
11) Lost Property
This was collected at the end of last term and put in a bag in the community room if anyone wants to have a look for something. It will be taken to a charity shop if not collected by the end of next week.
12) Office Information
Please can all parents/carers make sure that you activate your parentpay accounts as soon as possible, if you have not already done so. This is important as it is the new way that the school will communicate with parents/carers in relation to payments, letters and text messages.
13) School Data
In December the KS2 League Tables were published and St John's is the 13th best school in the city. This is a fantastic achievement and reflects the quality of provision and strength of the staff. It is even more remarkable as our children start well below expected progress and we have children on the Special Educational Needs Register. Key to this is the support that parents/carers give in our joint responsibility to educate your child for their future life chances. Please continue to do this by supporting your child to read at least 4 times a week and helping them with homework and learning at home. Then we can continue to achieve these excellent results.
14) Dates for your Diary

Wednesday 25th January – Friday 27th January
Y6 French Residential Visit
Friday 27th January
9am-10:15am – Coffee Morning for parents/carers in the community room
Thursday 9th February
Valentines Disco KS1 & KS2 3:00-4:00pm
Tuesday 14th February
Open Evening 3:25pm–5:00pm
Wednesday 15th February
Open Evening 3:25-5:00pm
15) Celebration Assembly Dates
(Parents/Carers are invited to attend; Starts at 9:15pm)

Thursday 19th January
Y4
Friday 10th February
Y3/4
Friday 17th February
Y3
Friday 10th March
Y2
Wednesday 29th March
Y1/2
Friday 19th May
Y1
Friday 9th June
Reception
16) Celebration Assembly
Our children/classes who received awards on the 18/11/16 were:
Y1B
Jake Roberts
Y1/2H
All of class 1-2H
Y3J
Surra Osman
Y3/4E
Ronnie Stimson
Y4W
Sarayu Baddam
Y4-5M
Sedra Osman
Y5/6
Luke Brian
Y6P
Alexander Morrey
Mrs Bloor's Award
Anna Osman and Stephanie Muyakha
Smart School Uniform
Zagros Negeem and Cindy Li
Dusty Bin Awards
Y3/4
Y6 Prefects Award
Y4/5
Time for Sport Award
Y6
Walk to School Award
Y1/2
Eco Trophy
Y4
Lunchtime Trophy
Y5/6
17) Attachments
Yours sincerely
Mrs P Bloor
Headteacher