Newsletter Spring Term 10
Dear Parent/Carer
We have had a very busy but successful learning week at St John's. The children's behaviour in lessons has been outstanding. Very well done to all the children.
1) Our Talking Topic
This week we have been thinking about Lent again and how there is a move towards people doing good during Lent instead of giving up something. The children were asked what good they could do. Please talk and discuss this with your child.
2) Our Value; Kindness
This is something we have been talking about this week as well and we are lucky that we have so many kind children at St John's. They really are so helpful and courteous. A special well done to Katie Ballard O'Shea, Lola Birchall Nursery, Lily-Rose Grey, Rizwan Senuka De Alwis Y1, Lexi Fradley-Degg Y1/2, Evie-Mai Bourne, Matthew Piesse-Mills Y2, Ansh Bhati, Bethany Morrey Y3, Robert Brian, Aneesha Sebastian Y3/4, Vihara De Alwis, Emma Brennan Y4, Vaughn Juguilon, Milly-Mae Grey Y4/5, Aryan Raieissi Y5/6, Anet Yohannan, Megan Proudlove and Zara Khan Y6 who have been seen showing kindness this week.
3) Class of the Week Picture; Y3/4
The class were learning in English about how to write, using different types of clauses.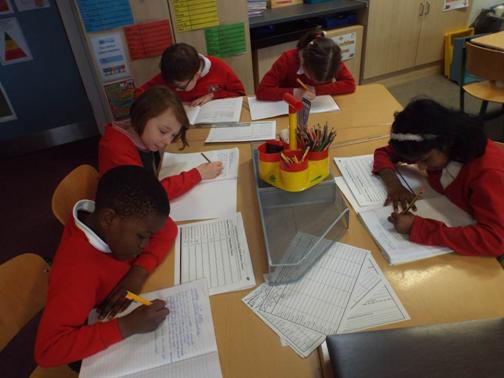 4) Club of the Week Picture; Taekwondo
The after school Taekwondo Club after the recent grading by the coach.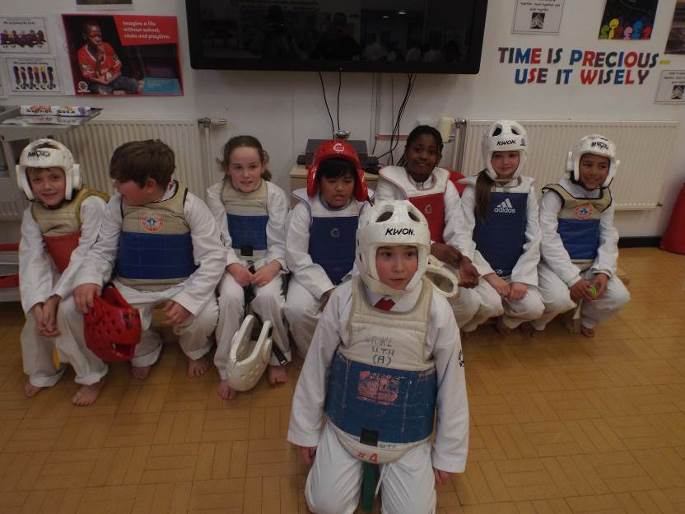 5) Dance Festival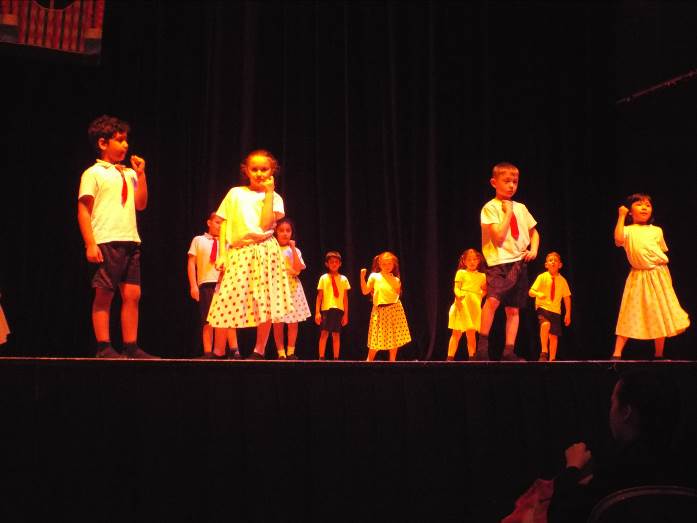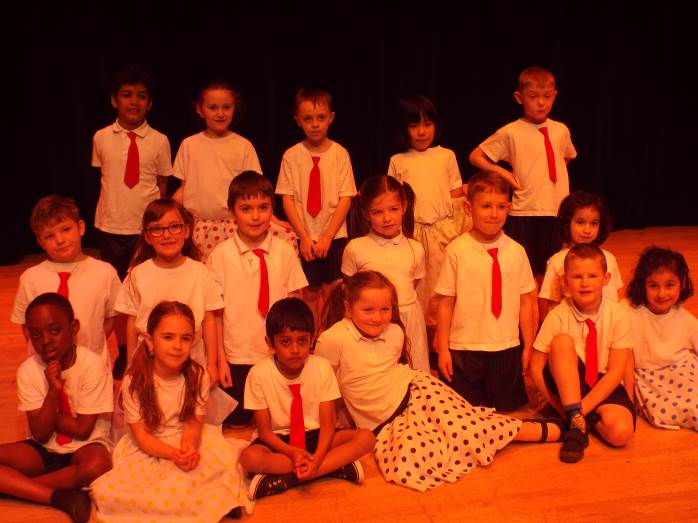 Very well done to the Y2 children in Mrs Connolly's class, who performed at the Victoria Hall on Tuesday in front of a packed audience. Their rock and roll dance of the 60's, choreographed by Miss Pickerill, was one of the best of the evening. Very well done and what a fantastic experience.
6) Events/Activities in School Last Week
All the children in KS1 and KS2 had a lovely lesson from the animal expert last week, as you will have heard. They all learnt so much.
Nursery and Reception children had the Space Bus in for a day and thoroughly enjoyed the visit. It was a great opportunity to develop speech and language.
Well done to Y4 children who took part in a Boccia Tournament. Oliver Woodward, Alyssa Stanley, Fareedah Ibrahim, Adithya Sanil, Jessica Cotterill, Holly Bentley, Hao Yu and William Kidd, thoroughly enjoyed this new competitive sport. One team came third and the other fourth.
The Cross Country teams competed well again last week
7) School Routines for New Families
At breaks we have 3 members of staff on the KS1 and Early Years playground and 2 each on the KS2 playground and the sport's ground. Most of the areas are covered by CCTV. This week we have had a purge on eliminating rough play and any child playing rough has been sent in. Please talk to your child about this. We see children copying the games/films they are watching at home and ask parents/carers to check on this.
8) Red Nose Day – Friday 24th March
We are selling Red Noses for £1 on Thursday and Friday. In addition, on Friday, if children bring in another £1, they can wear funny slippers, funny socks, and a funny hat or decorate their jumper with a joke. The children are really keen to support this charity but it will be lessons as normal. Please send all cash into school with your child in a named envelope.
9) Breakfast Club
Many of our working families and those that live further away find this facility invaluable. We do have spare spaces. It is for Reception to Y6 children only and is £1 a day. My staff tell me that they pay £5 for their children in other schools. If interested please contact the school office.
10) Home School Link Worker Information
A couple of parents/carers have been to me and told me about the 'This Morning' programme supporting anti bullying. At St John's we take bullying very seriously and have got an award for 'Excellence in Challenging Bullying'. Please Google 'take the pledge to support our Be Kind Campaign' and watch the video with your children. You then need to press the pledge button. Parents/Carers have told me how useful it was, especially watching it with their children.
11) Events/Activities in the Local Area
For details of European City of Sport weekly community sessions, please follow the link below;
www.stoke.gov.uk/cityofsport#CityOfSport16
12) Lates

Friday
7
Monday
9
Tuesday
7
Wednesday
10
Thursday
2
13) Dates for your Diary

Wednesday 29th March
Y3 Recorder Festival – Victoria Hall
Wednesday 5th April
Y4 Bikeability (30 Places)
Thursday 6th April
Y5 Bikeability (Y5's in 4/5 also) & Y5/6
Friday 7th April
Y5 Bikeability (Y5's in 4/5 also) & Y5/6
Thursday 6th April
Fundraising Disco in school, 3-4pm KS1 & KS2
Friday 7th April
End of Term
Monday 24th April
Staff Training Day
Tuesday 25th April
Term Starts
Monday 1st May
May Day
Thursday 4th May
Staff Training Day
Monday 8th to
Friday 12th May
KS2 SATs
14) Celebration Assembly Dates
(Parents/Carers are invited to attend; Starts at 9:15pm)

Wednesday 29th March
Y1
Friday 19th May
Y1/2
Friday 9th June
Reception
15) Celebration Assembly
Our children/classes who received awards on the 17/03/17 were:

Y1
Sadia Hashemi
Y1/2
Josiah Clement
Y2
Macey Simpson
Y3
Leah-Rose Walker
Y3/4
Joshua Clement
Y4
Alfie-Lee Purcell
Y4-5
Vaughn Lhetzer Juguilon
Y5-6
Keaton Lovatt
Y6
Abbi Dunn
Mrs Bloor's Award
Carly Bithell Y6
Dusty Bin Awards
Y4/5
Y6 Prefects Award
Y1
Smart School Uniform
Maksymilian Podsiadlo, Reception & Tala Alhussein Y1/2
Lunchtime Supervisor's Award
Jagoda kulik Y2, Bethany Morrey, Surra Osman Y3
Time 4 Sport
Y3/4
Walk to School Award
Y2
Eco Trophy
Y3 & Y6
Lunchtime Trophy
Y6
Mrs Ramsden's Attendance Award
Adam Guenane Y3
Good to be Green
KS1 – Ashrith Sreekumar, Ethan Pollitt
KS2 – Mathesha Paris, William Kidd & Jamie Paredes
16) Attendance Awards
Given out for data collected w/b 06/03/17:
Whole School Attendance: 97% (Government target is 95%)
Class Attendance:
1st Place – Y3/4, 100%
2nd Place – Y4/5, 99.3%
Pupil Attendance Awards:
1st Place – Bailee Sutton
2nd Place – Riley Tams
Water World Voucher: Sophie Mae Birchall
17) Attachments
Mrs P Bloor
Headteacher