Newsletter Spring Term 11
It has been lovely to enjoy the lighter nights and hopefully it means families can get out more and the children can be more active.
1) Our Talking Topic
This week we have been thinking about Easter and pointed out the similarities to the stones placed over the tomb of Jesus and Easter eggs. We talked about new life in spring and how Jesus came back to life and how he offers everybody a new start in life. Please talk to your child about this.
2) Our Value; Respect
This is something we refer to regularly as 'Give respect, get respect' and we are so lucky at St John's to have so many respectful children.
3) Class of the Week Picture; Y3
The class were busy practising for their performance at the Victoria Hall on Wednesday.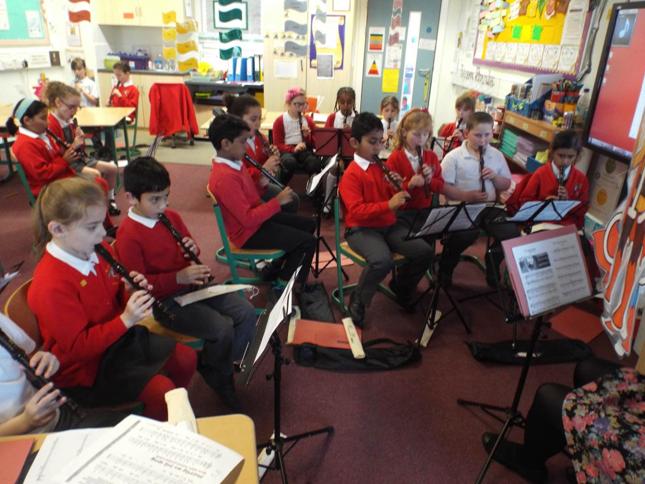 4) Club of the Week Picture
Y3 Sporting Skills taken by Mr Wilcox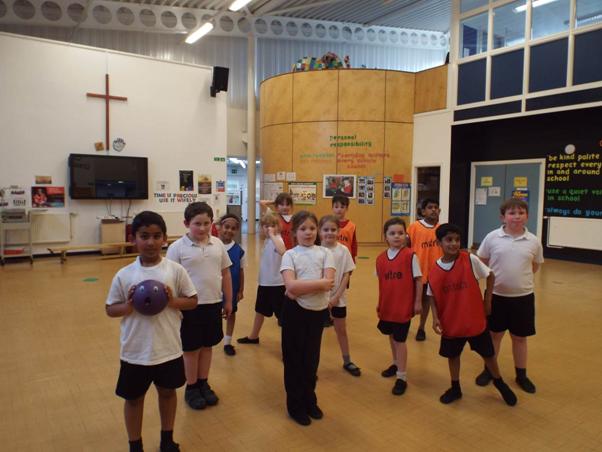 REMINDER;
this is the last week for after school clubs.
5) Events/Activities in School Last Week
Very well done to everyone for supporting the Red Nose Day charity. We sold all the red noses we ordered, which totalled £360 and raised an additional £64.30 for this charity-super effort!
Very well done to Y3 who performed brilliantly at the Victoria Hall Recorder Festival. The children have worked really hard and Miss Jackson and Mrs Wolfe were very proud of their performance. Very well done Y3.
Well done to Peter Ashley Williamson, Joshua Tok, Daniel Polhos, Oliver Brereton-Lewis, Freya Kristof, Jagoda Kulik and Cindy Li who took part in a Key Stage 1 'Change For Life' PE competition.
Well done to Ethan Kidd and Zara Khan who gained their Length Certificate at school swimming.
Well done to the Cross Country Teams who competed in the fourth and last race with Mr Walter.
6) School Fund Raising Project – The Great Outdoors
The children have requested and organised an event to raise money to buy some outdoor equipment for each key stage to use at lunch time. There will be a disco for KS1 and KS2 children next Thursday 6th April from 3-4pm. It will cost £1.50 for the hour, not including any refreshments – please make this payment via ParentPay. The children wanted ice creams/lollies to be sold, which will be available to buy for £1 each and there will also be sweets on sale for 50p and drinks for 20p.
So that Nursery and Reception children are not excluded, we will be selling ice creams for them to buy for £1 during the afternoon on the same day. All cash for these refreshments must be sent into school with your child in a sealed envelope. Please help the School Council make this a great success.
7) Table Tennis Tournament Picture
This has been held over the last few weeks, organised by Miss Cruxton, and there have been some close matches. In the final Luke Brian won against Keaton Lovatt. The children were presented with their trophies this week.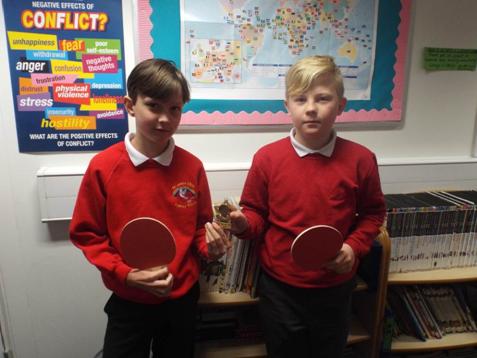 8) School Swimming
This is the last week for school swimming. The classes will do PE in their lessons next week.
9) Lent Food Bank Appeal
Tomorrow will be the last day to bring in items for the local foodbank, which is being collected on Monday. Thank you to those who have contributed to this worthwhile charity that helps so many families in Stoke-on–Trent.
10) Reading Tips; Miss Mazzei's Monthly Reading Tips
Remember that you can use Bug Club (www.activelearnprimary.co.uk) to enjoy reading together because it also has comprehension questions. This is also good practise for our Y6 and Y2, who will be taking their Standardised Attainment Tests (SATs) this year. Please remember to write it in your child's diary and initial it. All our children are trying to get onto the Premier League if they are in Upper KS2, and the top of the Reading Rocket if they are in Lower KS2 or KS1. In Upper KS2 (Y4M, Y56M and Y6P) everyone starts in the National League. When they have read at least 10 times they move up to Amateur Players; both of these are in the classroom. The following awards are in the corridor so that everyone can see their achievements:
League 2 – 15 times or more
League 1 – 20 times or more
The Championship – 25 times or more
Premier League – 30 times or more
Well done to Brodie Sinclaire, who in week 5 of the term is already in the Premier League. This means she has read more than 4 times a week, which is our target for all our children. Look out for next months 'Mazzei's Monthly Reading Tips' and find out who our 'outstanding' readers are.
11) Resident's Parking
Parents/Carers have asked me to contact the council and residents for helping solve the congestion near our school and I have done so. We still have families who are parking in Wheatly Avenue, one ran over one of our cones last week, and we ask families who have to park near school to be considerate to residents and our pupils.
12) Home School Link Worker Information
We have had a couple of parents/carers raising concerns that their children are continually getting head lice. Please make sure that long hair is completely tied up or plaited for school. Regularly conditioning hair and using a head lice comb will also help.
13) Lates

Friday
7
Monday
8
Tuesday
11
Wednesday
9
Thursday
12
14) Dates for your Diary

Wednesday 5th April
Y4 Bikeability (30 Places)
Thursday 6th April
Y5 Bikeability (Y5's in 4/5 also) & Y5/6
Friday 7th April
Y5 Bikeability (Y5's in 4/5 also) & Y5/6
Thursday 6th April
Fundraising Disco in school, 3-4pm KS1 & KS2
Friday 7th April
End of Term
Monday 24th April
Staff Training Day
Tuesday 25th April
Term Starts
Monday 1st May
May Day
Thursday 4th May
Staff Training Day
Monday 8th to
Friday 12th May
KS2 SATs
15) Celebration Assembly Dates
(Parents/Carers are invited to attend; Starts at 9:15pm)

Friday 19th May
Y1/2
Friday 9th June
Reception
16) Celebration Assembly
Our children/classes who received awards on the 24/03/17 were:

Y1
Lewis Craggs
Y1/2
Vicky Yu
Y2
All the Y2 dancers
Y3
Aiesha Hashemi & Dylan Wright
Y3/4
Rhihena Miah
Y4
Isabelle Godwin
Y4-5
Angelina Abraham
Y5-6
Ben Morris
Y6
Jerome Juguilon
Mrs Bloor's Award
Kiera Whieldon Y6
Thomas Gregory & Archie Bourne Nursery
Dusty Bin Awards
Y2
Y6 Prefects Award
Y3
Smart School Uniform
Joshua Brereton-Lewis
Lunchtime Supervisor's Award
Jayden Fielding Y1/2, Alex Ballard O'Shea Y3
Time 4 Sport
Y4/5
Walk to School Award
Y3
Eco Trophy
Y6
Lunchtime Trophy
Y1B
Good to be Green
KS1 – Jayden Fielding & Vicky Yu Y1/2
KS2 – Sheza Hanif, Lincoln Cotterill 4W & Luke Brian Y5/6
17) Attendance Awards
Given out for data collected w/b 13/03/17:
Whole School Attendance: 95.9% (Government target is 95%)
Class Attendance:
1st Place – Y4/5, 100%
2nd Place – R1, 99.1%
Pupil Attendance Awards:
1st Place – Lily Groves
2nd Place – Stephanie Muyakha
Water World Voucher: Carly Bithell
18) Attachments
Information – New Government Scheme to Help with Childcare Costs


---

Childcare Choices

The Government has introduced Childcare Choices. Childcare Choices brings together all the government childcare offers for the first time, helping parents find the right childcare support to suit them – www.childcarechoices.gov.uk. There is also a section for childcare providers.

As part of Childcare Choices, HMRC are introducing two new offers in 2017 – Tax-Free Childcare, which will be introduced on 28 April and gradually rolled out, and 30 hours free childcare, available from September 2017. From the end of April, parents will begin to apply for both schemes at the same time through a new digital childcare service.

The 30 hours childcare section of this website allows parents to register an interest so that they can be notified when the application process goes live – it would be useful to make this known to parents in your newsletters or other communications. At the link below you will find posters, information sheets and sample emails for parents to help you with this.

We will be promoting this through local authority social media to reach as many of these parents as possible. By the time the allocations of nursery children are made in May, the 30 hours application process should be live and available to parents.

Childcare Choices brings together all the government childcare offers in one place for the first time. The new Childcare Choices website makes it easy to find out what's on offer. Use the Childcare Calculator at www.gov.uk/childcare-calculator to see what offers are available to support you and your family.

To find out more about the new and existing offers, and how they can help you, go to the Childcare Choices website today at www.childcarechoices.gov.uk

---

Easter Events – Staffordshire Wildlife Trusts

Mrs P Bloor
Headteacher