Newsletter Spring Term 12
As we break up for Easter this week, I hope you are pleased with all the progress and development your child has made. We have had a focus on testing over the last 2 weeks, so we can assess progress and see what we need to do next. All the staff are pleased with the progress that all the children are making at St John's and they will continue to prioritise learning, so more children reach expected levels.
1) Our Talking Topic
This week we have been thinking about Easter and how Jesus showed kindness and gentleness which he wants us all to show to people we meet. Please talk to your child about this.
2) Our Value; Responsibility
This is something all the staff regularly talk to the children about and children can talk about this to the staff. Very well done to Evie Beech-Daly, Ryan Davis, Anna Ozman, Amelia Harvey Y5/6, Oscar Dix Y4/5, Aaron Sajan Y4, Delin Negeem Y3/4, Elizabeth Solomon Y3, Angel Johnson Y2, Cisco Handy Y1/2, Jake Roberts Y1, Selim Saygili R2, Kaelan Sinclaire R1 and Mahadev Manesh Nursery, who have all shown great responsibility this week.
3) Events/Activities in School
Well done to the Y6 Football Team who took part in a Stoke 7 A-Side Tournament after school on Friday without our goalkeeper! They all played well but did not progress to the semi-final. Very well done to Alan Babu who was Player of the Tournament.
School swimming; Very well done to Jonathon Harvey, Aran Sajan and Liam Davis who gained their Beginner's Certificate.
Length Certificate; Mathesha Paris, Keaton Lovatt.
Elementary Certificate; Benjamin Morris, Skye Lea-Shaw.
Proficiency Certificate; Ricardo Gordon.
Bronze Award; Yashbir Bhullar, Ranudi Premadasa.
Silver award; Ella Curzon, Lily GrovesThis reflects the great work and effort at school swimming this term.
Very well done to Oscar Dix whose poem, included in the newsletter, is going to be published, along with poems by Freya Knight who was chosen as the overall school winner, Oliver Woodward, Keira Whieldon, Amin Miah, Sammi Miah, Merin George, Ella Goodier-Whitehurst, Izza Fatima.
4) School Rules for our New Families
Our uniform rules are simple and easy for families to follow. All our children look wonderfully smart in their uniform which is a credit to our parents/carers. Our policy states that no child should have extreme hair styles and we ask that all children wear school shoes not trainers, as they are smarter and better for growing feet. Children in KS2 can change into trainers for ball cage activities. One of the ways we pick children for extra-curricular opportunities is their appearance.
5) Class of the Week Picture; Nursery
The children were using small world toys to encourage speech and communication.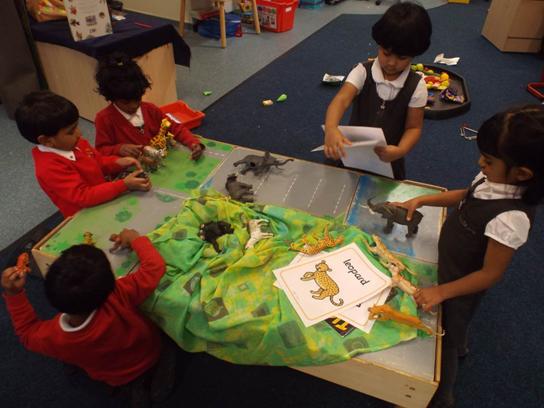 6) Club of the Week Picture
This the after school Art and Crafts club taken by Miss Pickerill.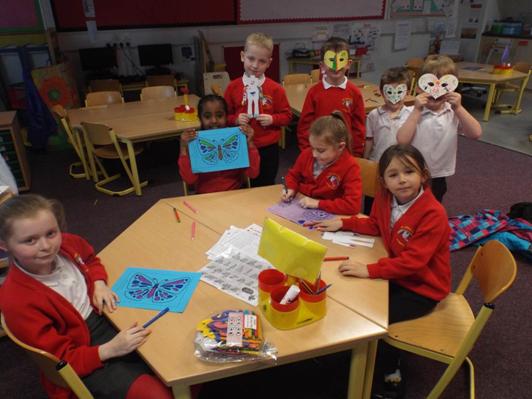 7) Easter Parade EY
This took place on Wednesday at 2:15pm and showed the many creative talents of our families. Very well done to all our Nursery and Reception children.
8) Y6
We have been boosting all of Y6 ready for their SATs, the week beginning 8th May. The children have been very focussed and have displayed great application and hard work. All the team are very proud of them. They are being given revision packs to do over Easter as there are only 8 teaching days after the holiday. Parents are asked to make sure the children do some work every day as the results of these tests will determine the set they start high school in and are important. Parents can buy revision books at supermarkets as well. Please help us to help your child to achieve and aspire for their future.
9) Good Attendance Reward Visit
Children in Y5 and Y6 who have achieved 95% or better attendance, with no more than 3 lates (no exceptions) have been rewarded with a free visit to Manchester Museum and Manchester Football Museum on Saturday 6th May. This is to reward families who have helped improve our school attendance this year.
10) Behaviour
Children whose behaviour has been exemplary have received their Platinum Behaviour Award and a pencil sharpener today. It is the vast majority of our pupils who we are all immensely proud of. Other children received their next award.
11) Behaviour on School Premesis
Last week we had incidents of unacceptable behaviour outside the school. One group of children in Y5 and Y6 used foul and abusive behaviour towards each other. Parents will be asked to collect children if this happens again, as this is unacceptable and could be unlawful as well. We had another incident of parents using unacceptable, foul and threatening behaviour which is also unlawful and sets a terrible example to our children and our residents. Children learn what they live and parental responsibility is crucial.
This week we had a teaching and learning review which concluded the behaviour of the children in school was outstanding, which is a great reflection on the school, pupils and staff.
12) PE Kits
These will be coming home for a wash over the holidays. Please have them ready, along with the book bags on the first day back, as all the timetables change and children need to be ready for learning.
13) Know your Attendance Week
Our target is the Government one, of 95% or better and the vast majority of children achieve this. Very well done to all these children. A special well done to Y4/5 who are in the lead in the school Attendance Competition.
14) Terrific Readers
Well done to all those children who have been reading regularly at home.
Premier League – 30 times or more;
Brodie Sinclaire, Harvey Tams, Chloe Barlow, Declan Matthews, Skye Lea-Shaw, Jonathon Harvey, Charlie Simpson, Zagros Negeem.
Reading Rockets – 24 times or more;
Joshua Clement, Anashe Mutize, Anto Yohnannon, Delin Negeem, Bethan Hill, Grace Wain, Rhihena Miah, Ryan Bithell, Theo Lovell, Adeel Farooqi, Aneesha Sebastian, Holly Barnett, Claire Johnson, Ana Litoiu, Elizabeth Solomon, Landon Coates, Davis Kurian, Merin George, Sophie-Mae Birchall, Vicky Yu, Aliya Davidson, Tala Al Hussein, Sahej Bhullar, Jacob Brear, Lily Guenane, Michael Jiminez Junior, Lexi Fradley-Degg.
15) Events in the Local Area
Stoke City Football Club are running an 'Easter Soccer School', for more information e-mail community@stokecityfc.com
16) Home School Link Worker Information
Well done if your child brought an Attendance Award card home with them on Monday. This is the 7th one so if your child has had 7, they are still in for a chance of going in the prize draw to win a tablet. At the moment 61 children have had 100% and no more than 2 lates each month.
Now the lighter nights are here and the Easter break is upon us, please make sure you know where your children are at all times if they go out to play. Have a lovely Easter break.
17) Reminders
The Monday 24th April is a staff training day so children return on Tuesday 25th April. Miss Wood leaves this week and we thank her for all her hard work and efforts, wishing her all the best for her future. Y1/2 will be taught by Mr Meir and Mrs Halfpenny, whilst Miss Whalley takes over Y4.
18) Lates

Friday
14
Monday
6
Tuesday
12
Wednesday
3
Thursday
4
19) Dates for your Diary

Thursday 6th April
Y5 Bikeability (Y5's in 4/5 also) & Y5/6
Friday 7th April
Y5 Bikeability (Y5's in 4/5 also) & Y5/6
Thursday 6th April
Fundraising Disco in school, 3-4pm KS1 & KS2
Friday 7th April
End of Term
Monday 24th April
Staff Training Day
Tuesday 25th April
Term Starts
Monday 1st May
May Day
Thursday 4th May
Staff Training Day
Saturday 6th May
Good Attendance/Punctuality Reward
Visit to Manchester
Monday 8th
to Friday 12th May
KS2 SATs
Saturday 20th May
Fun Run 9am-10.30am
20) Celebration Assembly Dates
(Parents/Carers are invited to attend; Starts at 9:15pm)

Friday 19th May
Y1/2
Friday 9th June
Reception
21) Celebration Assembly
Our children/classes who received awards on the 24/03/17 were:

Y1
All of Y1
Y1/2 J
osh Webster
Y2
Jagoda Kulik
Y3
All of Y3
Y3/4
Neha Rejith
Y4
Emma Brennan
Y4-5
Adithya Sanil
Y5-6
Anna Ozman
Y6
Nancy Doward
Mrs Bloor's Award
Michal Chmielewski
Smart School Uniform
Bailee Sutton Y1B
Time 4 Sport
Y1/2
22) Attendance Awards
Given out for data collected w/b 20/03/17:
Pupil Attendance Awards:
1st Place – Amith Puli
2nd Place – Aaron Reid
Water World Voucher: Ellie Ruane
23) Attachments
On behalf of all the staff teams we wish all our families a pleasant Easter break and hope you all enjoy family times together. We have given all the children a small Easter egg to enjoy.
Mrs P Bloor
Headteacher