Newsletter Spring Term 2
Dear Parent/Carer
The children are all firmly back into the school routine and there has been a lovely learning atmosphere at school since the new term began.
1) Our Talking Topic
This week we have been thinking about keeping healthy and how important it is to have a healthy mind and body. The children were told that unhealthy diets, lack of physical activity and smoking, leads to heart disease and strokes. Also, that having a healthy lifestyle should begin in childhood, and how 30 minutes of exercise a day, healthy eating and reducing salt and sugar intake, can be a healthy recipe for lifelong good health. Please talk to your child about this important topic. Some information about new sugar guidelines is included with the newsletter.
2) Our Value; Honesty
This is a real strength of all the children at St John's. Whatever happens, children always tell the truth, which is a super quality. Very well done to Joshua Clement, Daniel Pholos Y1/2, Ayse Gurses Y2, Izza Fatima Y3, Sayyad Hashemi Y4, Evan Davies, Liam Davies Y4, Sedra Osman, Grace Leese, Ella Whitehurst Y4/5, Lily May-Barlow, Chanelle Tooth Y5/6, Lily Groves, Molly Hancox Y6, Jayden Warren Nursery, Heba Hanif R1, Scarlett Griffiths R2, Anith Puli Y1, who have all shown great honesty this week.
3) Adverse Weather
Clearly, the snow on Friday made it difficult for everyone. Our policy is that after travelling in, either me or my deputy assesses the safety of the site at the school and grit priority areas, as was done on Friday, and the site was made safe. I always ask families and staff to take care and we always keep registers open longer. The forecast was right and by 10am the snow was melting and had gone by the end of the day. Parents/Carers who have been at the school for a while know that it would have to be very bad for me to close! We are a school that serves our community.
I would like to pay tribute to my staff, some of whom walked great distances, others with children who had to arrange childcare, as their school was closed, and those who set out much earlier to be here for the children. We had the majority in, but not all. It is always weather for wellingtons and we can keep them in the cloakrooms in bad weather so the children can change into school shoes.
4) Club of the Week
Mr Wilcock with the after school Sporting Skills Club.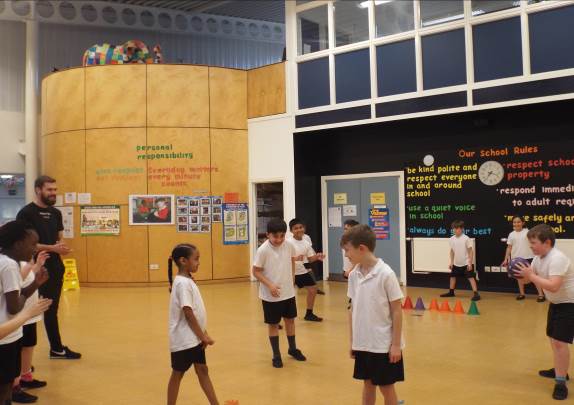 5) School Lunchtime Clubs
See photos of the Scooter Club and the Trim Trail which both take place at lunchtime. School clubs started this week and we had children staying who had not been given a place. Most after school clubs are oversubscribed and Mrs Varley sends a confirmation slip when she has organised the clubs. Any child without a place for their first club will be prioritised for next term. If a child misbehaves, we have a 2 strikes and out policy, and will fill the place up from reserves.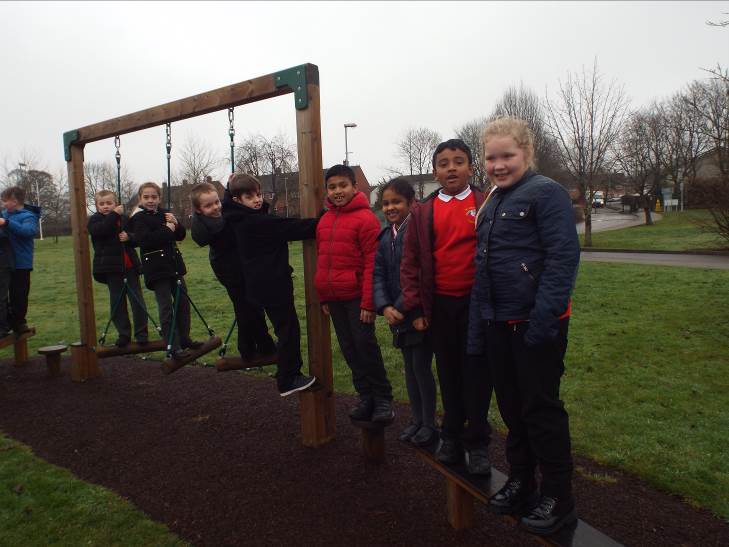 6) Activities/Events in School
Very well done to the Boy's Indoor Football Team, who took part in a tournament last week. They won 1, drew 1 and lost 1 match and Mr Walter said they all played well. Well done to Jack, George, Alan, Michel, Luke, Ryan and player of the match, Zagros.
7) Y6 Boosters
These have started this week as we fully prepare Y6 for their tests in May, which affects what set they start high school in. We want all the children to do their very best. We have a large Y6 and they have been split into 4 groups for 2/3 lessons a week to target learning. Group 1 will have some extra lessons targeting children who could achieve exceeding standards. Group 2 will be taken by me for target children and two smaller groups will be taken for boosters by Mrs Bayley. This is in addition to normal excellent teaching by Mrs Peake, Miss Mazzei and Miss Chapman. It is very important the children attend school every day (we will check any absence) and complete their homework – a few have not this week and so will complete any missing homework at lunchtime. The children have enjoyed these booster sessions this week.
Although I will be extra busy, I am still happy to see parents/carers to discuss any issues, but please contact the school office if needed.
8) Y6 French Visit
This is next week, from early Wednesday to very late Friday when thirty six Y6 are visiting Rue and exploring the First World War Battlefield Sites. It is a wonderful learning opportunity for the Y6. All the work has been completed and the children are excited. They will be learning additional French on the coach journey. The 7 children who have declined this opportunity will be in Y5/6 for these days.
9) PE Kits
Timetables change each term and we have had children not able to take part in PE lessons as they have not got pumps. We give all children shorts and t-shirts. Please help us by checking your child has pumps in school.
10) Home School Link Worker Information
Modern phones allow access to the internet and social media sites such as Facebook, but please note that children must be age 13 or over to access these. Once images or comments are posted on-line they are out in the wide world and our children of primary age do not have the life experiences or maturity, to realise the dangers and complications that can occur. Often 'in the moment' comments or photos, that seemed such a fun idea at the time, may go on to bring themselves or others a great deal of upset or embarrassment, sometimes for years to come. Please, parents/carers, help us to keep all our children safe by not allowing your children to use these sites until they are old enough, and support us in teaching your children how to use the internet safely. We do need your support because it is at home or out and about with friends where your children are most likely to have unsupervised access to the internet, without the filters and controls that exist in school and where, sadly, they are most vulnerable to the negative sides of modern technologies.
11) Office Information – ParentPay Purchases
Parents/Carers, please be advised that any purchases made through ParentPay will be delivered into class the morning after the order has been placed, for the children to bring home.
12) School Term Dates Survey 2017
Parents/Carers, as a result of last year's survey and more recent discussions with Headteachers and Schools, we are asking you to choose your preference regarding the following two options for term dates in 2018 / 2019:

Option 1
is a standard holiday pattern with a six week summer holiday.
Option 2
is a reduced summer break by one week to five weeks, thus adding an extra week to the October half term.
(The full models are available at school and on request from sgs@stoke.gov.uk for you to review).
Please use the link below to show your preference: http://webapps.stoke.gov.uk/snapsurveys/schooltermdates/schooltermdates.htm
13) Dates for your Diary

Wednesday 25th January – Friday 27th January
Y6 French Residential Visit
Friday 27th January
9am-10:15am – Coffee Morning for parents/carers in the community room, all welcome
Thursday 9th February
Valentines Disco KS1 & KS2 3:00-4:00pm
Tuesday 14th February
Open Evening 3:25pm–5:00pm
Wednesday 15th February
Open Evening 3:25-5:00pm
14) Celebration Assembly Dates
(Parents/Carers are invited to attend; Starts at 9:15pm)

Thursday 26th January
Y4
Friday 10th February
Y3/4
Friday 17th February
Y3
Friday 10th March
Y2
Wednesday 29th March
Y1/2
Friday 19th May
Y1
Friday 9th June
Reception
15) Celebration Assembly
Our children/classes who received awards on the 13/01/17 were:
Y1B
Shane Lois Limos
Y1/2H
Taylor-Jay Barlow
2C
Joshua Tok & Ashton Barnett
Y3J
Robyn Whieldon
Y3/4E
Delin Negeem
Y4W
Olivia Tok
Y4-5M
Emily Rains
Y6P
Ellie Moreton
Mrs Bloor's Award
Oliver Woodward
Smart School Uniform
Fareedah Ibrahim
Dusty Bin Awards
Y1B
Y6 Prefects Award
Y3/4
Time for Sport Award
Y5/6
Walk to School Award
Y3
Eco Trophy
Y6
Lunchtime Trophy
Y4
Lunchtime Supervisor's Award
Ankith Puli & Kira Reilly
16) Attendance Awards
Given out for data collected w/b 02/01/17:
Whole School Attendance: 95.6% (Government target is 95%)
Class Attendance:
• 1st Place – Y6, 100%
• 2nd Place – Y2C, 98.7%
Pupil Attendance Awards:
• 1st Place – Anet Yohannan
• 2nd Place – Harvey Tams
Good to be Green Awards:
KS1 – Joshua Tok Y2 & Senuka De Alwis Y1B
KS2 – Emily Rains Y4/5 & Ellie Moreton, Lily Groves Y6
Water World Voucher: Angel Deacon
17) Attachments
Yours sincerely
Mrs P Bloor
Headteacher