Newsletter Spring Term 3
Dear Parent/Carer
We have had a lovely positive learning atmosphere in school all week. Thank you for sending in the children looking so smart in their school uniform.
1) Our Talking Topic
This week we have been thinking about 'aiming high' in all we do, especially in the way we treat others. The children were told a story linked to the saying, 'do unto other people as you would have them do unto you'. This is something we regularly refer to and know it as, 'do as you would be done by', and our children are demonstrating this at school.
2) Our Value; Kindness
This is something our children are wonderful at. We have had some new children recently and the kindness shown to them by other children has been wonderful.
3) Class of the Week Photo
Y3 learning the recorder ready for their recital at the Victoria Hall.
4) Club of the Week Photos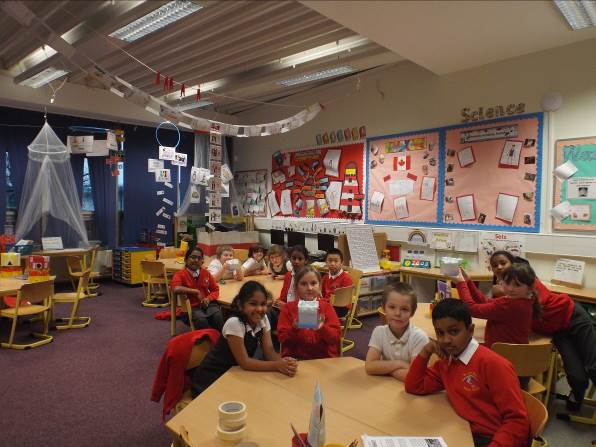 The after school IPad Club taken by Mr Walter and the Story/Plays Club taken by Miss Chapman showing the children enjoying themselves learning.
5) Events in School
Well done to Sheza Hanif and Olivia Tok who passed their Beginner's Certificate at school swimming last week.
36 Y6 are in France learning about French culture and the history of the First World War in the Somme region. We have a French flag flying in celebration!
Target Sharing Evening – this will take place on Tuesday 14th February and Wednesday 15th February from 3:25pm-5:00pm. Please complete the attached form and return to your child's teacher.
6) School Routines
We ask that all packed lunches are put in a lunch box and a drink is provided. We have had some children bringing carrier bags and leaving them for other staff to clear up. We ask that all children take home their waste so you can see what your child has eaten.
7) RE Faith and Prayer Challenge
Before Christmas we had RE two days and part of this included a competition to design a symbol of faith that we will have made for the school. There were some super entries. The winners were Brodie Sinclaire, Michal Chmielewski, Berrie Johnson, Oliver Woodward and Joda Tagbota. The runners up were Harvey Tams, Alan Babu, Kira Reilly, Solomon Johnson, Ellie Moreton, Rasa Babickas, Alex Morrey, India Vickers, Kenzi Shepherd-Moss, Evie Beech-Daly and Nela Polhosova. Very well done to all these artistic children.
8) Stoke City Under 12's
Congratulations to George Barnett who has been picked to play for the under 12's at Stoke City and will be playing against West Brom in half term.
9) Questionnaire Results – Is Your Home 'Reader Friendly'
Thank you to the 75 people who completed our questionnaire last term. Having looked at the responses, it's wonderful to see how many of you are taking an active role in developing your children's reading skills. As well as hearing your children read at least 4 times each week, you are acting as good role models and encouraging a love of books through bedtime stories or reading time. A few things that you could improve in order to make homes more "reader friendly" are;
turning off the TV for quiet reading times at home,
doing reading related activities with your children such as cooking from a recipe, playing board games with rules to read or putting your child in charge of the shopping list when you go to the supermarket,
making sure there is a range of reading material at home, including stories and information books, magazines, newspapers, brochures and leaflets.
One way to provide a supply of books for your children is to join the library. And it's FREE! Only about half of the people who responded to our questionnaire use their local library so we have attached a link below for more information to help get you started.
http://www.stoke.gov.uk/ccm/navigation/leisure/libraries-and-archives/
10) Office Information – Text Messages
As of Friday 3rd February all messages from school will be sent via ParentPay and not Teachers2Parents. It is therefore vital that all parents/carers, who haven't done so already, log in and activate your ParentPay accounts. This will ensure that you continue to receive messages from the school. If you have any problems please come in so we can help.
11) Dates for your Diary

Friday 27th January
9:00-10:15am – Coffee Morning for parents/carers.
In the community room, all welcome
Thursday 9th February
Valentines Disco KS1 & KS2 3:00-4:00pm
Tuesday 14th February
Open Evening 3:25pm–5:00pm
Wednesday 15th February
Open Evening 3:25-5:00pm
12) Celebration Assembly Dates
(Parents/Carers are invited to attend; Starts at 9:15pm)

Thursday 26th January
Y4
Friday 10th February
Y3/4
Friday 17th February
Y3
Friday 10th March
Y2
Wednesday 29th March
Y1/2
13) Celebration Assembly
Our children/classes who received awards on the 20/01/17 were:

Y1B
Aleina Grace
Y1/2H
Tala Al Hussein
2C
Jack Cahill
Y3J
Alex Ballard O'Shea
Y3/4E
Theo Lovell
Y4W
William Kidd
Y4-5M
Jessica Cotterill
Y5-6
Ruby Howard & Charlie Simpson
Y6
Freyah Knight
Mrs Bloor's Award
Amin Miah, Ethan Kidd & Michal Chmielewski
Smart School Uniform
Scarlett Griffiths & Jayden Fielding
Dusty Bin Awards
Y6
Y6 Prefects Award
Y4
Time for Sport Award
Y1/2
Walk to School Award
Y1
Eco Trophy
Y6
Lunchtime Trophy
Y3/4
Water World Voucher
Evie Beech-Daly
Good to be Green
KS1 – Maira Mashonganyika & Jake Roberts
KS2 – Ella Whitehurst & Milly-Mae Gray
14) Attachments
Time 4 Sport Information – Saturday Morning Fitness Club


Dear Parent/Carer
We at Time 4 Sport are looking at setting up a Saturday morning Family Fitness Club for parents and children to have fun and get fit together!

Before confirming start dates, we wanted to see if there would be any interest?

What are the Time 4 Sport Family Fitness Clubs?

Our Family Fitness Clubs are fun circuit and multi-sports clubs which are designed for families who want to get fit, have fun and exercise together! Open to families with children aged 5+.
What happens at the Family Fitness Club

• FUN physical activity sessions for children and adults (1 adult must attend each session with child)
• A chance to try a range of fun family sports including dodgeball, tag games, football, tennis, rounders, circuits, running races, cricket, netball and many more.
• Healthy lifestyle advice
Benefits of attending the Family Fitness sessions
• It's great fun for all family.
• Increase families physical activity levels.
• Develop both children and parents sports skills, improve confidence and create leaders.
• Increase the bond between the parent and the child.
• We provide a safe community environment where families can socialise, learn together and make new friends

The proposed classes will run on Saturday mornings 9.30am-10.30am @ Michelin Sports Centre, Rosetree Avenue, Trent Vale, ST4 6NL. The sessions will be delivered by our highly skilled and qualified team 🙂

Your first session would be FREE and £7 per family (1 child + 1 adult) after that.
Families with more than 1 child and only 1 adult participating will need to pay an additional £3 per child.
If this is something that you would be interesting in attending or have another questions please email info@time4sportuk.com back, stating your name, telephone number and number of children you would like to reserve a space for.
Note we only have limited spaces available.

Kind Regards
Time 4 Sport team
Yours sincerely
Mrs P Bloor
Headteacher