Newsletter Spring Term 6
Dear Parent/Carer
As we finish for half term on Friday the staff have been busy testing and assessing for reading, writing and maths and identifying next steps for learning, which is so important in this very good school. They were able to share these targets with you on Tuesday and Wednesday and we hope you found these useful. There were some lovely comments from parents/carers about the progress made by the children. But this is a two way thing and support from you is essential in our joint responsibility of educating your children.
1) Our Talking Topic
This week we have been thinking about' kindness' and how little acts of kindness are so important. The children told us they can show kindness by being friendly and helpful, help by being tidy at home and school, hold the door open for someone, speaking politely and showing respect. They were told one of Aesop's Fables, 'The Lion and the Mouse', in which, by showing kindness the mouse helped the lion.
2) Our Value; Co-operation
This is a value that is so important in a school and something your children are excellent at most of the time. Even when there are little issues, the children are brilliant at recognising how to put things right and moving on.
3) Target Sharing Open Evening
Thank you so much for your great support and coming to look at your child's work. We had many lovely comments about the quality of your children's work and progress this year. All the staff work really hard to educate your lovely children. Our end of KS2 results, which are above national standards, show how successful the staff teams are at this.
4) Class of the Week Pictures
Y1 group in gymnastics and Y1/2 undertaking a writing project.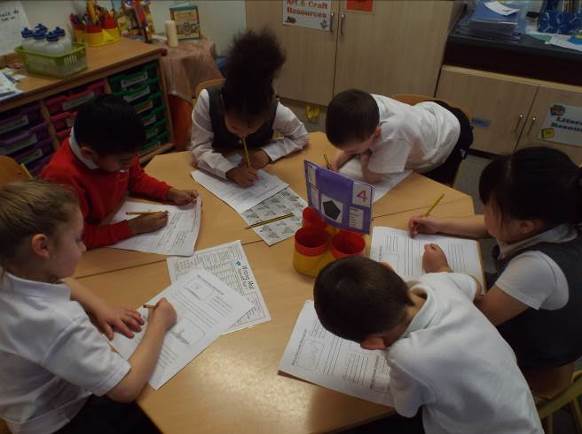 5) Vandalism
Last Monday we had 2 boys no more than 12/13 years old come into school, deliberately smash a pot and damage a wireless receiver that will have to be repaired from school funds. They were captured on CCTV and I am waiting for the police to look at their image, as I recognise one of the children. What concerns me is that this took place on a very cold night at 9:40pm, when to my old fashioned thinking, 12/13 year olds should be at home. I still have a family from the previous school I was Head at paying £5 a week towards the thousand pounds worth of damage they caused to the roof.
6) Events/Activities in School
Thank you to parents/carers who attended the Y3/4 Class Assembly. These are always lovely occasions for you to see your child and we always notice how talented they all are.
The school Disco raised £487.04 for school funds and the children had a lovely time.
Very well done to Matthew Piesse-Mills, Evie Beech-Daly, Skye Lea-Shaw and Merin George, who took part in the Sunday Service at St John's with Miss Mazzei last week. They did some lovely readings on forgiveness.
7) Reminders
Tomorrow at 9:00am there is the Y3 Class Assembly and the School Council are raising money for the R.S.P.C.A. by selling biscuits and juice for 30p. Please make the payment for this via ParentPay.
8) Uniform
Thank you so much for sending in the children so smartly dressed. For our new families we do ask children to wear school shoes, not boots, as these are so important for growing feet. One or two boys have boots that they can't do the laces up on. We do not allow children in KS2 to use the ball cage with these on for safety reasons. Children can change their footwear at lunch time.
9) P.E. Kits
These are coming home for a wash on Thursday or Friday. Please ensure they are back on Monday 27th February for lessons. We sadly never have them all back which means children miss out on their 2 hours of physical education and have to stay in to do extra. Please help us keep your child fit and active.
10) Packed Lunches
The staff are reporting that some children are not bringing any fruit or a drink. We suggest that if your child is bringing a packed lunch they have healthy options. A sandwich or wrap, yogurt, fruit or what about sliced carrots, cucumber or tomatoes? Now and then a chocolate biscuit or small cake could be added as a treat. We ask that they bring juice and not fizzy drinks. The later are not healthy and when we went to France the children learnt that France has banned restaurants from offering unlimited refills on sugary drinks, to help reduce the number of overweight children.
11) Bullying Awards
Mrs Ramsden has been successful in obtaining the Bullying Intervention Group Big Award for the school as a result of work all the staff do with the children and the Anti Bullying Ambassadors Group. No school can ever say that there are not issues of unkindness, as I call it, as all your children are so lovely, but at St John's we can say that we talk about this issue and take swift action when needed.
12) Lates

Friday
3
Monday
1
Tuesday
6
Wednesday
7
Thursday
3
13) School Clubs Pictures Y3 and Y4
The after school Multi Skills Club.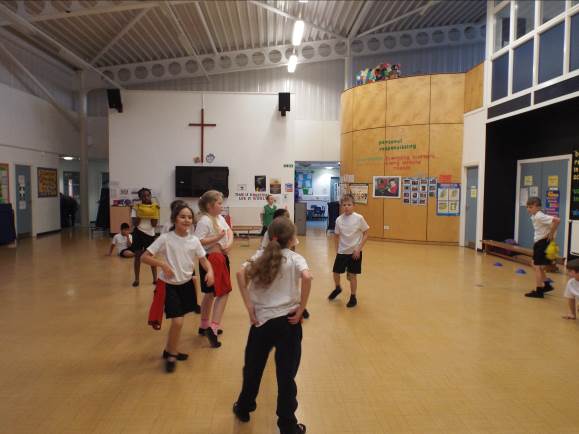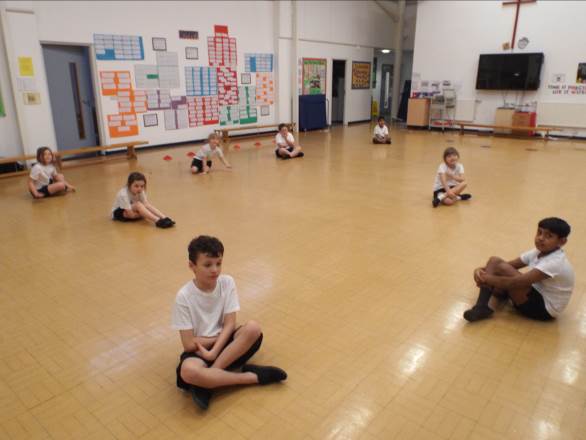 14) Cars on School Premises
We allow at present parents/carers to use the drop off zone and our sport's ground to drop children off in the morning. Many schools do not have these facilities. However, cars must obey the speed limit of 5 MPH as I have had complaints that parents/carers are driving too fast and putting children in danger. We do have some disabled and hard of hearing children and we need to keep them safe.
15) Behaviour on School Premises
I have had some complaints this week about parents/carers using unacceptable language on school premises within the hearing of our pupils. This is not the positive learning and behaviour ethos we teach the children. "If children live with encouragement they learn confidence, just as, if they live with hostility they learn to fight."
16) Office Information – ParentPay
Currently, when adding credit to a ParentPay account, there is a minimum limit of £2.00, but this will hopefully change soon to NO minimum fee. However, if the item you are paying for costs less than this amount, the rest of the balance can remain on your account and be used for other payments in the future. We will be sending out information for parents/carers tomorrow about the different options for adding and using credit on ParentPay accounts. A link to the ParentPay Support Website, for those who need it, can be found under the 'Help' section on the ParentPay home page.
17) Home School Link Worker Information
From Monday 6th March to Monday 3rd April (Lent), we are going to collect food for the Foodbank. This is a great charity that helps the people of Stoke-on –Trent who are struggling to provide meals for their families because of a crisis. Please see the list attached to the newsletter and bring any items into school between those dates. We thank you for your continued support and generosity.
18) Events/Activities in the Local Area
For details of European City of Sport weekly community sessions, please follow the link below;
www.stoke.gov.uk/cityofsport#CityOfSport16
19) Dates for your Diary

Tuesday 21st March
Dance Festival – Victoria Hall
Wednesday 29th March
Y3 Recorder Festival – Victoria Hall
20) Celebration Assembly Dates
(Parents/Carers are invited to attend; Starts at 9:15pm)

Friday 17th February
Y3
Friday 10th March
Y2
Wednesday 29th March
Y1
Friday 19th May
Y1/2
Friday 9th June
Reception
21) Celebration Assembly
Our children/classes who received awards on the 10/02/17 were:

Y1BC
Amith Puli
Y1/2H
Ethan Pollitt
2C
Morfeas Chatzopoulos
Y3J
Daniella Gradiz
Y3/4E
All of the Class
Y4-5M
Fareedah Ibrahim
Y5-6
All of the Class
Y6
Angel Deacon
Mrs Bloor's Award
Oliver Williams Y6 &
Alex Ballard o'Shea Y3
Smart School Uniform
Dania Mousa Y3/4
Lunchtime Supervisor's
Behaviour Award
Aiden Johnson Y5/6 &
Rattan Sangaraju Y1
Time 4 Sport
Y4/5
22) Attendance Awards
Given out for data collected w/b 30/01/17:
Whole School Attendance: 96.7% (Government target is 95%)
Class Attendance:
• 1st Place – Y6, 99.4%
• 2nd Place – Y2, 99.2%
Pupil Attendance Awards:
• 1st Place – Aneesha Sebastian
• 2nd Place – Neha Rejith
Water World Voucher: Ryan Bithell
23) Attachments
Mrs P Bloor
Headteacher