Newsletter Spring Term 9
Dear Parent/Carer
We have had a lovely learning week in school and two Governors who visited this week commented on the quiet atmosphere and well behaved children. Thank you so much as they are a great reflection of you parents/carers.
1) Our Talking Topic
This week we have been thinking about the importance of being satisfied during Lent and how Jesus taught us that 'a person's true life is not made up of the things he owns, no matter how rich he may be'. We reminded children that the most important things in life are not possessions. Please talk to your child about this.
2) Our Value; Honesty
This is something that our children are brilliant at. Very well done to Anush Sinilraj Nursery, Imogen Hampton R2, Alex Taylor R1, Musa Haq, Ethan Harvey Y1, Lexi Fradley-Degg Y1/2, Tyler Hodgkinson, Daniel Isi-Efefaroro Y2, Abbey Filcock Y3, Grace Hawkins Y3/4, Samuel Kuruvilla Y4, Amber Gregory, Dylan Colclough Y4/5, Ruby Howard, Aryan Raieissi Y5/6, Solomon Johnson, Ellie Moreton Y6, who have all been noted as showing great honesty this week.
3) Class of the Week Picture; Y4/5
The children were learning in computing about how web sites are made.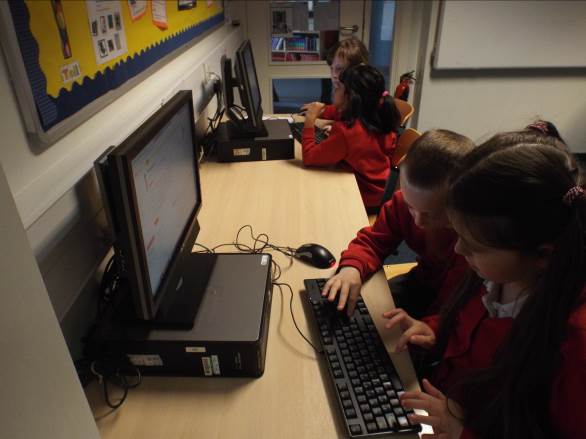 4) Tests
We are all working really hard for the forthcoming KS2 SATs, during the week beginning the 13th May. This is an important time for the children and we are asking families to help us by making sure your child does some work every night. Y2 children have their tests in May aswell and Y1 children have a phonics test in June, as do the children who did not pass the test last year. This is a really busy time and we ask all families to help us by reading with your children and helping them complete homework and learning tasks so all the children make the best possible progress.
5) Animal Man Wow Visit Picture
Yesterday and today we had a visitor into school who showed and talked about different animals; an African Royal Python, a Fat Tailed Gecko, a Bearded Dragon, a Tenrec, a White Scops Owl, and a Raccoon Dog, to all the classes from Reception to Y6. The children thoroughly enjoyed this 'Wow Day' and learnt a lot. We were able to pay for this visit from school funds.
6) School Clubs; Sporting Skills
The after school Sporting Skills Club taken by Mr Wilcock.
7) School routines for our new families
We have rotas at lunch time that ensure all classes have an opportunity to go in first for lunch. On Monday Y1 have 'Monday Movers Club' and on Tuesday Y1/2 do a 'Tuesday Twisters Club'. All KS2 children have a lunch time 'ICT Club', a time at the top sports ground and on the bottom playground for activities. We aim for active, healthy lunchtime clubs that keep all the children busy. We also have a 15 minute 'catch up club' for reading and a 15 minute detention when needed. Any child who cannot behave is not allowed on the top yard as they spoil other children's lunch time.
8) Events/Activities in school
Thank you to parents/carers who came to the Y2 Class Assembly. The children were all brilliant and it is our learning events like this that add to all children's self-esteem and confidence. A new family told me after how happy their children were at St John's and how good all the staff were, which is a lovely compliment to receive.
Swimming Awards – very well done to Jack James, Harvey Tams and Alissa Saji, who gained their Length Certificate. Also Declan Matthews, Anopa Mutize, Jerome Juguilon, and Nancy Doward who gained their Elementary Certificate and Declan Matthews, Yashbir Bhullar for gaining their Proficiency Certificate. These are excellent awards and reflect a lot of hard work from the pupils and staff.
Gifted and Talented Science opportunity – well done to Elizabeth Solomon, Merin George, Robert Brian, Anto Yohannan and Lekshmi Manesh, who attended an Electricity Workshop with Miss Jackson last Thursday at the Willows Primary School. As a team, they built a working solar-powered car from scratch, using their problem-solving skills and their scientific knowledge about electricity to help them. And to top it all off, they made the fastest car out of the 5 groups that took part in the challenge! Well done!
Cross Country – well done to the boys and girls teams who competed in the Stoke Competition last week; Anet Yohannan, Evie Beech-Daly, Stephanie Muyakha, Brodie Sinclaire, Jamie Paredes, Oliver Williams, Michal Chmielewski, Yashbir Bhullar, Jerome Juguilon and Jensen Nguyen.
Parents/Carers Phonics Meeting – thank you so much to those that attended and picked up
tips for helping their child.
9) RSPCA School Council fundraising
The children raised £65.10 as a result of the juice and biscuits fundraising. We also had a card from Stoke City, thanking us for naming the cow for Kenya 'Delilah'.
10) Home School Link Worker Information
Please read the information attached to the newsletter about 'Setting safety and privacy settings for social media apps'. Our children are under 13 so should not be on some of the sites, but it gives you important details on how to keep your child safe on-line.
11) Red Nose Day – Friday 24th March
This is next week and raises money for a charity that does wonderful work, and we thought we could support it. As a result of parent/carer requests, we have purchased 320 Red Noses, enough for each child to buy one and Y6 will be selling these at lunchtime on Thursday 23rd and Friday 24th March, for a £1 each. In addition to this, on Red Nose Day, the children can choose to wear a funny hat, funny slippers, funny socks or perhaps decorate their jumper with a joke, at a cost of £1. The children will enjoy this and will be helping disadvantaged people in England and Africa. All cash must be sent into school with your child in a named envelope.
12) Parking
This week the Council introduced permit parking in Springfields Road, Algar Road and Wheatley Avenue. This is to stop the hospital parking and is a result of residents campaigning with Jackie Barnes. The permits operate daily from midnight to 8:30am, 9:30am to 2:30pm and from 3:30pm to midnight. This will help our families and the school as in between these hours, the roads can be used, although please be sure to respect local resident's drives. Residents are phoning the council enforcement officers daily so parents/carers need to be aware. Nearby families, now the weather is better, are encouraged to walk and share duties with friends and families as it is much healthier. Please be aware that if you are picking up children after 3:30pm in a car, you will need to find alternative parking.
13) Lates

Friday
11
Monday
13
Tuesday
3
Wednesday
2
Thursday
1
14) Dates for your Diary

Tuesday 21st March
Dance Festival – Victoria Hall
Wednesday 29th March
Y3 Recorder Festival – Victoria Hall
Wednesday 5th April
Y4 Bikeability (30 Places)
Thursday 6th April
Y5 Bikeability (Y5's in 4/5 also) & Y5/6
Friday 7th April
Y5 Bikeability (Y5's in 4/5 also) & Y5/6
Thursday 6th April
Fundraising Disco in school, 3-4pm KS1 & KS2
Friday 7th April
End of Term
Monday 24th April
Staff Training Day
Tuesday 25th April
Term Starts
Thursday 4th May
Staff Training Day
15) Celebration Assembly Dates
(Parents/Carers are invited to attend; Starts at 9:15pm)

Wednesday 29th March
Y1
Friday 19th May
Y1/2
Friday 9th June
Reception
16) Celebration Assembly
Our children/classes who received awards on the 10/03/17 were:

Y1
Ellie Ruane
Y1/2
Aaron Binil
Y2
All of Y2C and Freddie Purcell
Y3
Izza Fatima
Y3/4
Adeel Farooqi
Y4
Anna Binil
Y4-5
Berrie Johnson
Y5-6
Jenson Nguyen
Y6
Solomon Johnson
Mrs Bloor's Award
Keneth Bautista & Solomon Johnson
Lunchtime Supervisor's Award
Holly Gaskell, Mary Conkova & Katy Conkova
Good 2 Be Green
Delarni Fox, Y1/2, Jacques Theron Y1/2, Liam Davis Y4, Keira Whieldon Y6
Smart School Uniform
Riley Proud R2
Time 4 Sport
Y5/6
17) Attendance Awards
Given out for data collected w/b 27/02/17:
Whole School Attendance: 96.8% (Government target is 95%)
Class Attendance:
1st Place – Y1 & Y4/5, 99.3%
2nd Place – R1, 99.1%
Pupil Attendance Awards:
1st Place – Cisco Handy
2nd Place – Lily Guenane
Water World Voucher: Sahej Bhullar
18) Attachments
Mrs P Bloor
Headteacher