Newsletter Summer Term 1
We welcomed all our lovely children back on Tuesday and hope you all had a relaxing family Easter. All the children looked so smart in their uniforms, ready for learning. Thank you so much for your support.
1) Our Talking Topic
This week we have been thinking about relationships and how important it is to talk and be kind to everyone you meet. Please talk to your child about this.
2) Our Value; Co-operation
This is so important in any school and community and we have daily examples from your children of lovely ways they co-operate with each other and adults. Very well done to Katy Yu Nursery, Rowan Williams R1, Scarlett Griffiths R2, Phoebe Sykes Y1, Elliot Pye Y1/2, Isabella king Y2, Laiba Noman Y3/4, Alfie Purcell Y4, Leona Johns Y4/5, Aiden Johnson, Zagros Negeem, Keaton Lovatt Y5/6 and Jamie Paredes Y6 who have all demonstrated excellent co-operation this week.
3) Class of the Week; Picture
A group from Y4/5, working hard in science on solids, liquids and gases.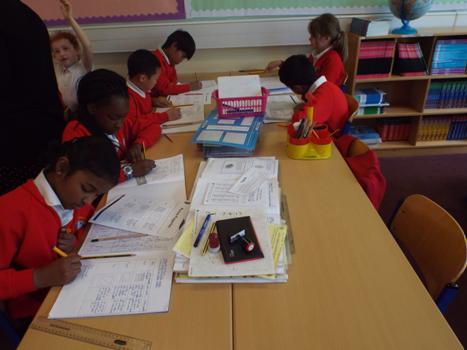 4) Holiday Reading
Very well done to all those children who managed to read at least 5 times during the holiday. Like most things, practice makes perfect and this makes such an impact on attainment.
5) SATs Revision
A special well done to all in Y6 who completed some SATs revision over the holiday. The KS2 SATs tests begin Monday 8th May for 4 days and the group have worked hard in class and booster classes. They have all been well prepared and are busy doing extra work in preparation for them. The children have told me that they have all enjoyed booster classes and they know the tests are important for their high school setting. A few parents/carers have said there is too much pressure, but it is not what we see at St John's and there are pressures in life. This was one of the reasons the group were taken to France, to teach them to overcome fears and worries. The children will be taking exams each year and in this group we have a prospective doctor, plumber, midwife, nurse, technician, engineer and teacher, to name a few of their aspirations; who will go on to achieve great things.
6) Attendance
Know your attendance information was sent to all children before Easter and our attendance is improving which is great, although there are 12 persistently absent and late families who we have referred to the Education Welfare Officer. The recent high court judgement makes taking children out of school illegal and parents/carers liable to prosecution. We will not authorise any holidays in term time. The evidence shows that every extra day of school missed can affect a pupil's chances of achieving good GCSEs, which has a lasting effect on life chances.
7) School Swimming
Well done to all the Y6 children who achieved the National Curriculum Award in swimming. 92% of Y6 achieved a length or better, the minimum government standard (the Stoke on Trent average is 73% so we were so much better than this) and of the three who did not, two were new pupils in Y6 and one missed 50% of their swimming lessons through absence. Very well done to Y6.
8) Staffing News
We welcomed back Miss Whalley in Y4 this week and Mr Meir part time in Y1/2. Unfortunately, Mrs Halfpenny is off sick for 3 weeks, so the class is being covered in her absence. The Class Assembly has been postponed now and will be rearranged for July. We will of course let you know the date shortly.
9) Exercise Machines
You will have noticed we are in the process of adding 6 exercise machines on the sport's ground. This should be completed next week and will be a great addition to our facilities and give children further opportunities to be active and healthy. Once completed, parents/carers are welcome to use them in the morning. We are not allowed, until after the election, to reveal the funding source, but we are pleased the school has not had to pay for them.
10) Reminders
The school is closed on Bank Holiday Monday and on Thursday 4th May, as we are required to set a training day in advance on Council Election Days.
Unfortunately, the school has been requisitioned as a polling station for the General Election on Thursday 8th June, therefore as we have no choice in this matter, the school will also be closed on this day.
All classes need PE kits in school and swimming for Y4/5, Y3/4 and Y3 does not start till next week.
Next Friday, the School Council will be selling juice and biscuits in school to raise money for Water Aid. The cost will be 30p and payment for this can be made in the usual way via ParentPay.
11) Dates for your Diary

Monday 1st May
Bank Holiday – School Closed
Thursday 4th
May Staff Training Day – School Closed
Saturday 6th
May Good Attendance/Punctuality Reward Visit to Manchester
Monday 8th- Friday 12th May
KS2 SATs
Saturday 20th May
Fun Run 9am-10.30am
Thursday 8th June
Staff Training Day – School Closed
Tuesday 13th June
Sports Day (Weather Permitting)
Tuesday 20th June
Sports Day – Reserve Date 1
Thursday 22nd June
Sports Day – Reserve Date 2
Thursday 27th June
Sports Day – Reserve Date 3
Thursday 29th June
KS2 Communion in School – Parents/Carers Welcome
Saturday 1st July
Summer Fair 12.00pm-14.00pm
12) Celebration Assembly Dates
(Parents/Carers are invited to attend; Starts at 9:15am)
Friday 9th June Reception
13) Attendance Awards
Given out for data collected w/b 27/03/17:
Whole School Attendance: 96.4% (Government target is 95%)
Class Attendance:
• 1st Place – Y5/6, 98.9%
• 2nd Place – Y4/5 & 3J, 98.5%
Pupil Attendance:
• 1st Place – Anna Ozman
• 2nd Place – Anopa Mutize
Water World Voucher: India Vickers
14) Attachments
Mrs P Bloor
Headteacher