Newsletter Summer Term 2
The weather has been great this week and it has been lovely for the children to get outside every day. It is forecast to continue which will be lovely – let's hope it does!
1) Our Thinking Topic
This week we have been thinking about honesty which is something all your children are brilliant at. Please talk to your child about this.
2) Class of the Week Picture; Y6 on the Trim Trail
This class were the first to try out the fabulous new exercise machines for children, that we have had installed. All the Key Stage 2 classes are having a go this week when they go out for their Style Mile. For new parents/carers, each class goes out at least once a week, in addition to PE, to walk, stroll or jog a mile. This is part of our healthy lifestyles education that is so important in times of declining fitness standards of children. It has really helped to improve the stamina of all the children.

3) Breakfast Club; Picture
Many of our parents/carers find this so useful and it helps their morning routines. Breakfast Club opens at 8:15am and the children are given cereal, toast and a drink for the cost of £1 each morning. If you are interested in this for a week or a particular day, please contact the school office.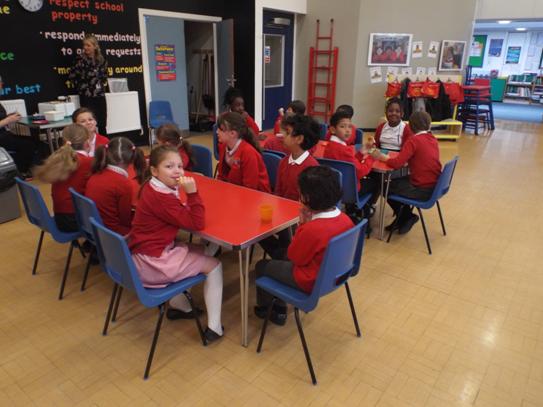 4) Holiday Work
We have had the Reception and Nursey classrooms re-carpeted recently and the wet play areas enlarged. This is lovely for all the children and is the area where we can have accidents. The Local Authority are looking into the high numbers of children entering Nursery without being toilet trained and the implications of lost teaching time on the other children. We are not going to admit children full time in Nursery unless they are toilet trained, as all children used to be.
5) Value Champions
On Thursday 27th April, children from each class were chosen by the teacher as the Class Values Champion. As a reward they were taken to Hanley Museum where they enjoyed looking at the displays, trying on the costumes, drawing an animal and having juice in the café. Well done to Jayden Griffiths, Alicia Sanil, Lexi Fradley-Degg, Jacob Brear, Oliver Brereton-Lewis, Moshin Ali, Surra Osman, Kane Silvester, Robin Craggs, Joshua Brereton-Lewis, Olivia Tok, Hao Yu, Emily Rains, Charlie Simpson, Amelia Harvey, Lily Groves and Jerome Juguilon. They all had a great time.
6) Juice and Biscuits for Water Aid
Thank you for your support for the latest School Council fundraising venture. We raised £54.10 which will pay for a well in an African village.
7) Good Attendance Reward Visit
On Saturday 45 children and 4 staff went to Manchester to visit the National Football Museum and Manchester Museum. This was for children in Y5 and Y6 whose attendance was 95% or better and no more than 3 lates, with no exceptions. The children (and the families!!) had a lovely time and they were complimented on their excellent behaviour. Very well done to all these children, who are also learning the importance of good attendance. Other attendance rewards are planned.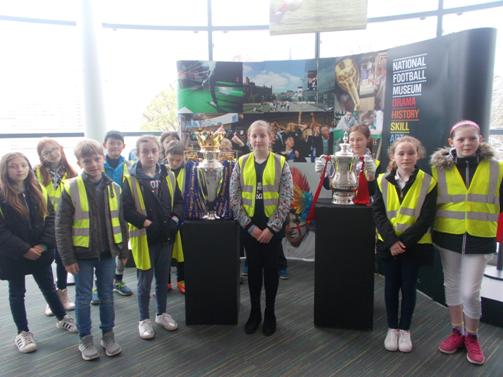 8) Y6 SATs
Today sees the completion of the Y6 SATs Tests. All the Y6 have worked extremely hard for these tests and deserve great credit for their application and common sense. The school has prepared Y6 really well of course, with additional booster classes and the usual high quality teaching we deliver at St John's. Looking at Y6 before the tests having toast, which we gave them every day, along with a special SATs water bottle and energy bars, they have not been worried at all. Indeed some have already said to me that they will miss booster classes. We are so very proud of all our Y6 who will be working on writing and other projects so their assessments are as high as possible before they go to high school. They are all going to visit the Maritime Museum in Liverpool on Friday as a reward.
9) School Swimming
Very well done to Adithya Sanil, who has passed the Beginner's Certificate in the first week of school swimming. This term Y3, Y3/4 and Y4/5 are swimming for 10 lessons. These are the most expensive lessons of the week, as they need 2 staff to accompany, transport and the hire of the pool and 2 instructors. Therefore, it is vital that all children attend the lessons, unless there is a medical reason. These lessons are also used as cover for teacher's planning and preparation time, for which they are out of the classroom for 2 hours a week, so any child not swimming affects other classes. The rule is that they join the PE class taking place, adding to the numbers, as swimming is part of our 2 hours of PE that we have to deliver. Any child with a medical issue, and we have a pupil currently with a broken foot, is set spelling and tables by myself or Mrs Ramsden. We do not allow goggles unless there is a medical issue for which a doctor's note is required. School swimming is all about safety and keeping children safe. Children do not wear goggles when out where they could be near water and have to save themselves. All the Swimming Awards need children to put their face underwater and this is taught from the beginning. We are having additional lessons in keeping safe by water in our Health and Well Being week at the end of term. I went swimming with Y4/5 yesterday, who were great, and saw that some of the children would benefit from additional swimming lessons at The M Club or Jubilee Pool to really maximise the lessons.
10) Parking on School Grounds
At present, the Governors allow cars to park on our sport's ground in the mornings, to help parents/carers with younger children who live further away, to get to school on time. Cars are parked at parents/carers own risk and must obey the speed limits. A parent has complained that their car has been damaged and so I ask families to use this facility responsibly.
11) Friday
Y6 are going on a visit to the Maritime Museum in Liverpool early on Friday and will be leaving punctually at 9 o'clock to fit in everything planned for the day. Therefore there will be no parking on the sport's ground on Friday. Please use the drop off zone only or use it as your walk one day a week.
12) Reminders
Please can we remind parents/carers in the warmer weather to apply sun cream before children come into school.
13) Time4Sport Half Term Holiday Camps
This is a perfect way for your children to have fun, stay fit, be safe, make new friends and learn during the school holidays. Open for children aged 4-12 years, sessions are held daily from 9am-3.30pm on the 30th May-1st June at the Michelin Sports Centre and St Mary's Catholic Primary School in Newcastle. The sessions offer flexible and affordable holiday activities. Early drop off and late pick-ups make our holiday clubs accessible for children with working parents. For more information please see the Time4Sport Website; www.time4sportuk.com and follow the link for Holiday Camps.
14) Dates for your Diary

Friday 12th May
Y6 Liverpool Visit – Leaving Punctually at 9am.
Saturday 20th May
Fun Run 9am-10.30am
Thursday 8th June
Staff Training Day – School Closed
Tuesday 13th June
Sports Day (Weather Permitting)
Tuesday 20th June
Sports Day – Reserve Date 1
Thursday 22nd June
Sports Day – Reserve Date 2
Thursday 27th June
Sports Day – Reserve Date 3
Thursday 29th June
KS2 Communion in School – Parents/Carers Welcome
Saturday 1st July
Summer Fair 12.00pm-14.00pm
15) Celebration Assembly Dates
(Parents/Carers are invited to attend; Starts at 9:15am)

Friday 9th June
Reception
Y1/2
To be confirmed
16) Celebration Assembly
Our children/classes who received awards on the 24/03/17 were:

Y1
Harrison Cotterill
Y1/2
Taylor-Jay Barlow
Y2
Grace Eaton
Y3
Donna Agyei Tejeda
Y3/4
Grace Wain
Y4
Olivia Tok
Y4-5
Katy Conkova
Y5-6
Anopa Mutize
Y6
Rasa Babickas
Mrs Bloor's Award
Rasa Babickas
Dusty Bin Awards
Y3
Y6 Prefects Award
Y1
Smart School Uniform
Leah-Rose Walker
Lunchtime Supervisor's Award
Angel Johnson & Lola Howard
Time 4 Sport
Y5/6
Walk to School Award
Y3/4
Eco Trophy
Y6
Lunchtime Trophy
Y1/2
Water World Voucher
Oscar Dix
17) Attachments
Mrs P Bloor
Headteacher