Newsletter Summer Term 4
As we finish for half term we hope you are pleased with the progress your child is making and their behaviour and learning focus. We have completed a lot of testing, which is a regular part of teaching, so we can assess progress and the next steps needed.
1) Our Talking Topic
This week we have been thinking about 'responsibility' and how we all have responsibilities to do our best and love each other as Jesus taught us. The terrible atrocity in Manchester was discussed in all classes so that children could try to make some sense about what they have heard and seen. They were told that it was the action of one evil man that caused such devastating consequences. But in the midst of this tragedy, people turned up to offer strangers lifts, food, water and accommodation, showing kindness and love to strangers. We remembered the families affected in our prayers. We all have a part to play in making the world a better place for all those who come after us.
2) Our Value; Kindness
This is something our children are very good at. We have had lovely acts of kindness shown to our new children to help them settle in.
3) Stoke Annual Fun Run; Pictures
This was on Saturday and we had 92 taking part in the 2 kilometre run, which was a very successful event. Congratulations to Joel Sheldon and George Baldwin, the top boys and Samira Shilik and Ella Curzon, the top girls. It was a super event.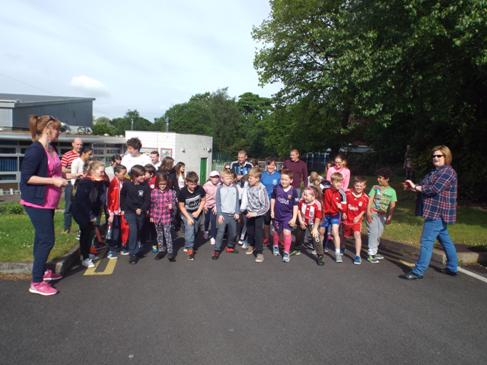 4) Club of the Week Y3/4
The class have been learning about electricity in science.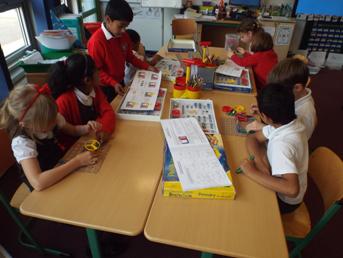 5) Club of the Week – Taekwondo Club
The after school Taekwondo Club who are practicing for their next belt.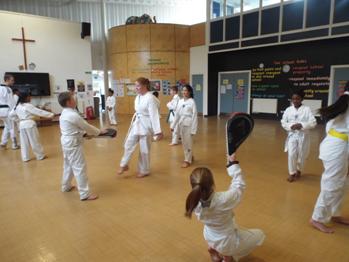 6) Lates
This has such an impact on learning and disrupting lessons. Any child late will be kept in on a Friday by Mrs Ramsden to read as this is what they are missing.

Friday
3
Monday
4
Tuesday
4
Wednesday
8
Thursday
3
7) Y2 Testing
This statutory testing has been completed this week and the Y2 children have been really responsible and sensible during the tests. This, along with teacher assessment, will be reported to parents/carers in July once everything is completed. I will be speaking to some parents/carers whose children need an extra push at home to catch up with their peers.
8) Doodle Bug Wow Lessons
This week all KS1 and KS2 classes have had a special art lesson on drawing for our 'WOW' lessons this half term. The children have really enjoyed this and the artist who we hired has complemented all the classes on their focus and common sense.
9) E-Safety
We have had information from Safeguarding about the MyLOL app. On its website, MyLOL bills itself as the '#1 teen dating site in the US, Australia, UK and Canada' and claims to have more than 300,000 members around the world. It invites users to meet 'thousands of teenagers like you' and then goes on to describe how users can 'chat with members or privately with someone'. Teenagers are encouraged to update a profile and share pictures. It's not the first time concerns have been raised about dating apps aimed at young people. Back in November, the NSPCC warned against new app Yellow, labelled 'Tinder for teens', which could be used by predators to groom youngsters. Like Tinder, Yellow allows its users to swipe right and left to either 'like' or 'pass' another user, and if there's a match they can begin chatting. A spokesman for the NSPCC said that "any app that allows strangers to send photos to children or vice versa is troubling – particularly where the images being exchanged are of a sexual nature. Yellow's settings that enable adults to view children, through a service aimed at flirting and relationships, also creates an opportunity for sexual predators to target young people. This needs to be urgently addressed".
We are not trying to scare you but in this day and age parents/carers need to know what their children are doing on their phones, laptops etc. Please discuss this with your children and if needs be delete inappropriate apps.
10) Behaviour Awards
This week all the children in KS1 and KS2 whose behaviour has been exemplary, and it is the vast majority, have been given their Diamond Behaviour Certificate and ruler. Early Year's children whose behaviour has also been excellent have received a certificate. A few children behind have received their next certificate. Our behaviour for learning is always positively commented on when we have external visitors. Very well done to all these children of whom we are so very proud.
11) Reading at Home
Reading at home is vital to children's educational success and we ask all families to hear their child/children read at least 4 times a week. We have some families whose children are at the early stages of English and it is especially important they read every day. We are happy to give extra reading books out if this helps- just write a note in the diary. We have catch up clubs organised at lunch time for children who do not read 4 times a week, but this is often the children who are already behind. We shall be sending out letters to these families after half term. Hearing your children read is one of the joys of having children!
12) Thursday 8th June
The school is closed for the General Election and this is something we have no say in. All the staff are having vital safeguarding and reading training.
13) 'Parents Count Two'
This is a new feature being added to the newsletter as many parents/carers lack confidence in maths and this of course is transmitted to the children. We will make one suggestion per week for an activity that you could do at home to encourage your child to engage in maths in a practical way!
Money; Why not use the change in your pocket? Empty the change in your pockets/purse and encourage the children to recognise the value of coins and count the change. You could ask questions such as:
What is the total of the highest three coins?
Can you place the coins in order?
What is the difference between the highest and lowest value?
14) Swimming Awards
Well done to Chloe Kirk and Landon Coates who passed their Beginner's Certificate this week.
15) Safety in the Sun
Please remember to apply sufficient sun cream to your child in the morning if needed. We do have a safety in the sun policy and shorten outdoor lessons or shelter if needed. All classes have water available. We encourage all children to be cool by taking their jumpers off. Please help us by checking your child's jumper or cardigan is named.
16) Y1/2 Class Assembly
This will be on Thursday 15th June at 9:05am and families have been texted with this date today.
17) Headlice
We had an outbreak recently and ask that all families check their child's hair as these super bugs we have these days love clean hair. All children with long hair must have it tied back as this can also help. Thank you for your support.
18) Dates for your Diary

Friday 26th May
End of Term
Monday 5th June
Term Starts
Thursday 8th June
Staff Training Day – School Closed
Monday 12th June
Y4 Potteries Museum Visit – AM
Y3/4 Potteries Museum Visit – PM
Tuesday 13th June
Sports Day (Weather Permitting)
Thursday 15th June
Y3 Potteries Museum Visit AM
Thursday 15th June
Family Picnic – 1:30pm
Friday 16th June
Stoke Athletics – Northwood
Tuesday 20th June
Sports Day – Reserve Date 1
Thursday 22nd June
Sports Day – Reserve Date 2
Thursday 27th June
Sports Day – Reserve Date 3
Thursday 29th June
KS2 Communion in School
Parents/Carers Welcome
Saturday 1st July
Summer Fair 12:00pm-14:00pm
Wednesday 5th July
City Athletics – Northwood
Tuesday 11th July
End of Year Concert 1:30pm & 6:00pm
Wednesday 12th July
End of Year Concert 9:00am
Monday 17th July
Health Fair 2:30pm-3.30pm
Tuesday 18th July
Reception Graduation in Hall 9:05am
Y6 Leavers Presentation 6:00pm
19) Celebration Assembly Dates
(Parents/Carers are invited to attend; Starts at 9:05am)

Friday 9th
June Reception
Thursday 15th June
Y1/2
20) Celebration Assembly
Our children/classes who received awards on the 12/05/17 were:

Y1
Amith Puli
Y1/2
Elliot Pye
Y2
Isabella King
Y3
Kevin Babu
Y3/4
Damien Hammond
Y4
Jeff Joseph
Y4-5
Emily Rains
Y5-6
Ricardo Gordon
Smart School Uniform
Katy & Mary Conkova
Lunchtime Supervisor's Award
Sedra Osman & Ratan Sangarju
Time 4 Sport
Y5/6
21) Attendance Awards
Given out for data collected w/b 01/05/17:
Whole School Attendance: 97.5% (Government target is 95%)
Class Attendance:
1st Place – Y6 & Y2, 100%
2nd Place – Y4/5, 99%
Pupil Attendance:
1st Place – Moshi Ali
2nd Place – Donna Agyei
Water World Voucher: Merin George
22) Attachments
Mrs P Bloor
Headteacher