Newsletter Summer Term 6
As we enjoy lovely summer weather we are continuing with our very busy second half of the term, with lots of assessments to show progress and the next steps. It has been lovely to see the children attired in cool school uniform.
1) Our Thinking Topic
This week we have been thinking about 'courage' and how we should always do the right thing even if this is harder. The assembly centred on a story about a boy who was frightened, but still did the brave thing. Please talk to your child about this.
2) Our Value; Co-operation
This is so important in any school or community and is a strength of St John's. All classes demonstrated this during our Family Picnic and Sports Day.
3) Class of the Week
Y6 working on decimals and percentages.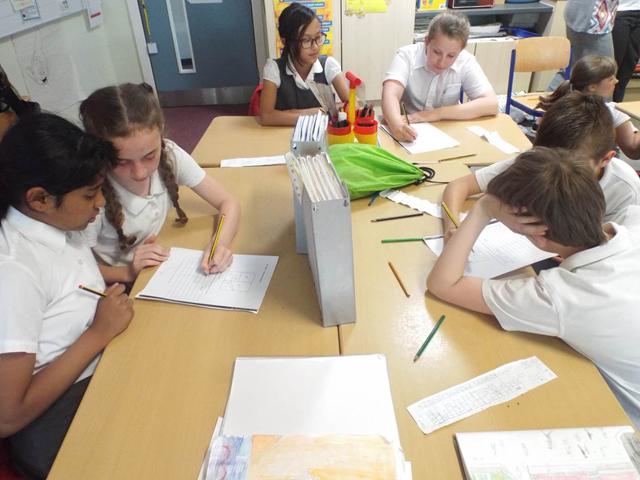 4) Family Picnic
This is a very popular annual event and brings families together. It was thoroughly enjoyed by everyone.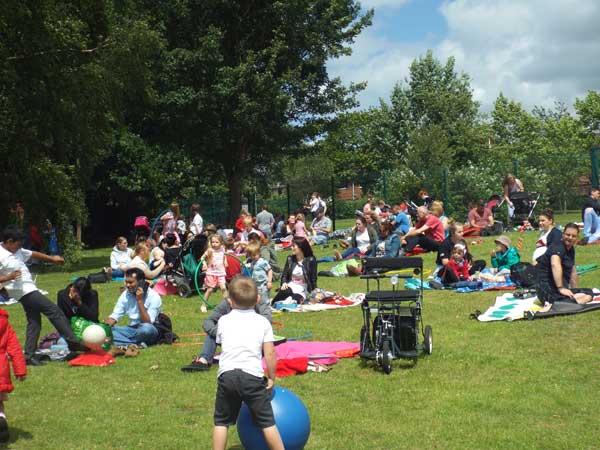 5) Town Athletics Competition-Northwood
42 children competed in the Town Athletics Competition last week, as a gifted and talented sporting opportunity. All children are run off in lessons, so the best are picked for the events. The team all competed really well and supported and watched each other brilliantly. Very well done to all these children. We have some children who have been picked for the Town Team.
6) Y1/2 Class Assembly
Thank you to parents/carers who came to see their children take part in the Class Assembly. It is a great opportunity for the children to speak in front of others and gain confidence from this. They did really well, telling us all about 'George and the Dragon'.
7) Museum Visits
Y3, Y3/4 and Y4 all had a very interesting visit to the Potteries Museum and enjoyed a hands on session finding out about artefacts from the past, which they all enjoyed.
8) Fundraising Event
Very well done to Y4 who organised a cake sale and 'come in slippers day' to raise money for The Down's Syndrome Society. We collected £260 which is a fantastic amount.
9) School Routines for our New Families
All children in KS1 and KS2 have a named water bottle that is filled without exception every morning and sterilised on a Friday afternoon. Early Years children have access to milk and water all day. Please make sure packed lunch children are sent in with a drink as we have had some arriving without them. We have more families now that send in water with packed lunches which is so much better for children's teeth.
Children all need a book bag for reading books, letters etc. We ask that nothing is attached to them as we have to store and collect them in classrooms.
10) Sports Day
We managed to hold this event on Tuesday, as always we have to take the first nice day, otherwise we won't be able to have one, as happened a few years ago. The children thoroughly enjoyed taking part and competed well. We had a shaded water break for KS2 which always takes longer and managed to get in the tug of war, which originally was not going to take place so that we were not outside for too long. Fortunately though it clouded over and the school, especially Y6, thoroughly enjoyed this event. It was lovely to see so many parents/carers and family members supporting their children.
However, it was most disappointing to hear of moans on Facebook about the weather, especially when we adhered strictly to our Safety in the Sun Policy. Also, 3 parents tried to give their children juice against our Healthy Eating Policy (designed to reduce Stokes high incidence of tooth decay and to encourage healthy lifestyle) and against the rules as we never do this in any of our Sport's Days. Also sadly, a parent verbally abused a member of staff and another conducted an offensive, foul mouthed argument in front of children and let down the parents/carers who supported this event in the way we expect. This is why many schools do not hold this event for parents/carers!
11) KS1 and KS2 Annual Concert Y1-Y6
This is a regular tradition of the school and this year is called St John's 'A Night with the Stars'. The children are starting to learn some songs this week. We put on 3 performances;
Tuesday 11th July at 1:15 PM
Tuesday 11th July at 6:00 PM
Wednesday 12th July at 9:15 AM
Letters have gone out regarding tickets and I know you will not want to miss the opportunity to see your child on the stage. It promises to be a great show.
12) 'Parents Count Two'
This is our practical activity to help you involve your child in practical maths, as many parents/carers lack confidence in maths and this can be transmitted to the children.
Stuck in traffic? Why not practice odd and even numbers using car number plates.
13) Home School Link Worker Information
On Wednesday a group of children were invited to go and sing at William Fiske Court for some of the residents who were having a tea party. We had a lovely time singing for them and then helping them with a game of bingo. Well done to Evie Beech-Daly, Ranudi Premadasa, Erin Hill, Ellie Moreton, Rusne Kauptye, Molly Hancox, Declan Matthews, Harvey Tams, Abbi Dunn, and Zara Khan.
14) Lates

Friday
3
Monday
2
Tuesday
10
Wednesday
5
Thursday
7
15) Dates for your Diary

Thursday 29th June
KS2 Communion in School 9.05am~
Parents/Carers Welcome
Saturday 1st July
Summer Fair 12:00pm-14:00pm
Wednesday 5th July
City Athletics – Northwood
Tuesday 11th July
End of Year Concert 1:30pm & 6:00pm
Wednesday 12th July
End of Year Concert 9:15am
Monday 17th –
Friday 21st July
Health and Wellbeing Week
Monday 17th July
Health Fair 2:30pm-3.30pm
Tuesday 18th July
Reception Graduation in Hall 9:05am
Y6 Leavers Presentation 6:00pm
Friday 21st July
End of Term
16) Attendance Awards
Given out for data collected w/b 05/06/17:
Whole School Attendance: 97.2% (Government target is 95%)
Class Attendance:
• 1st Place – Y6, 99.2%
• 2nd Place – Y1 & Y4, 99.1%
Water World Voucher: Grace Wain
17) Attachments
Mrs P Bloor
Headteacher