Newsletter Summer Term 7
Dear Parent/Carer
The stifling weather of last week and its problems seem a long way away now. However, we have the smiling faces of your children to put a smile on all our faces. This continues to be a very busy half term and staff are completing assessments in all classes to evidence progress and to identify the next steps as well as preparing for our Summer Concert.
1) Class of the Week
Y1/2 have been categorising food groups in science.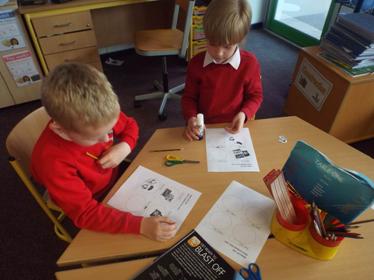 2) School Council Fundraising
This is the new piece of apparatus on the Key Stage 1 playground that was purchased with funds from the disco that the School Council organised. A super effort- well done children!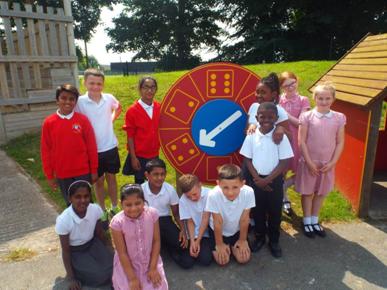 3) School Swimming
Well done to Grace Wain who passed the Length Certificate and Elizabeth Solomon who passed the Beginner's Certificate in school swimming last week.
4) New Exercise Bikes
We were not allowed to publicise the source of our grant for the new KS2 exercise bikes over the election period. But I can tell you now that this was the result of successfully obtaining a Lottery Funding Grant. The award was for £10,000 and the exercise bikes have been in use every day since they were installed.
5) Events/Activities in School
KS1 local walk – the children went on a walk linked to their topic this week. Thanks to Ethan Pollit's Mum, Miss Robson, who helped staff the visit on all three walks!
Y6 had a Maths Transition Day at the Bet 365 Stadium on Monday along with our Stoke 6 group of schools that we work with. They had a great day meeting fellow Y6 pupils and working in teams on maths challenges.
6 pupils have been chosen to represent Stoke at the City Athletics Championships on Tuesday 18th July, Anet Yohannan, Anopa Mutize, Samira Shilik, Keaton Lovatt, Oliver Woodward, and Landon Coates. Very well done to these children!
6) E-Safety Update for Families
You Tube – A few parents/carers have been asking about YouTube. Users of this should be 13 years old or older. This is because some video content is unsuitable, as are some adverts. Another reason is that other users can comment which might be upsetting and opens up potential cyber bullying and children's identity can be recognised from any videos they upload.
Snapchat – This is an app that lets you send a photo, short video or message to your contacts. The 'snap' appears on screen for up to 10 seconds before disappearing, although a screen shot can be taken. There is also a feature that lets you share 'snaps' in a sequence for up to 24 hours. Parents/Carers are being warned about a new feature on Snapchat which could reveal your child's exact location following some serious cases recently where children have come to harm. It only takes a few seconds to disable the feature and turn on the Snapchat 'ghost mode'. Police are concerned that the app's latest update can activate the location feature without children or their parents/carers realising. This could lead to people who are not friends of your children knowing the exact house where they are. We think this is important information you need to know to keep your child safe.
7) Concert
This is being practised at the moment and staff are asking for your help with costumes. From some of the practises so far, it promises to be a great event. Letters re tickets for the three productions we stage have gone out already.
8) Parking Issue
Last Friday two parents/carers complained that their children were frightened by witnessing 2 parents arguing and pushing each other (technically assault-a criminal offence). This is unacceptable behaviour by parents in front of impressionable children. I phoned the police who came the next day. Whilst the incident took place by the green, any action that affects children at St John's is my responsibility. I shall be reporting this to the Governing Board, but ask parents/carers to reflect that if children live with hostility, they learn to fight. The police did say that in spite of the removal of hospital parking, due to the campaign the school had led with the council, there was still illegal parking and they will be back. Many families who live nearby could walk which is so much better for everyone's health!
9) Summer Fair
This is on Saturday from 12:00-2:00pm and we have our fingers crossed for good weather. At the moment the forecast is sunny and 16C, so all looking good! Please send in any last minute tombola prizes by the end of the week. This is our main fundraiser of the year and any money raised is always spent on your children.
10) Disco
We are planning a Celebration Disco for KS1 and KS2 children (Y1-Y6) next Thursday 6th July from 3:00pm-4:15pm (Y6 can stay till 4:45pm). The cost of the disco will be £2.50 which includes a drink and a bag of crisps. Payment for this event should be made via your ParentPay account. There will be other sweets and pocket money toys on sale at the disco, at a cost of 50p and £1. All cash for these items must be sent into school with your child in a named envelope.
Whilst it is a celebration disco and we had a good attendance disco, a good homework disco and a good behaviour disco in the Autumn/Spring term for invited children only, we reserve the right to stop any child attending whose behaviour spoils learning in the last 2 weeks.
11) Clubs
Next week is the last week for clubs and there will be no clubs on Thursday 6th July, the day we are holding the disco. Lunchtime activities continue until the last week of term.
12) Lates

Friday
3
Monday
2
Tuesday
10
Wednesday
5
Thursday
7
13) Dates for your Diary

Saturday 1st July
Summer Fair 12:00pm-14:00pm
Thursday 6th July
KS1 & KS2 Celebration Disco 3:00-4:15pm (3:00-4:45pm for Y6)
Monday 10th July
Town Girl's Rounders at St John's 4:00pm-5.30pm
New Nursery Visits
Concert Dress Rehersal
Tuesday 11th July
End of Year Concert 1:15pm & 6:00pm
New Nursery Visits
Wednesday 12th July
End of Year Concert 9:15am
New Nursery Visits
Thursday 13th July
Town Rounders 4:00-5:15pm
Monday 17th July
Health Fair 2:30pm-3.30pm
Tuesday 18th July
Reception Graduation in Hall 9.05am
City Track Athletics
Y6 Leavers Presentation 6:00pm
Friday 21st July
End of Term
14) Celebration Assembly
Our children/classes who received awards on the 23/06/17 were:

Y1
Riley Tams
Y1/2
Anurag Raj
Y2
Rian Webster
Y3
Claire Johnson
Y3/4
Rhys Wooliscroft
Y4
George Baldwin
Y4-5
Fareedah Ibrahim
Y5-6
Samira Shilik
Y6
Anet Yohannan
Mrs Bloor's Award
Davis Kurian
Dusty Bin Awards
Y6
Y6 Prefects Award
Y5/6
Smart School Uniform
Daniella Gradiz, Y3
Lunchtime Supervisor's Award
Phoebe Sykes & Sebastian Conka
Time 4 Sport
Y6
Eco Trophy
Y1/2
Lunchtime Trophy
Y2
Good to be Green
15) Attendance Awards
Given out for data collected w/b 12/06/17:
Whole School Attendance: 96.4% (Government target is 95%)
Class Attendance:
• 1st Place – Y3/4 & Y4/5, 100%
• 2nd Place – Y6, 99.4%
Pupil Attendance:
• 1st Place – Stephanie Muyakha
• 2nd Place – Yashbir Bhullar
Water World Voucher: Declan Matthews
Mrs P Bloor
Headteacher