Newsletter Summer Term 9
Dear Parent/Carer
As we near the end of our penultimate week of the summer term, we hope you enjoyed our annual school concert which prioritises working together, relationships and confidence building.
1) School Reports
These went out last week and we hope you have enjoyed learning about your child's achievements and what you can do to help them progress further on their learning journey.
2) On-Line Safety Mark
Last week we had an assessor in school to monitor our progress for the reaccreditation of this important aspect of our work. The school passed easily and he noted that the strength of the school in this area is our commitment to on-line safety in the school and the wider community. He also recommended the school was used for good practice visits by other schools. This is an important aspect of our teaching in the times we live and parents/carers should be reassured of the good work that is going on here. Well done to Miss Morris who leads this aspect really well.
3) Annual School Concert KS1 and KS2
The children and staff have been working really hard to put on 3 shows for you this week, as well as the dress rehearsal for the other classes. Watching the children practice, you can see how much they enjoy this and how they are having fun performing. We do so hope you enjoyed the show and thank you as normal for your help with the costumes.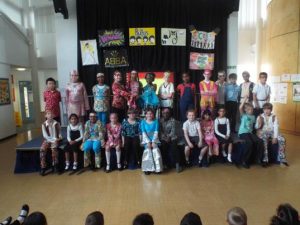 4) Events in school last week
Swimming Awards – Very well done to Angelika Szklarska, Aiesha Hashemi, Kiera Tatler, Delin Negeem, Sebastian Conka and Paige Adlington, who passed their Beginner's Award in school swimming. Also, Robyn Whieldon, Chloe Kirk who passed their Length Certificate and Grace Wain who has passed her Elementary Certificate. Very well done to this group of children for working hard at school swimming.
Year 3's Creative Project Competition – A big well done to all of the Year 3 children who created a Ziggurat (Ancient Sumer Temple) for their creative homework project – they were all fab! All of the projects were on show at the Summer Fair and lots of families went in to have a look and vote for the Ziggurat they thought was the best. The votes were counted and the winners were as follows;

1st Place – Angelika Szklarska
2nd Place – Dylan Wright
3rd Place – Robyn Whieldon

They have received their prizes for winning and everyone who took part also received a small prize for doing such an amazing job. A fantastic effort by all!

Y6 had a puberty/hygiene talk from the school nurse team last week and were very mature.
5) Long Hair
Can we please remind parents/carers that all long hair has to be tied back. Our uniform policy is clear in that we ask children not to wear styles that can distract them or other children from learning. I think parents/carers would expect these high standards in all aspects of school, as the best attaining school in the area. A few children have had extreme hair styles recently and this has impacted on their behaviour. We want children to stand out for academic and other strengths. We always pick children to represent the school who adhere to our uniform policy.
6) Homework
For the last 2 weeks we have set reading books/magazines in the home and learning songs for the concert. Next week we are asking children to finish their reading book and go on My Maths.
7) Next Week; Health and Wellbeing Week
We give our last week a real learning focus. We have lessons on clean air, mental well-being, looking after the teeth, smoking, drugs, dangers of over eating, road safety etc. It is really such important learning.
Normal Uniform should be worn Monday, Tuesday and Friday next week.
On Wednesday and Thursday we have 2 PE days, so children can come in PE Kit on both of these days. The children are undertaking orienteering, a fitness test, an obstacle course and walking a mile, as well as work on the benefits of keeping fit and healthy for life. PE kits will be sent home on Tuesday. Please make sure your child wears a cotton t-shirt, not a nylon football top, as these get sweaty and make the classroom smell as we have 30 children in them.
On the Thursday we have a Skipping Workshop and children can buy ropes if you wish. A form is attached to the newsletter.
It promises to be a really interesting and enjoyable week for all the children.
8) Y6 Ice Cream Project
Traditionally Y6 raise money to buy something for the school by selling ice creams. These will be on sale on Monday 17th July for the cost of £1 each. If you would like your child to participate please send the money into school on Monday in a named envelope and ice creams will be given out to those children at break.
9) Y6 Leavers Presentation
This will take place on Tuesday 18th July at 6.00pm. All family members are invited to say goodbye to this special Y6 group. Children need to be at school for 5.45pm, looking smart in their school uniform.
10) Last Friday of Term
We have a final assembly/service on Friday next week and need all children in smart school uniform. We break up at 2pm on this day so that classrooms can be cleared for painting.
11) Bump Up Morning
Tomorrow morning the children will spend some time with their new class teacher. The classes for September are:

Y6
Mrs Peake
Y5/6
Miss Whalley
Y5
Miss Morris
Y4/5
Miss Edwards
Y3/4
Mrs Halfpenny/Mr Meir
Y3
Miss Jackson
Y2
Miss Mazzei
Y1/2
Mrs Brown/Miss Chapman
Y1
Miss Lovatt
R2
Mrs Connelly
R1
Mrs Clarke
Nursery
Mrs Mills-Farmer
At 9:30am the children will be split and go into their new classes for an hour and a half. The children will tell you all about it when they get home.
12) Sainsbury's Tokens
Thank you for helping us collect over 5000 tokens. They have been used to buy cooking and active play resources for all the children.
13) Holidays in Term Time
We are having requests for holidays in term time, some even for September. The policy of the school is clear, none are authorised and children have to stay in to catch up with reading. There is a clear link between attainment and attendance. In Y6 all our pupils who did really well had excellent attendance and 2 or 3 with weaker attendance performed the worst.
14) Uniform for September
In September we give all the children in Reception to Y6 a PE kit, which consists of a white t-shirt and shorts. This is to help towards family budgets. Nursery need to get their own kits unfortunately. All the children keep their colour coded year PE bag. You then need to get black pumps and Y4 upwards need trainers as well. Shops have uniform in now and I noticed Sainsbury's selling 2 red tops for only £6. Also in September we give our Pupil Premium children a free sweatshirt/cardigan with the logo. We do stock book bags that all children need if you wanted to get one early; please purchase via ParentPay.
15) Holiday Dates
We shall be changing one of our staff training days to have Stoke 6 group of schools training. The children will now be off on Monday 13th November and in school on one of the other dates given which will be confirmed next week.
16) Poetry Competition
A big well done to Donna Agyei Tejeda and Robyn Whieldon, whose acrostic poem was chosen as the winning poem for Year 3 in the open Healthy Lifestyle Poetry Competition. Ansh Bhati and Bethany Morrey were chosen as the runners up. You can read their acrostic poems, all about healthy lifestyles, at the end of this newsletter.
17) Home School Link Worker Information
If you have any concerns/issues during the 6 weeks holiday please feel free to email me at mramsden@stjohnscea.org.uk. Please leave your telephone number and I will phone as soon as I pick up the email.
18) Lates

Friday
10
Monday
3
Tuesday
4
Wednesday
4
19) Dates for your Diary

Thursday 13th July
Mixed Rounders Tournament 3:30-5:30pm
Friday 14th July
Space Bus–EY
Y4/5 Attendance Visit to Awesome Walls
Monday 17th July
Health Fair 2:30pm-3.30pm
Tuesday 18th July
Reception Graduation in Hall 9.05am
City Sports Northwood 9.30am-14.30pm
Y6 Leavers Presentation 6:00pm
Thursday 20th July
KS1/2 Skipping Workshop
Friday 21st July
End of Term – School Breaks up at 2pm
Saturday 29th & Sunday 30th July
Model Railway Exhibition at St John's 10:30am-5:00pm (4:30pm Sunday)
Monday 4th September
Staff Training Day
Tuesday 5th September
Staff Training Day
Wednesday 6th September
Term Starts
20) Attachments
Mrs P Bloor
Headteacher