Newsletter Autumn Term 10
Dear Parent/Carer
This has been a strange learning week due to our training day on Monday and we are now starting to make preparations for our Christmas concerts, Christingle services and Nativity play that I know you all love what helps to make Christmas so special.
1) Our Thinking Topic


This week is anti-bulling week and classes have been discussing what bullying is. It can be very hurtful and cause children to suffer. The children were told it is not one shove or rude comment but is something that happens over a period of time and makes the person who is being bullied feel got at, upset and worried. They were told it can take place over the internet as well. The children were told that we need to say no and to tell an adult if it happens. No school can ever say it does not happen but as a school we always take action. Luckily, the vast majority of the children are caring and kind.
2) Our Value: Honesty
This is something your children are brilliant at and is a huge focus at St Johns. Very well done to Zain Khalik & Sarah Kelly Nursery, Lola Westwood R1, Mahadev Manesh R2, Corey-James Barlow Y1, Valentina Conkova & Jake Roberts Y1/2, Sahej Bhullar Y2, Morfeas Chatzopoulos Y3,
Alex Ballard-O'Shea Y3/4, Abbey Filcock & Merin George Y4/5, David King Y5, Leona Johns & Berrie Johnson Y5/6 and Tyler Baldwin & Godwin Biji Y6 who have all been super honest this week.
3) Class of the Week R2
R2 making under the sea masks.
Club of the Week
The after school badminton club learning new skills.
'A reminder that all our clubs finish the week ending Friday 27th November'
4) Mini Paralympics Competition
KS2 children took part in this competition and came 4th out of 16 teams which was a super result.
Well done to Anna Binil, Katy Conkova, Mary Conkova, Berrie Johnson, and Emily Rains who passed their Beginner's Certificate at school swimming.
All of KS2 took part in the Holy Communion Service with Rev Chris Rushton and governors last week. Many children took communion at the service.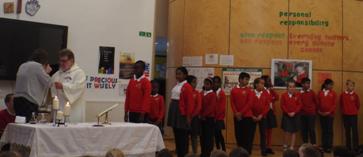 5) Homework
We are having a focus on children completing homework to help their learning that is also required by the government. The majority is brilliantly done, thank you so much. This allows you to help your child with learning that is so important for their future. A few children have to complete homework in detention which is a pity. Similarly, we expect all children to be heard read four times a week and have them in catch up at lunch time if this is not done, as we do not want any child to fall behind. Homework Champions for November who will be given a prize:

Nursery
Lousie Wilson
Jessica Inskip
Reception 1
Katie Ballard-O'Shea
James Kelly
Reception 2
Mabel Raj Kakollu
Oliver Kurek
Year 1
Alicja Podsiadlo
Jeffrey Manthottathil Job
Year 1/2
Kyle Silvester
Nicole Ann cawaling
Year 2
Cisco Handy
Aliyah Davidson
Year 3
Humaira Shakil
Daniel Polhos
Year3/4
Hannah Biji
Hashim Mehmood
Year 4/5
Merin George
Kevin Babu
Year 5
Sandini Vihara De Alwis
Adeel Farooqi
Year 5/6
Jeff Joseph
Fareedah Ibrahim
Year 6
Ranudi Premadasa
Jenson Nguyen
6) Training Day
We took Monday as one of our five training days along with the Stoke 6 group of schools we work with; Stoke Minster, The Willows, Heron Cross, Sandford Hill and Oakhill. This was the only day the speakers were free. It meant that we could have cost effective training. This is important as we want your children to have the best teaching, especially as our KS2 results were the best of all the schools .Our next two days are attached to holidays.
7) New CCTV Cameras
We have recently had our cameras replaced with the latest technology, which makes investigating any incidents so much easier. We had an issue last week where a child went home with a story leading to parents contacting outside agencies. The cameras proved that the alleged incident did not take place, in fact quite the reverse. Sadly, the family felt labelled by parents and have now left the school which is a pity. I ask parent/carers to let us investigate fully, before jumping to conclusions.
8) Children in Need – Friday 17th November 2017


Y6 traditionally organise this and have asked for children to come in Pudsey clothes or non-uniform for a £1 donation. Children need to be able to go outside as usual and have PE and swimming (Y5/6).
Biscuits and cakes will also be sold at break time for 30p. Please send your child with cash in the day in a named envelope for both. Any donations are most welcome for this charity which helps so many children. Please help Y6 make this a very successful fundraising event.
9) Dark Nights
Now we are at this time of year when it is dark early and we can we remind the children about not playing in the roads and making sure they are wearing bright clothes and bikes have reflectors on. We have reminded the children that they are not easily seen in the dark and should not be out in it. We want all the children to be safe as they are so precious. Please talk to your child about this.
10) Lunch Time Supervisor
We have a vacancy for a lunchtime supervisor after Christmas. If interested please contact the school office.
11) Exemplar Leaflets
These were given out two weeks ago (we often get asked to give out leaflets) but I have followed this up following a concern by a parent. I do not know about the quality of the staff and it can cost over £3000, parents/carers are also asked to sign up for a period of time. Their staff who come to houses, are not what we call DBS checked; compulsory for anyone who works in a school. We will not be giving out anything like this in the future and I apologise if parents/carers thought I recommended it. The best support parents/carers can do is hear their children read, support homework and maybe get some of the workbooks that supermarkets sell for a couple of pounds. I would urge parents to consider this type of business very carefully.
12) Last day
We break up at 2pm on the last day Tuesday 19th December so the school can be thoroughly cleaned.
13) Lates
This has such a negative impact on learning and disrupts lessons. As being late results in children missing their morning guided reading session, all late pupils will be kept in on a Fridays by
Mrs Ramsden to catch up. Please aim to be in school by 8:45am!
Disappointingly, this week's numbers of late pupils are:

Thursday
3
Friday
4
Monday
2
Tuesday
4
Wednesday
2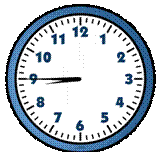 Often it is the same children who are missing out on their learning.
14) Celebration Assembly – 10/11/17
Our children/classes who received awards on this week are:

Y1
Hanna Maria
Y1/2
Zachary Allen
Y2
Ethan Pollitt
Y3
Deon Johns
Y3/4
Alex Ballard O'Shea
Y4/5
Surra Osman
Y5
Vihara De Alwis
Smart School Uniform
Louie Wilson, Kiera O'Leary & Joshua Tok
Headteachers Award
Joda Tagboto & Sabastian Conka
Lunchtime Trophy
Y3/4
Lunchtime Supervisor's Award
India Vickers & Alex Taylor
Dusty Bin Award
Y1
Time 4 Sport
Y5/6
Eco Trophy
Y4/5
Walk to School Award
Y1/2
Attendance Reward – Cinema Voucher
Ellie Ruane
Special Achievement Award
Alfie Cosgrove & Aliyah Davidson
15) Attendance Awards
Given out for data collected w/b 30/10/17:
Whole School Attendance: 96.3% (Government target is 95%)
Class Attendance:
• 1st Place – Y5/6, 99.3%
• 2nd Place – R1, 99.1%
Pupil Attendance:
• 1st Place – Aleina Grace
• 2nd Place – Alicia Sanil
Yours sincerely
Mrs P Bloor
Headteacher