Newsletter Autumn Term 11
Dear Parent/Carer
We have started this week with preparations for our Christmas celebrations. Children will hopefully be practising their singing at home so you can join in and we thank you in advance for your usual brilliant help with costumes.
1. Our Thinking Topic


This week we have been thinking about 'prayer' and how moments of quiet reflection are so important. We talked about how we have children from six different religions at St Johns and how prayer is central to all faiths. Please talk to your child about this.
2. Our Value; Kindness
This is something the children are very good at along with helping each other. Very well done to Edis Kolasinac Nursery, Justin Sose R1, Jayden Warren R2, Riley Proud & Kaelan Sinclaire Y1, Ratan Sangaraju Y1/2, Alicia Sanil & Vicky Yu Y2, Anannya Sinilraj Y3, Freya Kristof Y3/4, Mathesha Paris Y4/5, Rhys Wooliscroft Y5, Holly Bentley Y5/6 and Evie Beech-Daly &
India Vickers Y6 who have all demonstrated great kindness this week.
3. Class of the Week
Y5/6 – Writing non chronological reports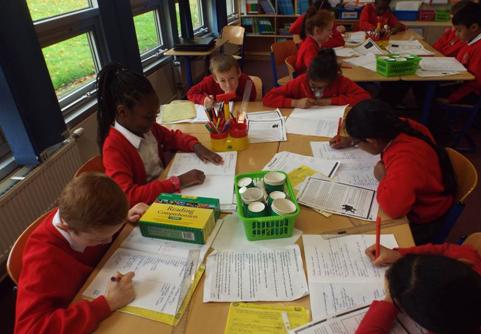 4. Club of the Week
The after-school story club taken by Mrs Colley made masks to go with the story. They all had a lovely time.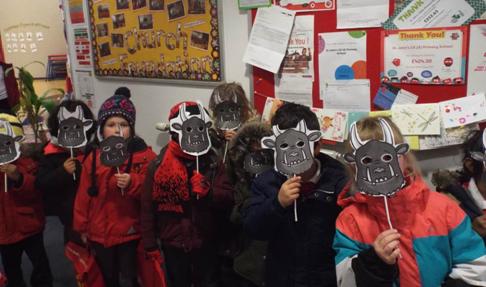 5. Activities/Event in School
Well done to Y6 for their class assembly that told us about how we should be kind and treat others, also the story behind Children in Need.
Y6 organised Children in Need and decided what we should do. Their efforts and your support raised £390 for this worthy cause. Thank you for your support.
Well done to Sedra Osman for her length certificate, Evie Beech-Daly & Ella Whitehurst for Elementary Certificates gained at school swimming.
School Council juice and biscuits for cancer research raised £124.88, well done!
Well done to Milly –Mae Gray who has been made a prefect. The prefects are doing a brilliant job and were rewarded with juice and biscuits yesterday.
6. Stanley Head Visits
These visits start on Friday for KS2 and focus on a physical activity day. They are heavily subsidised as we think they are important. So far in spite of 3 letters going out we have some children in each class who have not returned the forms or money. The office team cannot spend all their time chasing up children who have not returned forms. Please check your child's book bag daily, which is why this is such an important part of our uniform. Anyone without written consent for a visit, cannot go out of school.
One or two children have been sharing pumps for PE. All children have been given a top and shorts and all need pumps that are their size. Please check this at the end of term when you see if your child's feet have grown.
7. Grandparents Christmas Dinner
This annual event is now finalised, places and food have been booked with Mrs Amison in the kitchen. It is a lovely day that involves a lot of extra effort from the catering team, office team and school staff. It is always wonderfully appreciated by your families. We hope they are looking forward to it.
8. Contact Numbers
Can everyone please check the mobile numbers you have entered onto parentpay. This is the number that the text messages are send to. We sent texts about Children in Need and some families complained they had not received them. We also need to know in the school office of any changes in case of emergencies. If your mobile or emergency contacts for children have changed please call into the office as soon as possible. It is vital that we can get hold of you in the case of sickness or an emergency.
9. Detentions
Sadly we have had to have children in detention at lunch time for poor behaviour. Parents/carers have been and will be contacted, as I know you would want to know.
These children along with children who are regularly late, have poor attendance and receive red cards will miss some of the party time that is planned, as a consequence. For our new families we provide all the extra food and prizes for games from school fund for this special day.
10.Reading Challenge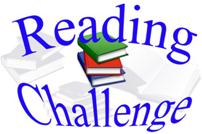 Reading is very important and it is expected that every child from Y1 to Y6 achieves their Reading Rocket Challenge. Y1 to Y3/4 and from Y4/5 onwards all have a Premier League Table Challenge. To complete the challenge your child must;
Read at home for:
KS1 10 minutes 4 times a week
KS2 15 minutes 4 times a week
Please fill in the title of the book and page number read to.
Get the reading diary signed by an adult after each entry.
Bring their reading diary to school every day.
We have charts outside each classroom and prizes are awarded. Thank you for your continued support.
11. Home School Link Worker Information
If your child brings in a packed lunch please could they be in a named sandwich box/bag. Plastic bags do not do the same job as a proper sandwich bag and as you can imagine some of the children have the same popular bags so they need to be clearly identifiable. Also a reminder that we do not allow chocolate bars, sweets and fizzy pop.
As Christmas approaches I'm sure you are busy buying presents, especially games for X Box, Playstation etc. Remember that each game has an appropriate age on the front. They are there for a good reasons.
We are still monitoring attendance and lates. Late pupils will attend catch up club at break to catch up on the reading they miss.
The School Health Hub has changed asthma care plans. If your child came home with a letter please complete and return to school by Monday 27th November 17, even if you have completed one before. This is very important information that we have in school. If your child has been prescribed an inhaler please come and see Mrs Ramsden to fill in the forms.
Reminder that it is parent/carers responsibility to make sure your child has an inhaler/spacer in school.
12. Lates
This has such a negative impact on learning and disrupts lessons. As being late results in children missing their morning guided reading session, all late pupils will be kept in on a Fridays by
Mrs Ramsden to catch up. Please aim to be in school by 8:45am!
Disappointingly, this week's numbers of late pupils are:

Thursday
8
Friday
3
Monday
4
Tuesday
6
Wednesday
5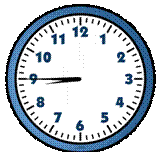 Often it is the same children who are missing out on their learning.
13. Celebration Assembly
Our children/classes who received awards on this week are:

Y1
Michael White
Y1/2
Anaya Khalik
Y2
Aliya Davidson
Y3
Grace Eaton
Y3/4
Dylan Wright
Y4/5
Bethan Hill
Y5
Sheza Hanif
Y5/6
Angelina Abraham
Y6
Charlie Simpson
Smart School Uniform
Anopa Mutize
Headteachers Award
Charlotte Hammond, Eva Anish &
India Vickers
Lunchtime Supervisor's Award
All of Y3, Jade Filcock
Time 4 Sport
Y6
Attendance Reward – Cinema Voucher
Aaron Godwin
14. Attendance Awards
Given out for data collected w/b 06/11/17:
Whole School Attendance: 96.5% (Government target is 95%)
Class Attendance:
• 1st Place – Y5/6, 100%
• 2nd Place – Y4/5, 99%
Pupil Attendance:
• 1st Place – Thomas Johnson-Knowles
• 2nd Place – Oscar Wooward
15. Kitchen Christmas Special Menu
For children on the 8th December 2017.
16. Dates for your Diary

Friday 24th November
Y5 Stanley Head
Monday 27th November
Y4/5 Stanley Head
Tuesday 28th November
Y3/4 Stanley Head
Wednesday 29th November
Y3 Stanley Head
Thursday 30th November
Y5/6 Stanley Head
Friday 1st December
Y6 Stanley Head
9:05am Y5 Class Assembly – Parents/Carers Welcome
1:30pm Pantomime in School
Wednesday 6th December
9:15am – EY Nativity at School – Parents/Carers Welcome
Thursday 7th December
9:30am – KS2 Concert at St Johns Church – Parents/Carers Welcome
2:00pm – KS1 Concert at St Johns Church – Parents/Carers Welcome
Friday 8th December
11:30am Onwards Grandparents Christmas Meal
Sunday 10th December
9:45am St Johns Church Service – Mrs Bloor & Invited Pupils
Monday 11th December
Children to bring an orange ready for the Christingle Service
Tuesday 12th December
Christingle Making Day
Wednesday 13th December
EY & KS1 Christingle Service 9:05am at School – Parent/Carers Welcome
KS2 Christingle Service 2:00am at School – Parent/Carers Welcome
Thursday 14th December
Christmas Disco Y1 – Y6 – 3pm to 4:30pm, £2.50 via parentpay
Monday 18th December
Party Day – Children to come in own clothes
Tuesday 19th December
Charity Christmas Jumper Day – £1.00 to be brought to school for Kenya & Save the Children's Fundraising
SCHOOL CLOSES AT 2PM
Yours sincerely
Mrs P Bloor
Headteacher