Newsletter Autumn Term 14
Dear Parent/Carer
As we finish the term with a final newsletter, we hope you are proud of all the achievements made both academically and socially by your child/children. We are all so proud at St Johns of the wonderful progress that all the children have made this term with you, as our joint partners in your child's education.
1. Grandparents Christmas Lunch
This went ahead very successfully on Friday and we had some lovely compliments. Great thanks are due to Mrs Amison and the catering team who worked so hard to cook the lunch and the team of staff helpers. We loved seeing happy grandparents enjoying lunch with their grandchildren.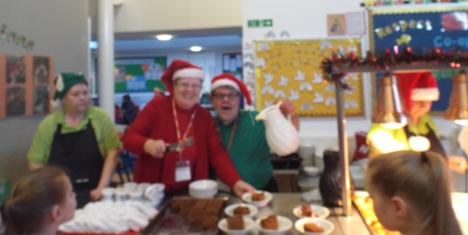 2. Nativities and Concerts
We have had lots of lovely feedback about how you enjoyed seeing the children perform. There is nothing as special as seeing your child in a Christmas play or concert. The children were all fantastic and had worked really hard with the staff to perform. They all enjoyed taking part and these events add so much to confidence and self-esteem. Last week was assessment week as well, so it was a really busy week for the children who were all brilliant.
It was disappointing to receive complaints about the nativity that centred on parents/carers talking, moving and not sitting down and posting the production on Facebook. I expect all parents/carers to obey the policy they have signed up to and respect the wishes of parents/carers who have expressly stated images of their children may not be put on line for safeguarding reasons. The Staffordshire School where I used to be head, ended up banning pictures of productions because of this issue and I would hate to do this, as these are precious moments money cannot buy. We also ask that parents/carers do not talk and put off our young performers.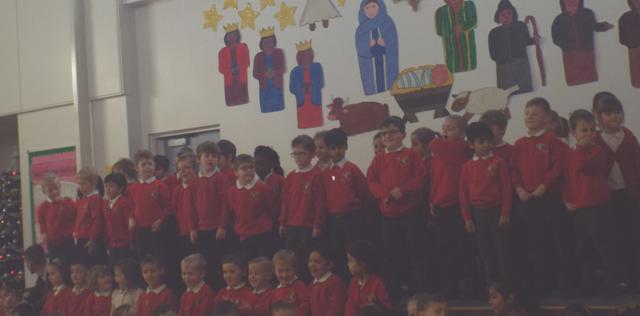 3. Snow
Those of you who have had children through the school know I very rarely close; 3 times I think in 12 years. But when I drove in on Monday and made the decision whilst I was on the site, I could see the paths were not safe. We initially had problems getting it onto the council website, but all parents/carers were text. On Sunday and Monday Mr Preston thoroughly gritted so we were safe for Tuesday.
Some parents/carers phoned in far too early when we were still making assessments and some did not receive the texts or phoned in to check. Can I ask all parents/carers to check we have your up to date number on Parentpay please and not to phone in as the line was needed to contact staff/contractors; many of these have quite a journey.
4. Events/Activities in School
Well done to Sedra Osman who passed her Elementary certificate at school swimming!
A special well done to the group who braved the snow on Sunday to take part in the church service at St Johns church. The children were also part of two baptisms and Reverend Chris and the congregation were very complimentary of our pupils. We rewarded them with 2 prizes.
Well done to all the children with super attendance which we let you know about in the 'Know Your Attendance Week'.
The Christmas raffle raised £150 to buy a cow for our partner school in Kenya. Thank you for your support, there some lucky prize winners. The School Council are arranging a competition to name the cow.
All the Taekwando club members passed their yellow belt gratings and Lily-May Barlow who passes her green belt. Very well done.
Well done to Mrs Ramsden's choir who sang at the Cancer Unit at the hospital today and brought some Christmas cheer to the patients and staff.
5. Christingle Services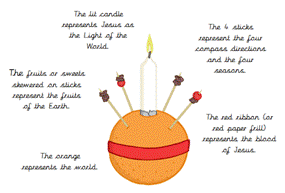 We organise two services so that families get another opportunity to see their children.
Thank you for your contributions to the Children's Society that looks after vulnerable children all year.
The singing of the children at St Johns is outstanding and they really enjoy these performances.
Well done to all our marvellous pupils!
6. Reminders
PE kits will be coming home for a wash. All children were given a cotton top and shorts by school. Please check they are named and that black pumps still fit. If you buy new please name them. They need to be returned with book bags the first day back. After all the Christmas festivities the children need to get back to physical exercise.
Please check your child's school shoes. One or two are wearing boots with laces they cannot do themselves. For safety reasons no child with boots on can go in the ball cage.
7. Behaviour Awards
On Friday children in KS1 and KS2 whose behaviour is exemplary, our 'always children' will receive their Silver Award and a rubber. Reception will also receive a behaviour award.
We are so proud of all these children who do not waste any learning time. Some children who need to work on aspects will receive their bronze award. A few will need to wait longer until they get their award and we shall be speaking to this group on Monday. Very well done to all these Silver Award winners.
8. Friday
On Friday we shall be selling ice creams/lollies for £1 to help pay for the Stanley Head visits which are all subsidised. The pounds will be collected first thing and the ice creams purchased ready for break time.
9. Next Week
Monday is party day and the class teachers have organised a day of fun with children playing games together. Later in the afternoon there will be refreshments for the children including crisps and cakes (all vegetarian) it promises to be a fun day. Children can come in party clothes, but must be able to go out at break and diner time in sensible shoes with coats. Staff have been planning this fun day for a while so all the children have a memorable day.
Tuesday is Christmas jumper day and we ask for a £1 donation for the charity 'Save the Children'. Thank you for your support in caring for those who are less fortunate than ourselves.
We break up at 2pm on Tuesday so staff can get down all the decorations and tidy up after a very busy few weeks.
School reopens to children on Thursday 4th January 2018.
Finally, I would like to wish all our families a very happy Christmas with their families. It is such a special family time. All our Christmas activities have proved that although we are a varied community, with children from many different countries, backgrounds and religions, we can all work together as a great community and I thank you for that. It is a wonderful example for the city of Stoke on Trent.
I would especially like to thank on your behalf, all my staff teams who go that extra mile for your children and make St Johns such a happy and successful school. One of our Y6 pupils is currently at Great Ormond street Hospital in London and will be separated from her family this Christmas. I know you would want to join with me with wishing her a speedy recovery and hope and pray she is back with us again shortly at St Johns and with her family. It really does put into perspective any little grumbles we have.
A Merry Christmas to you all from all the staff at St Johns.
Yours sincerely
Mrs P Bloor
Headteacher