Newsletter Autumn Term 16
Dear Parent/Carer
All the children have settled down into school routines again and as a visitor commented last week, there is a lovely learning atmosphere in school.
1) Our Talking Topic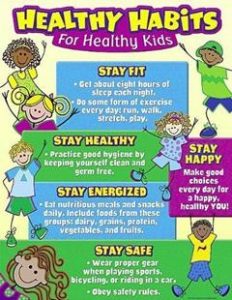 This week we have been thinking about 'keeping healthy' and encouraging the children to adopt healthy lifestyles for the benefit of their health. They were told they should exercise every day and find a sport or leisure activity that they enjoy. We deliver 2 hours of PE a week and have active breaks and lunchtime's. All classes do the Style Mile twice a week.
Children were told it is good to have exercise at the weekend and I know many children belong to sport's clubs or go swimming. Not only does exercise help with being fit and slim, research tells us it helps us to think more clearly and helps with mental health.
2) Our Value; Kindness
Our children have been really good at helping new children settle in and we look for acts of kindness every day. Very well done to Ella Curzon Y6, Katy Conkova Y5/6, Delin Negeem Y5, Laiba Noman Y4/5, Sammi Miah Y3/4, Deon Johns Y3, Amira Shilik Y2, Enis Kolasinac Y1/2, Sofian Mohammed Y1, Abdullah Ayyaz R2, Angelina Jobins R1 and Omer Osman N.
3) Uniform Reminder For Our New Families
Your children look brilliantly smart for the learning day. I would like to take this opportunity to remind families to maintain our smart uniform which helps to keep the children smart and safe.
Children need to be free of jewellery (including necklaces, chains and earrings). Children cannot do PE with any jewellery on. We encourage children to wear a watch as it helps them to tell the time.
Hair decoration should be minimal i.e. no large flowers, or Jo Jo style bows etc. Simple headbands in school colours are welcomed.
Long hair needs to be tied back at all times.
Hairstyles including shaved, tramlines or streaked or coloured hair are not permitted.
Children should wear sensible black shoes. No trainers permitted. Children can wear boots to school but need to change into shoes.
I am sure that parent/carers, as we do, want the focus to be on learning. As the KS2 SATs results last year placed us 10th in the city and our aim is to maintain if not exceed this outstanding progress for all our children.
4) Club of the Week Picture
Y5 taking part in the Monday indoor/active break.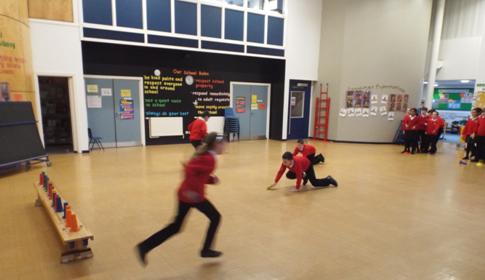 5) Class of the Week Y5/6
Working hard in Gymnastics in PE.

6) Class Assembly
Well done to Y4/5 who told us all about the Greeks that they had been studying in their topic. They all spoke brilliantly and class assemblies are great for self-confidence. We have a new system for parents coming to watch now following a parent suggestion. Parents will be let in to sit down straightaway and no longer wait in the community room. Parents thought this better last week. We put the dates of the class assembles in the newsletter in advance so you can make plans. Children get upset if no-one is there to see them.
7) Next Week
There will be some staffing changes as Y6 are in France from early Wednesday to late Friday. Also Mrs Peake is on jury service for 2 weeks and needs to be covered whilst performing her civic duty.
8) Governor Vacancy
We still have a vacancy for another parent/governor and ask if anyone is interested and would like to know what this important role involves, to ask me or the office for more details.
9) Parent/Carer Suggestions
A parent has suggested we ask parents/carers to walk on the left at the beginning and end of the school day to prevent any collisions.
Another parent has suggested putting an identification mark or ribbon on scooters and bikes as we have some that are the same. Two super ideas from you, thank you!
10) Home School Link Worker Information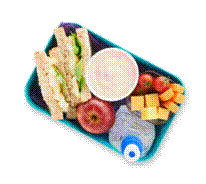 We are a healthy school at St. John's and we would like to see the children bring healthy lunch boxes if they do not have a school meal. We do not allow fizzy drinks, chocolate bars, sweets or nuts.
Preparing your child's lunchbox
A balanced packed lunch should contain:
starchy foods – these are bread, rice, potatoes, pasta and others
protein foods – including meat, fish, eggs, beans and others
a dairy item – this could be cheese or a yoghurt
vegetables or salad and a portion of fruit
Instead of sandwiches, give your child bagels, pitta bread, wraps and baguettes. Use brown, wholemeal or seeded bread.
Low-fat snacks for children
Children often like food they can eat with their fingers, so chop up raw veggies such as carrots or peppers and give them hummus or cottage cheese to dip the veggies in.
Breadsticks and wholemeal crackers are great finger foods.
Replace chocolate bars and cakes with fresh fruit. Vary the fruit each day and get them to try new things, such as kiwi or melon.
11) Dates for your Diary

Thursday 1st February
9:05am Y3/4 Class Assembly (Parents/Carers Welcome)
Tuesday 13th February
Target Sharing Open Evening
Wednesday 14th February
Target Sharing Open Evening
Friday 16th February
9:05am Y3 Class Assembly (Parents/Carers Welcome)
Monday 19th –
Friday 23rd February
February Half Term
Friday 9th March
9:05am Y1/2 Class Assembly (Parents/Carers Welcome)
12) Lates
This has such a negative impact on learning and disrupts lessons. As being late results in children missing their morning guided reading session, all late pupils will be kept in on a Fridays by
Mrs Ramsden to catch up. Please aim to be in school by 8:45am!
Disappointingly, this week's numbers of late pupils are:

Thursday
4
Friday
5
Monday
2
Tuesday
2
Wednesday
4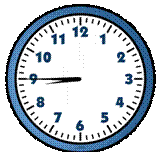 13) Celebration Assembly
Our children/classes who received awards are:

Y1
Riley Proud
Y1/2
Elliot Kilvington & Harrison Cotterill
Y2
Taylor-Jay Barlow
Y3
Peter Ashley-Williamson
Y3/4
Mohsin Ali
Y4/5
Anashe Mutize & All Y4/5
Y5
Adeel Farooqi
Y5/6
Katy Conkova
Y6
Sedra Osman
Smart School Uniform
Alexia Gruia
Headteachers Award
Theo Lovell
Lunchtime Supervisor's Award
Jonathan Harvey & Alex Taylor
Time 4 Sport
Y1
Attendance Reward – Cinema Voucher
Jessica Chittock
14) Attendance Awards
Given out for data collected w/b 01/01/18:
Whole School Attendance: 96.6% (Government target is 95%)
Class Attendance:
• 1st Place – Y2,Y5 & Y5/6 – 100%
• 2nd Place – Y6 – 98.3%
Pupil Attendance:
• 1st Place – Bethan Hill
• 2nd Place – Dania Mousa
Yours sincerely
Mrs P Bloor
Headteacher