Newsletter Autumn Term 2
Dear Parent/Carer
We have had a lovely start to the term and the children have all settled in so well. Although the weather has been poor we have a school full of lovely, happy children. We have some new families so will go over a few routines and expectations in the next few newsletters.
1) Our Talking Topic
This week we have been thinking about rules and getting into routines for school. This is so important, especially at the beginning of term. Please talk to your child about the importance of routines as they can be so helpful to school. Also the ways in which routines at home can help.
2) Our Value; 'Following School Rules'
Again we have been going over our school rules.
3) Club of the Week Picture; Y6
They were making a data graph in science.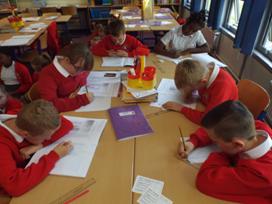 4) PE Kits
It has been disappointing to note 2 or 3 children sitting out of PE lessons because they have not got the full PE kit, this disrupts other children's learning. To help family budgets, the school have given all children from Reception to Y6 a top and shorts. Families need to buy black pumps for about £3 from their family allowance. Only black pumps can be worn indoors for PE. No child is allowed to do PE in earrings and parents/carers must remove them for PE days if the child cannot do it themselves; Staff cannot do this. All children must have a colour coded PE bag, which stays the same throughout their time at St John's, a carrier bag is not acceptable as the colour coding system makes them easily recognisable in the cloakrooms. A few children do not have one yet; these are available from the school office for £3.50. Payment for PE bags is via Parentpay and will then be sent home with your child. PE kits stay in the cloakroom until half term. Please help your child to be organised for school.
5) Class Information Booklets
These are included with the newsletter so that you know what your child is learning and how to help them. We hope you find them useful.
6) Nursery
Our new pupils in Nursery have settled in well so far at the start of their education, which is lovely to note. Parents/carers must be so proud. Please can all clothing be clearly named; this also goes for the rest of the school. At the end of the day it is vital that we dismiss children who are so young, carefully and safely. So could parents/carers please wait behind the red line so this can happen! We have red lines at all the doors so that staff can responsibly dismiss the children safely. Children who attend the morning session only need to be picked up punctually at 11:45am so staff can attend their duties. Thank you for your help here!
7) Behaviour Policy
Enclosed is a copy of our Behaviour Policy so you can read about all our rewards and sanctions. Good behaviour is the key to learning and our standards are high at St John's as our academic results prove. We use a red yellow card system which parents/carers who have problems with their children might like to copy. Mrs Ramsden our Home School Link Worker is available to help parents/carers who are struggling here. There is no such thing as inherent bad behaviour, it is just children making the wrong choices. Sadly, we have had a few red cards already and these children have had detentions and will miss the good behaviour disco. Please read the part about hair styles, we do not allow shaved hair, coloured hair, makeup or nail polish. Again it is the little things that make a high performing school. Children are picked for additional learning opportunities from those children who always wear the correct school uniform.
8) Breakfast Club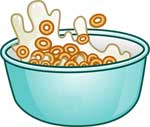 To help our working parents/carers we operate a breakfast club from 8:15am to 8:45am at a cost of £1 a day (50p pupil premium children).
It is very good value, some of my staff with children pay £5 a day at other schools. If you would like to use this facility children must be waiting by the community room door for 8:15am. Last admittance is 8:30am when the doors will be closed. Children will be provided with healthy cereals or toast and a drink (Payment for breakfast club is via Parentpay).
9) Swimming
Y6 and Y5/6 will swim for the autumn term and letters have gone out to those classes. Orange draw string swimming bags are available from the school office for £3.50. Payment for swimming bags is via Parentpay and will then be sent home with your child.
10) Smoke Alarms


One of our families was very pleased that they had a smoke alarm fitted when a television caught fire this week. Although there was smoke damage and the children's possessions damaged, it could have been worse.
Please check you have a smoke alarm and it works. Free smoke alarms, including specialist alarms and equipment can be fitted as part of a free home fire risk check which you can book by calling FREEPHONE 0800 0241 999.
11) Morning Lates
For your information we open the doors at 8:45am and close the registers at 9:00am, so children need to be aiming to arrive by 8:40am. Any child arriving late (unless an emergency) will be in catch up club so they catch up on the reading they have missed. Thank you so much for getting your children to school on time so that we can start work with them as soon as they enter the classroom when we hear children read.
12) School Routines for our New Families
All children go out to play to the different playgrounds at break and lunch time. They all need to bring a waterproof coat every day. If it is wet we have indoor lunchtimes with lots of activities and games for the children. If you have any old games, we are happy to receive them for wet lunch time play.
13) Good Attendance

This is so crucial for learning and as a school we carry out the government rule that no holiday in term time is authorised. All the children who last year exceeded National standards in the SATs tests had excellent attendance.
Children from Y2 to Y6 who last year had attendance of 95% or better, with no holidays in term time and no more than 2 late marks (no exceptions) and have been with us for longer than six months, will receive a giant pack of gel pens on Friday to reward their excellent attendance.
14) Homework
Our homework in every class goes out on a Wednesday and must be returned and put in the homework boxes by the following Monday. We teach personal responsibility and it is important that children get into a routine. Work not completed will be caught up at lunchtime. This system was introduced to give families the weekend to complete it. We expect all children to read at home at least four times a week so they can really improve. I know many parents love spending this quality time with their children. Thank you for your support!
15) Home School Link Information:
This year we will be once again concentrating on attendance and punctuality. If your child has 100% attendance and no more than two late marks each month they will receive an Attendance Reward Card. By July 2018 if they have received 10 cards their name will be entered into a prize draw to win a £50 voucher for the Vue Cinema.
Please read the important attendance information sheet that is attached to the newsletter. This gives you key points on what we expect when your child is ill. At St John's we regularly look at attendance and punctuality.
We are again taking part in walk to school. If your child walks, bikes or scoots to school at least twice a month they will receive a badge. Park and walk will also mean they will get a badge but it must be at least a 10 minute walk (parking on the sports ground and walking does not count); let's ditch the cars and not only get fit but also help the environment!
On Friday 29th September 2017 we will be joining in with the world's biggest coffee morning for Macmillan Cancer Support from 9am – 10am in the Community Room. For a small donation you can join us for tea, coffee, cakes and a chat in a relaxed atmosphere.
Please come and join us to help to raise money for a very worthwhile cause.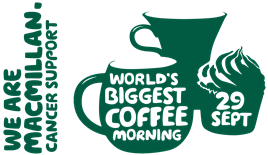 Yours sincerely
Mrs P Bloor
Headteacher