Newsletter Autumn Term 4
We have had a lovely learning atmosphere in school this week and all the children are working really hard with their learning. It has been lovely to see the super learning focus in all the classes and how happy the children are.
1) Our Talking Topic

This week we have been thinking about 'friendship' and the importance of being friendly if we want to make friends. The children were told the story of the friends who carried a paralysed man to Jesus, and how some friends would have given up when it became hard but they did not. We talked about the qualities that make a good friend. Please talk to your child/children about this.
2) Our Value; Friendship
This is something the children excel at and has been demonstrated by the friendship shown to our new pupils to help them settle down quickly. Very well done to Andrew Palmer Nursery, Katie Ballard-O'Shea R1, Aleena Abraham R2, Lola Marshall Y1, Chelsee Hodgkinson Y1/2, Aaron Binil Y2, Macey Simpson Y3, Angel Johnson Y3/4, Neha Rejith Y4/5, Alan Sose Y5, Isabelle Godwin Y5/6 and Jessica Cotterill Y6, who have been especially helpful with the new children and on the playgrounds.
For our new families, one of the reasons we include this information is to encourage language and discussion. Stoke on Trent has low language skills, although improving, which is why the city are low in the KS1 performance tables. This is something all children can talk about instead of the normal answer "nothing" when asked "what did you do at school today?" It is especially important to children whose first language is not English as they need to master the language as quickly as possible.
3) Club of the Week Picture;
The KS1 'Monday Movers' that takes place at lunchtime and the reception after school 'story club' taken by Mrs Colley.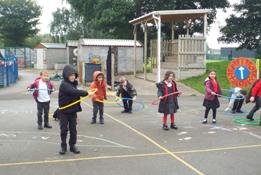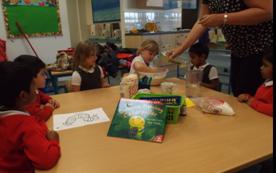 4) Class of the Week Y4/5

Reading lucky escape in guided reading.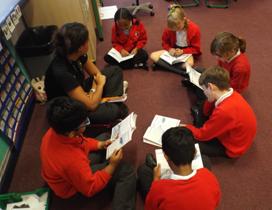 5) School Council
The following children in KS2 have been elected by their classes as representatives of the school council. They have met already and are deciding the four charities we will fundraise for this year. The first one will be a juice & biscuit fundraiser on Friday 13th October for 30p for the whole school. Very well done to Ricardo Gordon, Ranudi Premadasa, Joshua Breton-Lewis, Anna Binil,
Eve Tams, George Baldwin, Aiesha Hashemi, Holly Barnett, Landon Coates, Claire Johnson, Humaira Shakil and Tyler Hodgkinson.
6) Litter on School Grounds
Mr Cox has reported there has been an increase in litter on the school grounds lately. We do not allow children to eat on the school grounds, far better for teeth if the children don't have snacks and wait for tea time. Please help us to keep the grounds immaculate.
7) Looking after our Teeth

On Friday all the Early Years children (nursery and reception) will get a toothbrush pack and all the children in Y1 and Y2 will be given a toothbrush and will be spoken to about the importance of brushing teeth twice a day. Stoke has a high incidence of teeth decay so this will help. Please reinforce this at home.
8) School Routines for our new Families.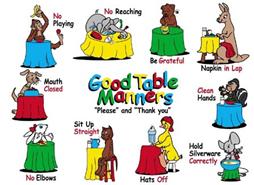 City Catering run the schools kitchen, employ the staff and provide all of the furniture. It is a great team and the school meals all meet the statutory food standards. All the children from Reception to Y2 have universal free school meals provided by the government and eat with their classes. Each KS1 class has a keep fit session by rota before their dinner. KS2 children who have hot dinners go in by rota depending what activity they are doing at lunchtime. All of these children eat in the hall. Mrs Amison and her team serve a great choice (there are sandwiches available) and get to know children with food allergies and vegetarians. They offer foods for children to try each day. Many families say in reception their child won't eat this and that but often by the end of the year they are astonished that their child eats so much more variety from eating with their peers. We also teach those very important table manners to the children.
Packed lunch children eat their lunches in our area off the hall supervised by a member of staff.
9) Homework
Already we are having children not completing homework and others who are producing brilliant work. Research says it is important and your chance to be involved in your child/children's learning. We regularly give rewards for good homework and all class teachers keep a list.
Why not make Wednesday the day for 1 piece of work and Saturday/Sunday for the other? If your child will not do it take away their electrical devices/phones and television. They will soon get into a routine. If you want us to keep any devices to reinforce this, we will be happy to do this. A good tip is to find a time each night (the same time each day) to read with your family so everyone gets their special 1 to 1 time.
10) E-Safety
Some information is included for families on this important topic.
11) Reminders
The football club on Thursday 28th September after school needs the children to bring in their own kit; tops, shorts, tracksuit/joggers and long socks and shin pads. They must bring outdoor trainers or boots and can't wear indoor pumps. Some forgot last week! The children can hang it up in the morning in the changing rooms.
The Taekwondo after school club will start on Friday 6th October. Places have been allocated.
Friday 13th October school council charity fundraising 30p for juice and biscuits.
Just a reminder that Monday 13th November is a training day. All the Stoke 6 schools have this day for joint school training.
We still have jumpers left around the school unnamed. Please can you check your child's is named?
12) Dates for your Diary

W/C – 25/10/2017
Harvest Collect for Macari Centre
Tuesday 3rd October
3-5pm Open Night
Wednesday 4th October
3-5pm Open Night
Thursday 5th October
School Photographs
Thursday 19th October
3:00pm to 4:15pm – School Good Behaviour Disco
Y1 – Y6
Thursday 19th October
Y5/6 Class Assembly Parents/Carers are invited to attend; Starts at 9:05am
13) Lates
This has such a negative impact on learning and disrupts lessons. As being late results in children missing their morning guided reading session, all late pupils will be kept in on a Fridays by
Mrs Ramsden to catch up. Please aim to be in school by 8:45am!
Disappointingly, this week's numbers of late pupils are:

Friday
2
Monday
10
Tuesday
4
Wednesday
3
Thursday
4
Often it is the same children who are missing out on their learning.
14) Celebration Assembly
Our children/classes who received awards on the 22/09/17 were:
Y1 Rizwan Hasemi
Y1/2 Enis Kolasinac
Y2 Jacob Brear
Y3 Macey Simpson
Y3/4 Melisa Sinani
Y4/5 Lola Howard
Y5 Sayyad Hashemi
Y5/6 Milly-Mae Gray
Y6 Jessica Cotterill
Smart School Uniform Alyssa Stanley
Headteachers Award Milly-May Gray
Dusty Bin Award Y6
Lunchtime Supervisor's Award Alan Sose & Chelsee Hodgkinson
Time 4 Sport Y4/5
Waterworld Voucher Isabelle Godwin
15) Attendance Awards
Given out for data collected w/b 11/09/17:
Whole School Attendance: 97.7% (Government target is 95%)
Class Attendance:
• 1st Place – Y2 & Y5/6, 100%
• 2nd Place – Y3, 99.3%
Pupil Attendance:
• 1st Place – Alfie Purcell
• 2nd Place – Ethan Hill
16) Attachments
Yours sincerely
Mrs P Bloor
Headteacher