Newsletter Autumn Term 5
Dear Parent/Carer
This has been a crucial week for you meeting your class teacher/s and finding out their next steps for learning and what you can do to support your children. All the staff tell me they are so pleased with how the children have settled this term and how the important learning journey has started so well.
Our thoughts and prayers this week are with one of our new families who were affected by the serious fire in Northwood and have lost all their possessions .It makes you think that our little problems are insignificant to what other people are going through.
1. Our Talking Topic

This week we have been thinking about food and harvest.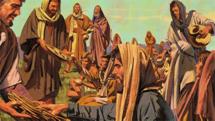 The children were told one of the parables of Jesus in assembly on Monday, the 'feeding of the 5000', when he made sure everyone had what they needed. Jesus came for all the people and shared his love for everyone and he wants us to do the same. Please talk to your child about how they can share love.
2. Our Value: Respect
We regularly say, "Give respect, get respect" and this is something very important at St John's and throughout life. Very well done to Aaima Noor Nursery, Katy Yu & Archie Bourne R1,
Blake Daniel-Knox R2, Trayana Bachvarova & Charlie Harvey Y1, Zachery Allen & Jayden Griffiths Y1/2, Taylor-Jay Barlow Y2, Isabella King & Elliot Pye Y3, Paige Adlington & Matthew Piesse-Mills Y3/4,Kevin Bab & Sebastian Conka Y4/5, George Baldwin, Rhihena Miah & Alyssa Stanley Y5, Adithya Sanil & Ethan hill Y5/6, Benjamin Morris & Keira Tatler Y6, who have all been noticed this week being very respectful. And brilliant role models.
3. Class of the Week

Y3 learning how to play the recorders.
4. Clubs of the week
The after-school healthy making and baking club taken by Miss Pickerill and the after-school games club taken by Mr Meir. All the children were learning new skills and having a great time.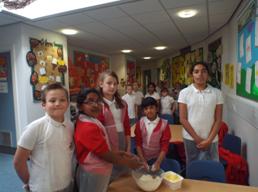 5. Breakfast Club
Just a reminder that it is open from 8:15-8:30am and the children eat till 8:45am. I know working parents/carers are really appreciating this subsidised facility. We cannot take any children who are late as staff have other duties. One or two cars have been blocking staff in by waiting by the barrier in the morning and delaying them getting the learning day ready. Parents/carers are most welcome to walk their children down.
6. Events Activities Last Week
All the Y2s had a visit from community staff from Stoke City and were given a goody bag with a shirt. They all thoroughly enjoyed the visit.
Early Years and KS1 had a toothbrush given to them and a lesson on dental hygiene.
The September issue of the Super Sentinel was produced by the team in Y5 and Y6 without any guidance this time from Miss Mazzei. Very well done to these children!
7. P.E Award
The school was recently assessed for the School Games Silver Award for work we do offering sporting opportunities to all children both in and out of school. It was very successful and the assessor awarded the school at gold standard in all but one area. We shall be trying to achieve this standard by the end of the year.
8. Y6 Homework Reward

Children in Y6 and Y5/6 whose homework has been regularly handed in each week and of a good quality are being rewarded with a Saturday visit to Liverpool. Homework is an important routine especially at the top end of the school and we are showing these children that their efforts are being rewarded. The few children who missed out have the target of getting the next reward. It is also a reward for the families as well for supporting them so well. Homework is a government requirement and research shows that work that children do at home with their families has more impact. It is also good 1 to1 time to spend with your child and discuss any concerns. My staff who have children, always have a set time to do their children's reading and homework and find this works really well. We ask all families to hear their child read at least 4 times a week (it does not need to be the whole book).
Homework tip: if you need to be somewhere and travel by car, get a clipboard so you child can do their homework in the car. Similarly, you can hear your child read whilst cooking tea.
9. Open Night
We hope you found this useful and now know what your child is studying at school. There were some very positive comments to the staff about how well the children had settled and their work.
10. 'Parents Count Two'
This is our weekly maths tip to get your family involved in practical activities that will help improve maths in the city. Traditionally, many parents did not have the benefit of good maths teaching and are not confident.
Why not try this week, while you are washing up, walking to school chanting tables? The government now expect children to know their tables fluently by Y4 so this is something that is important. I know many families buy the workbooks at Tesco and local shops to help here.
11. Harvest appeal
We are still collecting this week; toiletries, socks, scarves etc. for the Macari Centre in Hanley for the homeless.
12. Macmillan Coffee Morning

Thank you to parent/carers who attended the coffee morning organised by Mrs Ramsden. Also, the bakers and purchasers of cakes from the staff, who helped raise £252.65 for this worthy charity. Very well done to all for this super team effort.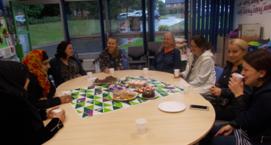 13. Staff News
Mrs Halfpenny is not returning following her maternity leave and the Y3/4 class will now be taken full time by Mr Meir. We wish Mrs Halfpenny all the best for the future.
14. Walk to School Awards
Following requests by the children we are reintroducing the walk to school badges. In each KS1 and KS2 class there is a chart and children fill in how they travel to school. Children are rewarded if they walk, park and stride or park further away so children walk some of the journey. Also for walking one day a week. These are super healthy habits to get into as a family so try something different next week.
15. Serious Incident
Last week we had an incident after school with a BB gun shot at a pupil. I was outside on that day. The pupil was attended to by one of our grandparents and all the children involved had consequences and the high school informed. Parents/carers and children reacted very well and we thank you for this. Some high schools finish early on a Wednesday and we do not want children coming onto our premises when we need to get the children and parents/carers safely away. Children are not allowed to play on the equipment unsupervised. Please send your older children home to do their homework, which I understand is the purpose of this time.
16. Reminders
Please ensure your child has a waterproof coat now the weather is turning cooler. We go out even if a light drizzle and we want to keep the children warm. Some of the children in the swimming class did not have a coat on Friday and we wondered whether to let them go as it was pouring down. The top needs to waterproof otherwise we don't allow children out.
We do not allow Jojo bows in school as they are too large and expensive. We ask all long hair to be tied back with plain red or black bobbles, bands or clips so children are smart and ready to focus on learning.
17. Y5/6 Class Assembly
This will now be on Wednesday 18th October due to a hall clash.
18. Home School Link Information
Well done if your child came home with an Attendance Award card on Monday. This means your child has 100% attendance and no more than 2 late marks in September. If by July your child has 10 of these cards their name will go into a prize draw to win a £50 Vue cinema gift card. Keep it up!
Tomorrow (6th) is our last day for collecting Harvest items for The Macari Centre. They are in very much need of men's/women's hats, gloves, socks and toiletries. Thank you for your support!
19. Dates for your Diary

Thursday 19th October
3:00pm to 4:15pm – School Good Behaviour Disco
Y1 – Y6
Wednesday 18th October
Y5/6 Class Assembly
Parents/Carers are invited to attend; Starts at 9:05am
Friday 20th October
Last day – School Re-opens Monday 30th October 2017
Monday 13th November
Staff Training Day – SCHOOL CLOSED TO PUPILS
20. Lates
This has such a negative impact on learning and disrupts lessons. As being late results in children missing their morning guided reading session, all late pupils will be kept in on a Friday by
Mrs Ramsden to catch up. Please aim to be in school by 8:45am!
Disappointingly, this week's numbers of late pupils are:

Friday
5
Monday
6
Tuesday
7
Wednesday
4
Thursday
5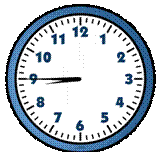 Often it is the same children who are missing out on their learning.
21. Celebration Assembly
Our children/classes who received awards on the 22/09/17 were:

Y1
Imogen Hampton
Y1/2
Valentina Conkova
Y2
Caleb-Dalton Williams
Y3
Ayse Gurses
Y3/4
Angel Johnson
Y4/5
Chloe Kirk
Y5
Delin Negeem
Y5/6
Fareedah Ibrahim
Y6
India Vickers
Smart School Uniform
Alexia Gruia & Jessica Davis
Headteachers Award
George Baldwin
Dusty Bin Award
Y3
Lunchtime Supervisor's Award
Anashe mutize &
Jack Goodier-Whitehurst
Lunchtime Trophy
Y1/2
Time 4 Sport
Y4/5
Waterworld Voucher
William Kidd
Y6 Prefects Award
Y3/4
22. Attendance Awards
Given out for data collected w/b 11/09/17:
Whole School Attendance: 96.6% (Government target is 95%)
Class Attendance:
• 1st Place – Y4/5 98.7%
• 2nd Place – Y6 97.9%
Pupil Attendance:
• 1st Place – Eve Tams
• 2nd Place – Lincoln Cotterill
Yours sincerely
Mrs P Bloor
Headteacher