Newsletter Autumn Term 6
Dear Parent/Carer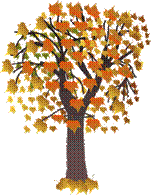 As the season of autumn really takes hold, it has been lovely to see the children warmly wrapped up coming to and leaving school.
Let's hope the good weather carries on for the next month.
1) Our Talking Topic
This week we have been thinking about the power of words and how to use them correctly. The children were told the story of the man who kept spreading gossip and had to go back and collect feathers because his gossip had spread as far as them. They were also reminded that our words should build people up and not cause damage. Please talk to your child/children about this important theme.
2) Our Value; Responsibility
This value is something that our children love at school and a special well done to all the Y6 children who have all been brilliantly carrying out their jobs and roles since the second week of term. Also, Iyla Roberts nursery, Anush Sinilraj & Jessica Davis R1, Savio Johns R2,
Jackson Fabre & Riley Proud Y1, Harvey Lewis & Anaya Khalik Y1/2, Jayden Fielding &
Ethan Pollitt Y2, Freddie Purcell & Ayse Gurses Y3,Angelica Szklarska & Mohsin Ali Y3/4,
Anto Yohannan & Izza Fatima Y4/5, Karinna Filip & Damien Hammond Y4/5,
Hao Yu & Olivia Tok Y5/6, Sedra Osman & Sam Kirk Y6 who have been praised by staff for their responsibility this week in school. Very well done!
3) Club of the Week
The Tuesday KS1 lunchtime Tuesday Twisters taken at lunchtime by Miss Pickerill as part of our healthy active and fun lunchtimes and the afterschool taekwondo club taken by Mr Johnson who is a current world champion in his class.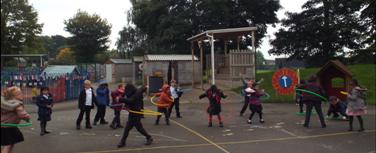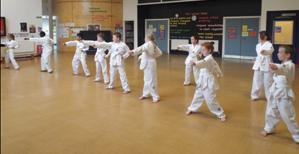 4) Class of the Week Y2

The children were using autumn crops, all from our growing beds, to make harvest vegetable soup.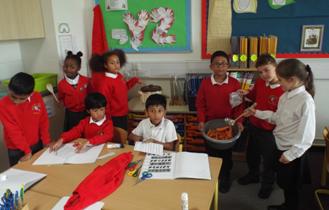 5) Events/Activities in School Last Week
Thank you for the harvest donations to the Macari Centre for the homeless. Mrs Ramsden took them this week and found it very humbling to see so many helping many afflicted by drugs trying to turn their lives around.
Thank you for all the positive comments on the open nights last week. It is so important for you to share in your children's targets for their educational success.
The questionnaire results were also very positive and some actions have been taken because of your views already. It will be cascaded next week.
Well done to the football team who took part in the E.S.F.A tournament Friday after school. We got 1 win and lost 2 but the team all played well and did not give up. Very well done to Evie Beech Daly the player of the tournament. Thanks to Mr Walter who coached the team with me.
8 children from Y6 took part in a change For Life festival that has a focus on physical fitness.
The 4 school council reps had a team building session with other school councils from the Stoke 6 group of schools that we work with. Very well done to Ranudi Premadasa, Ricardo Gordon, Anna Binil and Joshua Breton- Lewis who represented the school so brilliantly.
6) Toys in School
We do not allow toys in school as our learning day is so packed and we provide all the lunchtime equipment. We had an issue last week caused by a toy being taken off a child and clearly it should not have been in school.
7) 'Parents Count Two'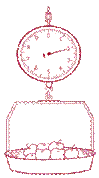 Our weekly maths tip from Mrs Peake to get everyone engaged in practical maths: why not get your child to add up the cost of some groceries and see the weight of tins and packets to learn about capacity.
8) Reminders
Children should not be using the trim trail or exercise equipment before or after school as we are responsible for the safety on our site. And in the event of an accident we could be liable. Thank you for your support here.
Could I ask that children are not collected early as it is disruptive to learning. Also, we lost staff hours last year and if a child needs to change early we have not got spare staff available.
9) Maths Calculation Policy; Addition
This was an action as a result of the questionnaires. We will include one for each of the 4 rules over the next 4 weeks so you can see the stages of how children are taught. The results of the questionnaire will be out next week.
10) Swimming Lessons

Some parents/carers have been asking where to get swimming lessons for their children. Fenton Manor are offering an intensive course of lessons from Monday to Friday for just £5. The telephone number is 01782 233322. M Club offer lessons and leaflets from both are included with the newsletter. Jubilee 2 Pool in Newcastle also offer lessons. I know many parents/carers do take advantage of these to teach this important life skill. All the children in the top group in Y6 doing high swimming awards had lessons when they were in the infants.
11) October Special Award
This is a new award being given to someone whose achievements are special. For October it goes to Senuka and Vihara de Alwis. They arrived two years ago with little English and are now high attaining pupils. This is due to the hard work their family have put in with the English language and extra work at home. What a great achievement!
12) School Disco
We have a good behaviour fund raising disco on Thursday 19th October from 3:00 to 4:15pm. This is open to all children from Y1 to Y6, except those who have received a red card this term (no exceptions). There are 10 children who will miss the opportunity, which will reinforce our consequences and hopefully they will attend the next one.
Children from Y1 to Y6 are invited. It will cost £2.50 which includes a packet of crisps and a drink, please pay for this via Parentpay. There are other items of chocolate and small toys on sale for 50p and £1. Children can bring their own clothes (in a named carrier bag) and take them into the classroom to change into at the end of the day. We dismiss from normal doors.
13) School Council Fundraising Project
On Friday 20/10/17 we are selling juice and biscuits from Nursery to Y6 to raise money for the first charity that the children voted for. This one is for Cancer Research UK. Please help the School Council by supporting this event. It will cost 30p per child, please bring this on the day!
14) Silly Behaviour
I have noticed children being silly and playing unsupervised at the end of the day by the cycle shelter. Please help us to keep everybody safe by walking with your children. We ask that children who cycle or scoot to school (which is very healthy), walk when they get to the school grounds as we do not want any accidents for which we are liable. The KS2 toilets have had toilet rolls taken out and thrown in the toilets 3 times recently, which is unacceptable. I think it is someone in the lower KS2 classes. We have a toilet pass in each classroom in KS1 and KS2 so children can go to the toilet when they need to. I am determined to catch this thoughtless pupil.
15) Good News
On open night families told me some super stories about how well ex pupils are doing. Very well done to Dunia Negeem starting her business degree at Keele University, Haroon Shabir starting his accountancy degree and Emily Hill undertaking her midwifery degree at Keele. All the first to go to university in their family and benefited from the great teaching and aspirations that we offer at St John's.
16) Eco Council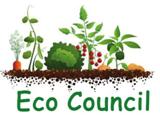 Our new Eco council members have been elected, two from each class. This group of Eco and Energy Warriors will meet regularly to discuss ideas for making our school more environmentally friendly, raising children's awareness of their impact on the world around them. Our Green Flag award will be due for renewal next year and, as a school, we will need to focus on two new topics from the Eco Schools list. The new council will help to choose the topics and work to engage their classes to support these new projects.
The Eco-Schools topics are:
Biodiversity
Energy
Litter
Waste
Water
School grounds
Healthy living
Transport
Global citizenship
17) Dates for your Diary

Wednesday 18th October
Y5/6 Class Assembly Parents/Carers are invited to attend; Starts at 9:05am
Thursday 19th October
3:00pm to 4:15pm – School Good Behaviour Disco
Y1 – Y6
Friday 20th October
School Council Fundraising – Juice & Biscuits – 30p
18) Lates
This has such a negative impact on learning and disrupts lessons. As being late results in children missing their morning guided reading session, all late pupils will be kept in on a Fridays by
Mrs Ramsden to catch up. Please aim to be in school by 8:45am!
Disappointingly, this week's numbers of late pupils are:

Friday
2
Monday
6
Tuesday
1
Wednesday
2
Thursday
1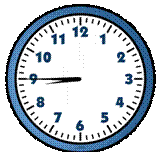 19) Celebration Assembly
Our children/classes who received awards on the 22/09/17 were:

Y1
Jeffrey Manthottathil Job
Y1/2
Musa Haq
Y2
Aaron Sini
Y3
Keera Moss
Y3/4
Landon Coates
Y4/5
Izza Mahnoor
Y5
William Kidd
Y5/6
Rubina Mahnoor
Y6
Sam Kirk
Smart School Uniform
Justin Sose & Humaira Shakil
Headteachers Award
Alex Ballard O'She
Dusty Bin Award
Y3
Lunchtime Supervisor's
Award Demi-May Baldwin & Hao Yu
Time 4 Sport
Y6
Attendance Reward
Alexia Gruia & Harry Leese
Y6 Prefects Award
Y3
20) Attendance Awards
Given out for data collected w/b 11/09/17:
Whole School Attendance: 96.7% (Government target is 95%)
Class Attendance:
• 1st Place – Y5/6 99.3%
• 2nd Place – Y1/2 98.7%
Pupil Attendance:
• 1st Place – Dania Mousa
• 2nd Place – Sebastian Conka
21) Attachments
Yours sincerely
Mrs P Bloor
Headteacher