Newsletter Autumn Term 7
Dear Parent/Carer
As we finish for half term on Friday, I hope you are all as pleased with the progress your child/children are making as the staff teams are. We have had a great half term and all the children are very settled, happy and progressing academically.
1) Our Talking Topic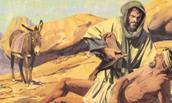 This week we have been thinking about how we are all different and celebrating our differences. The children were told the bible story of the 'Good Samaritan' and how we should all help someone who is upset, and how we should be prepared to help anyone; not just someone you like. Please talk to your child about this.
2) Our Value; Co-operation
As a school we all work together to teach the children to be part of a team. We have so many co-operative children that families can really be proud of. A special well done to Alesia Deffert &
Lily-Faye Barlow Nursery, Oliver Bayley R1, Lola Birchall R2, Rizwan Hashemi & Charlie Harvey Y1, Lewis Craggs & Kyle Silvester Y1/2, Ethan Harvey & Aleina Grace, Chloe Kirk & Alexia Gruia Y4/5, Liam Davis & Eve Tams Y5, Angelina Abraham & Hollie Bentley Y5/6, Joel Sheldon & Alfie Cosgrove Y6, who have all demonstrated this important value in school this week.
3) Events in School Last Week
Very well done to Ranudi Premadasa and Ricardo Gordon who represented the school at the 'Stoke 6' School Council meeting last week and went to the Local Democracy event with Mrs Ramsden at the town hall.
Well done to the two Y5/6 tag rugby teams who represented the school at a competition this week. A special well done to Anopa Mutize and Jensen Nguyen who Miss Cruxton chose as the players of the competition.
Also, the Y3/4 tag rugby teams who competed this week. A special well done to Landon Coates, Mr Walter's player of the tournament.
Well done to Jeff Joseph who gained his Beginner's certificate in school swimming.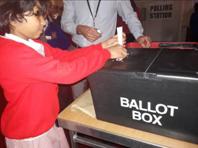 4) Club of the Week
Lunchtime Scooting Club taken by Miss Cruxton and After School 'Make It, Bake It & Take It Club taken by Miss Pickerill.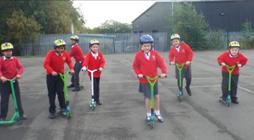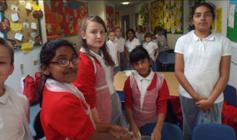 5) Class of the Week

Y1/2 – Using a Bee Box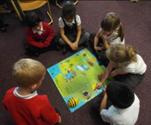 6) Half Term Holiday Competitions
If children need a project to focus on there are two competitions they could take part in. One is in school, to write a prayer for the Prayer file we use in assemblies. The best prayers will be used after half term and receive a prize.
The second is to design a Christmas card for the Lord Mayor. There are different categories -under 4, five to seven and 8-11, so plenty to keep the children busy if it rains.
7) Maths Calculation Policy: Subtraction
This is included with the newsletter as a result of results of the parent/carer questionnaire.
8) Parent/Carer Questionnaire
A copy of the questionnaire is also included which shows such positive praise of the school. We thank you for your support.
9) School Christmas Fair
This will take place on Friday 8th December and will raise funds to pay for the pantomime that we provide for all children and our Christmas parties. Please have a look and ask contacts for raffle and tombola items so we can start collecting early.
10) E-safety monitors
These have been elected now and are as follows: Y6 Joel Sheldon, Y5/6 Oliver Woodward, Y5
Alyssa Stanley, Y4/5 Bethan Hill, Y3/4 Daniela Gradiz, Evie-Mae Bourne Y3, Joshua Webster Y2, Nicole Ann Cawaling Y1/2 and Sasha Snell Y1. Well done to all these children who are taking their responsibilities very seriously.
11) Liverpool Reward Visit
This visit took place on Saturday to reward children and families whose homework is undertaken weekly and of a good quality. Some of the Y6 homework is outstanding and these hard-working children are the ones who will be scoring top marks in their SATs, as there is a clear link. There were 41 children who enjoyed a lovely visit to the river Mersey and the World Museum. Thanks to Mr Swindail and Miss Pickerill who accompanied me on the visit. Mrs Talbot monitored it as a governor and concluded "it was a fantastic opportunity for the children during a well organised visit"
There are still some children who are not completing homework and must stay in to complete it. We send it out for all classes on a Wednesday to be back for Monday. Please help us to get the children into a routine. There will be more homework rewards shortly.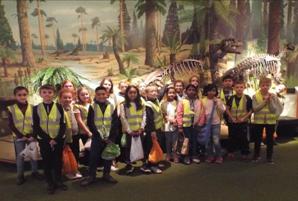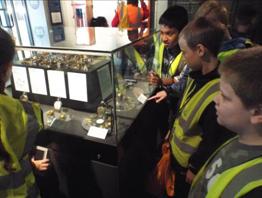 12) PE Kits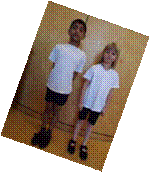 These are coming home for a wash at the end of half term. Please can they be returned on the first Monday back ready for PE lessons! We gave all children from Reception to Y6 a PE top and shorts because it is important for hygiene reasons that children change for PE; we insist on this. Please check this over the holiday as a few children have lost their tops and have not been able to take part. Also, please ensure that all P.E bags adhere to the colour coding system.
All children have been reminded that on the first day back they have everything they need for their learning day, this includes full P.E kit, book bags and reading diaries.
13) Bronze Behaviour Awards
These will be given out to children in KS1 and KS2, the vast majority, whose behaviour has been exemplary. Very well done to all these children, we are so proud of you.
14) Parent Governor
Mr Hanif has volunteered to be the new parent governor following Mr Miah's resignation. We are pleased that a new governor will shortly be joining the Governing Board to help the school and the community.
15) Rough Play
We are sadly having instances of rough play at lunch time and dinner time. This is not allowed and children will be taken off the playgrounds if this happens as it spoils other children's play. Please talk to your children about this as we have to keep all your precious children safe.
16) Home School Link Information
Well done to Aiden Johnson, Ranudi Premadasa, Alyssa Stanley, Oscar Dix, Chloe Kirk and
Anto Yohannan. These pupils are our Anti-Bullying Ambassadors and will work throughout the year helping anyone who has concerns.
17) Dates for your Diary

Friday 20th October
School Closes at 3pm for ½ Term.
Monday 30th October
School Re-opens after ½ Term Break.
Wednesday 1st November
3:15pm – 4:00pm New Reception/Nursery Tour
Monday 13th November
INSET DAY – School Closed to Pupils.
18) Lates
This has such a negative impact on learning and disrupts lessons. As being late results in children missing their morning guided reading session, all late pupils will be kept in on a Fridays by
Mrs Ramsden to catch up. Please aim to be in school by 8:45am!
Disappointingly, this week's numbers of late pupils are:

Friday
1
Monday
1
Tuesday
3
Wednesday
5
Thursday
4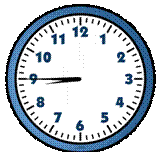 19) Celebration Assembly
Our children/classes who received awards on the 13/10/17 were:

Y1
Alicja Podsiadlo
Y1/2
Phoebe Sykes
Y2
Aleina Grace
Y3
Freddie Purcell
Y3/4
Hannah Biji
Y4/5
Alexia Gruia
Y5
Liam Davis
Y5/6
Oliver Tok
Y6
Tyler Baldwin
Smart School Uniform
Moshin Ali
Headteachers Award
Katy Conkova
Lunchtime Trophy
Y1
Lunchtime Supervisor's Award
Ellie Ruane & Evie Beech-Daly
Time 4 Sport
Y5
Attendance Reward Cinema Voucher
Alex Ballard O'Shea
Y6 Prefects Award
Y4/5
Special Achievement Award
Senuka De Alwis & Sandini Vihara Alwis
20) Attendance Awards
Given out for data collected w/b 02/10/17:
Whole School Attendance: 98.1% (Government target is 95%)
Class Attendance:
• We have 3 classes with 100% attendance this week which is fantastic, well done to Y5/6, Y2 & Y1/2. However Y2 had 6 late marks and Y1/2 had 2 late marks so the winner is Y5/6
Pupil Attendance:
• 1st Place – Sasha Steele
• 2nd Place – Landon Coates
21) Attachments
Parent/Carer Questionnaire Results
Subtraction Policy
Yours sincerely
Mrs P Bloor
Headteacher