Newsletter Autumn Term 9
Dear Parent/Carer
We have had a very busy week in school looking at the maths assessments that the children took last week and altering teaching to cover the gaps. It has been a much colder week and I thank you for sending the children in with warm waterproof coats as we go outside in light drizzle at lunch time so the children are getting vital exercise.
1) Our Thinking Topic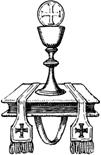 This week we have been thinking about 'giving' and how it is always lovely to give to others kind thoughts and deeds. The children were told of the significance of
Holy Communion in preparation for our KS2 service this week.
2) Our Value: Friendship
We have so many children who show friendship to others as all our new children will agree. A special well done to Mason Marshall & Isla Johnson Nursery, Aaradhya Bhati R1, Mabel Kakollu R2, Lily-Rose Gray & Alex Taylor Y1, Zachery Allen Oscar Woodward Y1/2, Jacob Brear,
Amira Shilik Y2, Jasmine Hall & Esa Haq Y3, Hashim Mehmood & Sasha-Jade Steele Y3/4, Bethan Hill & Charlie-Ann Hindmarsh Y4/5, Tyler Barlow & Grace Hawkins Y5, Mary Conkova & Oscar Dix Y5/6, Anopa Mutize & Vaughn Juguilon Y6 who have all demonstrated this quality really well this week.
3) Class of the Week
Y4/5 finding co-ordinates in maths.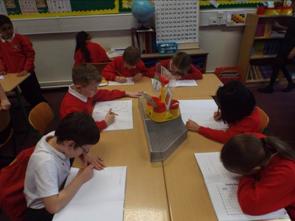 Club of the week: Taekwondo
Children practising the moves by Mr Johnson our super coach.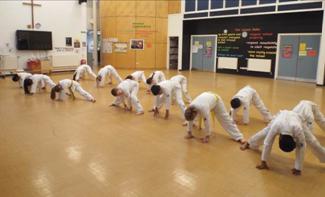 4) Events in school last week
Very well done to the football team who came 2nd in the tournament after school on Friday. They won 1 game and drew 3 games and were unlucky not to win. Mr Walter and I picked our super defender Sam Kirk as the player of the tournament.
Well done to the Y5 indoor Athletics team who competed on Monday and came third with some super performances. A special well done to Charlie Simpson who Mr Walter picked as the player of the tournament.
Y2 Change for Life team took part in PE activities to promote healthy lifestyles on Tuesday and thoroughly enjoyed the opportunity. Well done to Aliya Davidson who Miss Cruxton picked as player of the team.
5) Stoke Flag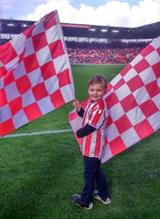 Very well done to Caleb Dalton-Williams who waved the flag at Stoke City's game on Saturday. All the Y2 children were given a goody bag with a free top and his parent wrote to Stoke to say thank you. They rewarded this lovely example of good manners with 2 tickets and a tour of the stadium. Caleb was also complemented by the staff for his wonderful manners. Very well done!
6) Science Focus Days; Animal Lady
This week as part of a focus on science and as a WOW day, we have had a visitor into school who showed a selection of animals to the children and told them interesting facts about them. There was a Madagascan Hissing Cockroach, African Royal Python, North American Corn Snake, Fat Tailed Gecko, Crested Gecko, Bearded Dragon, White Scops Owl, a Hedgehog and a Kinkajou (Honey Bear). The visitor complemented all the classes on their manners and interest which I know parent/carers will be proud to hear.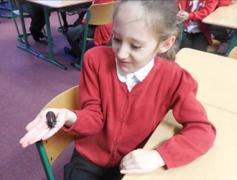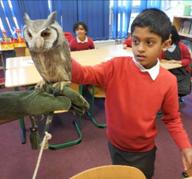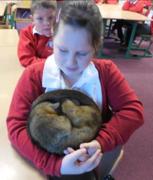 7) Parents Count Two
A maths input to get your child involved in practical maths.
Why not go through the months of the year after tea and work out how many days in each month. The children could learn to spell them too.
8) Stanley Head Activity Days
Letters have gone out for an outdoor PE day which the children will love. These visits are heavily subsidised and most of the cost is being covered by the school. Please send in the signed letter and contribution, if we do not have all the contributions in, we will sadly not be able to do more visits. Please can I ask that letters are sent back as soon as possible! We have already had to give 2 letters out to some pupils and the kitchen staff need time because of placing the food order in advance. No child can go on a visit without a signed letter and will then have to miss out if they are not returned.
We had a sporting event this week that was almost spoilt, as not all the letters were returned and we had to chase up reserves. We shall be talking to the children about emptying their book bags every night and giving you letters to help. But could we ask you to check the bags as well as I know most families do.
9) Christmas Activities
Just a reminder of what we have organised for a super busy Christmas.
Friday 1st December – Pantomime 1:30pm (Y6 at Stanley head)
Wednesday 6th December – 9:15am EY Nativity school hall
Thursday 7th December – Concert at St John's church, 9:30am KS2 & 2:00pm KS1
Friday 8th December – Grandparent's Christmas meal
Wednesday 13th December – 9:15am EY/KS1 & 2:00pm KS2 Christingle Service celebration
Thursday 14th December – Christmas Disco 3:00pm-4:30pm
We have decided not to do a Christmas fair this year as it requires so much organising at this busy time of year and falls when staff are completing assessments on the children. We thought the children would enjoy a disco more (and you parents!). We shall be selling refreshments and pocket money toys at this as well to raise money for the Stanley Head visits.
Monday 18th December – Christmas party day (party clothes)
Tuesday 19th December – Christmas Jumper Day £1 to help buy a cow for our partner school in Kenya.
10) Children in Need
Y6 traditionally organise this and do really well fund raising. They have decided to have children come dressed up for £1 (they need to be able to go out at lunch and dinner time so warm clothing and sensible shoes please) and they will sell cakes and biscuits. Any contributions would be really helpful.
11) Stoke 6 School Council Project
Last week we hosted 4 pupils from the willows for a day and 4 of our pupils visited there for a day as part of a learning detective project and they fed back to the head teachers. Very well done to Ricardo Gordon, Ranudi Premadasa, Joshua Brereton-Lewis and Anna Binal who represented the school brilliantly. Interestingly the children from the willows thought our active lunchtimes were great and all the children so friendly and kind. That doesn't surprise me and what a lovely compliment about your children. We are so proud of all our pupils.
12) Maths Calculation Policy: Division
This is included with the newsletter as a result of the parent/carer questionnaire.
13) Lates
This has such a negative impact on learning and disrupts lessons. As being late results in children missing their morning guided reading session, all late pupils will be kept in on a Fridays by, Mrs Ramsden to catch up. Please aim to be in school by 8:45am!
Disappointingly, this week's numbers of late pupils are:

Thursday
4
Friday
4
Monday
8
Tuesday
6
Wednesday
3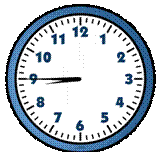 Often it is the same children who are missing out on their learning.
14) Celebration Assembly
Our children/classes who received awards on the 03/11/17 were:

Y1
Michael White
Y1/2
Ameerah Ibrahim
Y2
Anurag Raj
Y3
Ashton Barnett
Y3/4
Sasha Steele
Y4/5
Charlie Hindmarsh
Y5
Emma Brennan
Y5/6
Katy Conkova
Y6
Keira Tatler
Headteachers Award
Michael White, Molly-May Haywood-Cox,
Alfie Cosgrove & India Vickers
Lunchtime Trophy
Y2
Lunchtime Supervisor's Award
Jayden Thomas Fielding &
Alex Ballard O'Shea
Dusty Bin
Y3/4
Time 4 Sport
Y6
Cinema Voucher – Attendance
Ashton Barnett
15) Attendance Awards
Given out for data collected w/b 09/10/17:
Whole School Attendance: 97.1% (Government target is 95%)
Class Attendance:
• 1st Place – Y5 – 100%
• 2nd Place – Y1/2, Y2 & Y4/5 – 99.3%
Pupil Attendance:
• 1st Place – Alexandra Vladut
• 2nd Place – Rian Webster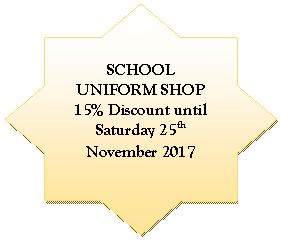 16) Attachments
Yours sincerely
Mrs P Bloor
Headteacher