Newsletter Spring Term 3
Dear Parent/Carer
As we start the second half of the spring term with this awful Siberian cold weather, it has been lovely to note how wrapped up all the children have been coming in and going home from school.
1) Our Talking Topic: Good to be Me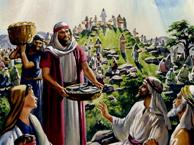 This week we have been thinking about what makes all of us unique and special. We talked about how we celebrate our differences at
St Johns and read the bible story of the 'feeding of the 5000', and how the little boy that day did not realise how his packed lunch would feed the 5000. Please talk to your child about this.
2) Our Value: Friendship
We have so many happy friendly children at St Johns. A special well done to Anthony Kotai nursery, Thomas Gregory R1, Mudiyanselage Wasala R2, Alfie Bladon-Dzisiewski Y1, Thomas Johnson-Knowles Y1/2, Aaron Sini Y2, Humaira Shakil Y3, Cindy Li Y3/4, Lola Howard Y4/5, Joshua Clement Y5, Amber-Louise Gregory Y5/6 and Jackie Li Y6, who have all demonstrated friendship really well this week.
3) Class of the Week
Y3 working hard in maths.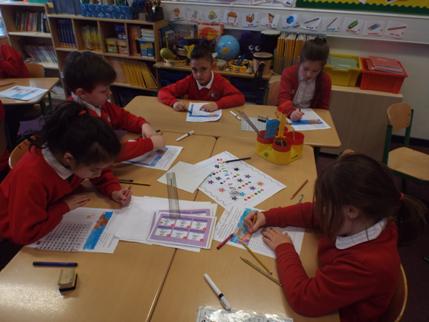 4) Club of the Week: Make it, Bake it, Take it
This is the after school club run by Miss Pickerill, enjoying learning about healthy food.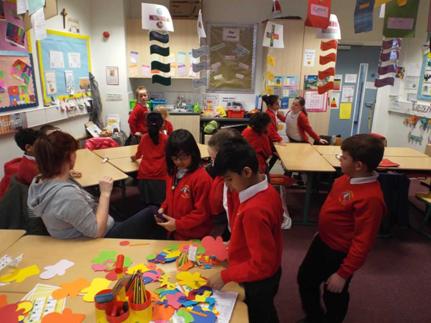 5) Events in School
Very well done to Y3 in their class assembly who taught us all about the Chinese New Year. It was lovely to see how the children enjoyed their performance and great that so many parent/carers attended. We always publish the dates of the assemblies well in advance for you to make arrangements, as we know the children love to have a family member attending.
Well done to the tag rugby team who came third in a tournament. A special well done to the captain Alfie Cosgrove and the player of the tournament chosen by Mr Walter, Sedra Osman.
Well done to all the children who were invited to the good attendance, good punctuality disco. They had a great time and there were some good dancer prize winners.
Well done to Dania Mousa who passed her Beginner's Certificate at swimming which is such an important swimming award. We do ask all children to wear a hat at school swimming (£1 via ParentPay) this is to help save on the pool's running costs. We all lose about 100 hairs a day and this can cause the filter system to use more energy. So children wearing a cap is helping to keep costs down. Swimming is the most expensive lessons we provide and currently pay for 2 lessons a week. If the costs went up, we would have to reduce by one which I know would impact on children learning to swim, as many children do not go swimming with their families. We are having some children not remembering swimming kit for this vital lesson and having to join a PE class. Swimming kit can be brought in the day before if it helps.
A successful nursery parent's story group was held organised by Mrs Tams, Miss Roberts and Mrs Colley.
6) Head Lice

We have had head lice in school recently and ask all families to check their child/children's hair. These super head lice we have these days love clean hair. If everyone checks and treats and we have all long hair tied back we can hopefully get rid of them.
7) Premises Work
Over half term we have had the ICT suite carpeted following an ongoing leak last summer. We have also had the three cloakrooms and a corridor carpeted. We always ask the children not to go on the banks on the way into school; and our rule is stay on the path. We shall be hoping to keep these new areas clean and tidy, especially now.
8) Car Free Day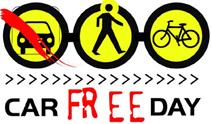 Why not try this campaign next moth as the days are getting lighter. You will get more exercise and it is better for the environment by keeping air pollution down.
I have had parents/carers saying that they are finding it easier to walk with everyone walking on the left. See the attached flyer for more information.
9) Miss Mazzei's Reading Tips.
Spring Term 1 – Super Star Readers at St John's
Well done, to all those children who have been reading regularly at home. These children were at the top of our Reading charts in the first half of the spring term. We have found that children who read 4 times or more do better in tests (including KS1 and KS2 SATs and Y1 Phonics Check). Please encourage your child to read regularly. You can all find 5 minutes to spend with your child; you could hear them read while you prepare tea, but you must find the time. Many of our parents/carers tell us that they value this quiet time with their child.
FANTASTIC READING EVERYONE!
KS2 (Y6, Y5/6, Y5, Y4/5) Premier League Readers – 30 times or more
Delin N, Eve T, Adeel F, Angelina A, Elizabeth S, Rubina M, Emily R, Jonathon H, Joshua B-L, Hao Y, Oliver W, Olivia T, Isabelle G, Merin G, Elle C, Ruby H, Ranudi P
Due to the France trip some children have not yet made 30, but are at 25 and above, we wanted to include them for their efforts this term. Well done to: Samira S, Jenson N, Benjamin M, Keira T, Beth B, Skye L-S, Evie B-D
KS2 Reading Rockets – 24 times or more
Y3/4-Claire J, Alvina KJ, Hannah B, Hasen DS, Joshua T, Ana L, Alex B-O, Dylan W, Paige A, Landon C
Y3-Daniel P, Humaira S
KS1 Reading Rockets – 24 times or more
Y2-Ethan H, Ethan P, Aliya D, Josiah C, Sahej B, Caleb-Dalton W, Cisco H
Y1/2-Jake R, Archie E, Demi B, Summer A, Riley T, Harrison C
Y1-AlfieD-B, Sasha S, Charlie H, Jasmine C
Thank you to the Grandmas, Grandpas, and Aunties, Uncles and older brothers and sisters who are also helping our children to reach our 4 times a week target.
Can you get to the top by the end of the second part of the spring term?
(Try to work out how many times a week you will need to read.)
10) Food Bank

A massive thank you to those who have sent in items for the foodbank. The last day to send in tins/packets will be Friday 9th March.
The foodbank will then be phoned and our donations will then be collected.
11) Juice and Bar Charity Event
Following a parent/carer request to support the Alice Charity; a local charity, we are holding a juice and chocolate bar fund raiser for 50p on Friday 9th March. Families will also be text and emailed so everyone knows about it who wants to take part.
12) Parent/Carer Governor Vacancy
We still have a vacancy for a parent/carer governor and ask if anyone is interested and would like to know more, please contact me.
13) Poor Weather
We had parents/carers phone in early on Monday asking if we were open. The office is not manned until 8am and like my staff, who had travelled in, we were busy preparing teaching. There was very little snow and parents/carers know this school only ever closes if it is unsafe. If that decision is made, then parents/carers need to go onto stoke.gov.uk/school closures to check, we would also contact Signal Radio. The office might not be manned depending on staff getting in.
14) Dates for your Diary

Friday 9th March
Y2 Class Assembly 9:05am – Parents/Carers welcome
Wednesday 14th March
Nursery Library Session – Parents/Carers Welcome
Thursday 15th March
Y2 Stoke on Trent Dance Event – Victoria Hall
Thursday 22nd March
School Disco 3:00 – 4:15pm
Friday 23rd March
Y1/2 Class Assembly 9:05am – Parents/Carers welcome
Wednesday 28th March
Y1 Parents/Carers invited to share lunch
15) Lates
This has such a negative impact on learning and disrupts lessons. As being late results in children missing their morning guided reading session, all late pupils will be kept in on a Fridays by
Mrs Ramsden to catch up. Please aim to be in school by 8:45am!
Disappointingly, this week's numbers of late pupils are:

Thursday
8
Friday
1
Monday
6
Tuesday
6
Wednesday
7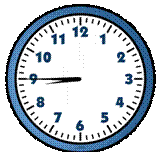 Often it is the same children who are missing out on their learning.
16) Celebration Assembly
Our children/classes who received awards on this week are:

Y1
Sdan Osman
Y1/2
Riley Tams
Y2
Vicky Yu
Y3
Esa Haq – All Y3
Y3/4
Freya Kristof
Y4/5
Elizabeth Soloman
Y5
Eve Tams
Y5/6
Emily Rains
Y6
Lily-Mae Barlow
Smart School Uniform
Dale Cosgrove, Lily-May Hunt & Ebony Knowles
Headteachers Award
Charlotte Hammond, Katy Conkova & Mary Conova
Lunchtime Supervisor's Award
William Brian & Summer Austin
Time 4 Sport
Y1
Attendance Reward – Cinema Voucher
Jake Roberts
Values Award – Resilience
Ashton Barnett & Humaira Shakil
17) Attendance Awards
Given out for data collected w/b 05/12/18:
Whole School Attendance: 93% (Government target is 95%)
Class Attendance:
• 1st Place – Y5/6, 98.5%
• 2nd Place – Y2, 97.3%
Pupil Attendance:
• 1st Place – Phoebe Sykes
• 2nd Place – Archie Evans
18) Attachments
Car Free Day Poster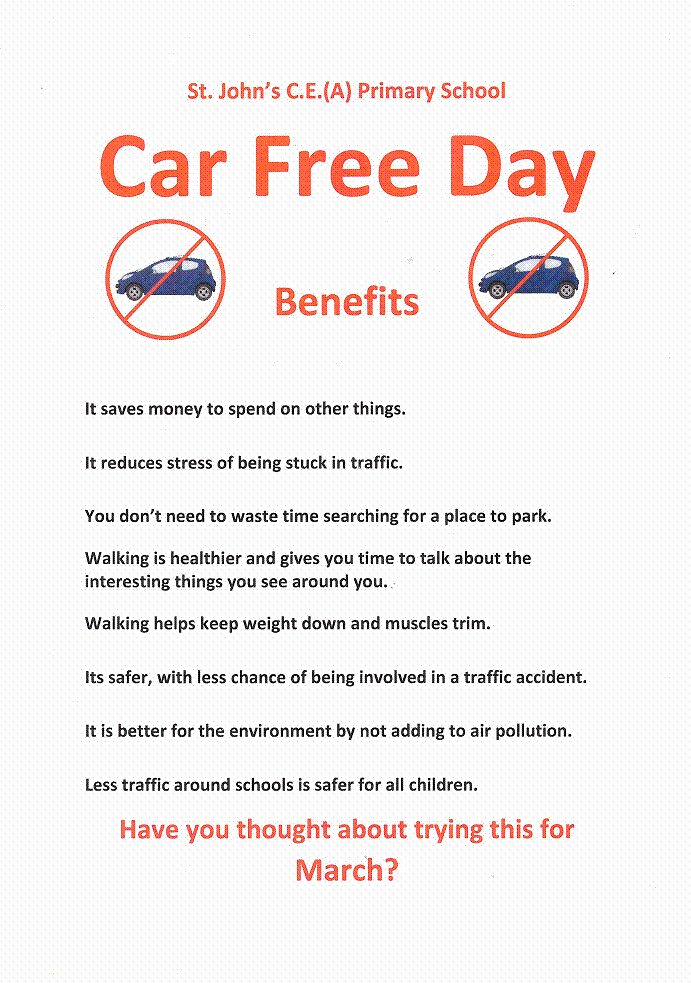 Yours sincerely
Mrs P Bloor
Headteacher