The children will sit SATs papers in Reading, Spelling Punctuation and Grammar (SPaG) and Maths in May 2016.
Reading
Paper 1 – a booklet that combines the reading texts and answer booklet. It contains a selection of texts with questions for the children to answer.
Paper 2 – a reading booklet with a separate answer booklet.
Each paper is worth 50% of the marks and should take approximately 30 minutes to complete, although the children are not being assessed at working at speed so will not be strictly timed.
The texts will cover a range of poetry, fiction and non-fiction.
Questions are designed to assess the comprehension and understanding of a child's reading.
Some questions are multiple choice or selected response, others require short answers and some require an extended response or explanation.
How can you help at home?
Read regularly at home with your child and always ask questions about what they have read and discuss the text. Questions can be found at the front of the reading diaries.
Talk to your child about what they have learnt at school and what book they are reading (the character, the plot, their opinion).
Talk about the story before, during and afterwards – discuss the plot, the characters, their feelings and actions, how it makes you feel, predict what will happen and encourage your child to have their own opinions.
Look up definitions of words together – you could use a dictionary, the Internet or an app on a phone or tablet.
All reading is valuable – it doesn't have to be just stories. Reading can involve anything from fiction and non-fiction, poetry, newspapers, magazines, football programmes, TV guides.
Read a little at a time but often, rather than rarely but for long periods of time!
SPaG
Paper 1 – Spelling. Teacher reads spelling needed.
Paper 2 – Punctuation and Grammar
This consists of:
Grammatical terms
Functions of sentences
Combining words, phrases, and clauses
Verb forms and tense
Punctuation
Vocabulary
Sample questions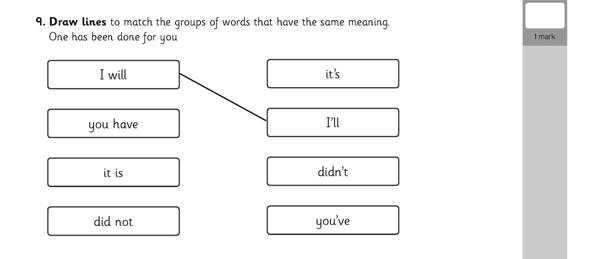 How can you help at home?
Make sure you practise spellings with your child from their phonics booklet for our weekly spelling test. Also, when reading with your child discuss any punctuation in the text.
Mathematics
Paper 1 – Arithmetic (addition, subtraction, multiplication and division)
Paper 2 – Reasoning (worded problems where children draw upon their maths knowledge to find the answer.)
How can you help at home?
Play times tables games.
Play mental maths games including counting in different amounts, forwards and backwards.
Encourage opportunities for telling the time.
Encourage opportunities for counting coins and money e.g. finding amounts or calculating change when shopping.
Look for numbers on street signs, car registrations and anywhere else.
Look for examples of 2D and 3D shapes around the home.
Identify, weigh or measure quantities and amounts in the kitchen or in recipes.
The children have been practising sample materials, produced by the Government, of all these tests to familiarise themselves with the question types that may be asked.