They say time flies when you're having fun! We can't believe we are in the Summer term already! Our last term in Reception!
This half term we have decided we want our role play area to be a stage. We have really enjoyed dancing and singing our favourite songs for everybody to hear! Even Mrs Clarke has had a go!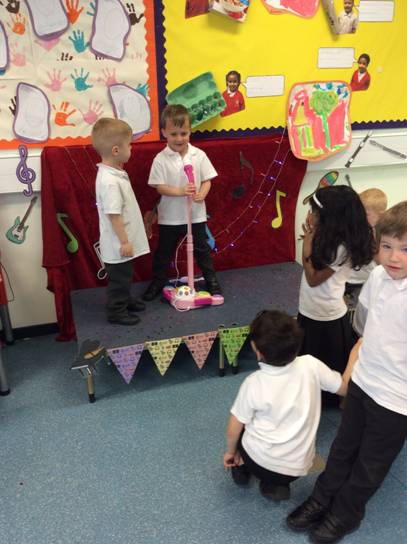 This half term we are learning:
Phonics – We are now trying really hard to read sentences by using our phonics knowledge to sound out the words. We are still focussing on our quick words and learning the new ones. They are: – said, so, have, like, some, come, were, there, little, one, when, out and what.
Writing – We are really trying hard with our writing. We need to remember to say the sentence first and they write it down. Our sentences need to have a capital letter, full stop, finger spaces and be on the line.
Maths – We will be learning how to double, halve and share. We will revisit addition and subtraction and deepen our learning. We will learn about measuring and problem solving.
How can you help at home?
Try to read at least 3 times a week with your child and sign the diary.
Complete the homework with your child.
Practise the letter sounds and quick words.
Always share a story at bedtime.
We enjoy learning and having fun in Neverland!
R1 and Mrs Clarke
---
Our Class Information Book for Parents/Carers
Class: R1
Staff: Mrs A Clarke
Mrs C Scott/Mr O Swindail
Summer Term 2017
Topics
We are now letting the children choose their own topics based on their own interests. The children will be more interested and keen to learn if they learning about something they are interested in and have chosen themselves. So after a few days in school and some class discussions we will send out a letter to inform you on what topic the children have chosen.
 
 
Content
Key Words
Literacy
–

–

–

Phonics (Phase 2/3/4)

Letter formation

Stories

alphabet, phoneme, sounds, letters, words, quick words
Mathematics
–

–

–

Adding and subtracting

Shapes

Measuring

number, counting, shapes, time, measure, add,

subtract, pattern, doubling, halving, sharing

Understanding the World
–

Growing, materials, living things,
 Plants, animals, mini beasts, hard, soft, smooth, rough, waterproof
Expressive Arts and Design
–

Music, using imagination, mixing colours, use of textures, model making
model, colour, create, make, build, explore
PE
–

Athletics: running, jumping, throwing and control
space, walk, run, stop, move, throw, catch, jump
Our Daily Routine

Our Homework
Reading
Phonics
Activity books
Special things to remember
PE is on Wednesday.
Reading books are changed Monday and Thursday.
Homework is given out on a Wednesday and returned on a Monday.
Our class rules
Stay Safe
Always listen.
Have kind hands, feet and mouths.
Put our hands up.
Look after our resources.
Things you can do to help your child:

Regular reading, letter sounds and number work.
Practising to write their name, letters and numbers.
Talk to your child about their day.