Welcome to Lollipop Class!
Our aim in Lollipop Class is to provide a warm, happy and stimulating environment where all children are encouraged to be independent learners. We plan to provide a wide-range of enjoyable and stimulating activities, through which children can explore the world around them, make discoveries and solve problem. The children responded well to a change of teacher midway through the Autumn term and demonstrated what they had already learnt by putting it into practice. The Autumn term was a busy – we had lots of exciting things to prepare for and experiences to enjoy. Including a visit from the animal lady. the Christingle Service and Christmas Nativity where all children got on the stage to play their part. We also enjoyed a visit from Santa during our Christmas party.
Spring Term
We are continuing to cover the seven areas of learning, which are; Personal, Social and Emotional, Communication and Language, Physical Development, Literacy, Maths, Understanding of the World and Art and Design,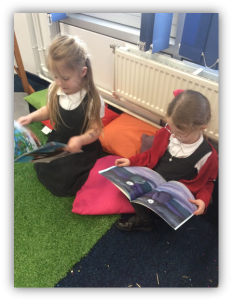 We provide many opportunities to support the development of reading and writing skills. Our story for this half term is 'The Little Red Hen'. We have already been busy creating a story map to help up retell the story. Our writing table provides the opportunity for children to choose what they want to write about – lots of children love to share their independent writing with the class. The reading area has been transformed into a Little Red Hen Den which has a range of books and other reading materials which the children can access independently and with others.
We have already looked at pattern during our maths sessions – the children particularly enjoyed potato printing a pattern! We are beginning to extend their previously learnt knowledge of shape by discussing the properties of 3D shapes and how they are different to 2D shapes.
The children have asked to have a hospital role play in the classroom this half term. This will provide plenty of opportunities to practice our writing and to learn about the world around us. We have added some surgical gloves, bandages, plasters and dressings to give it a real – life element. We have already had lots of patients who have been tucked up in bed to recover!
Our outdoor learning environment is just as important as our indoor environment. Throughout the week the children get the chance to play outside. This offers safe and supervised opportunities for children to experience new challenges.
You can help your child at home by reading at home with them and helping them with their homework.
Thank you for reading,
Miss Butter and Mrs Scott