About the Wonderland Class R2
Staff: Miss Lovatt, Mrs Scott and Mr Swindail.
We are a friendly class who have lots of fun while we learn. We have a range of learning areas which children can access and explore independently. We enjoy both learning through play and working with the teacher. In the Wonderland class we know how to behave so that we can learn and how to treat each other with kindness and respect.
The areas of learning we cover are Personal, Social and Emotional, Communication and Language, Physical Development, Literacy, Maths, Understanding of the World and Art and Design.
Summer Term
The role play area this half term is going to be a cinema. We can't wait to sit back and relax and watch some films, not to mention buying the popcorn and hot dog treats!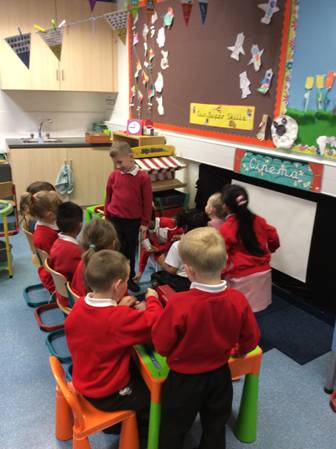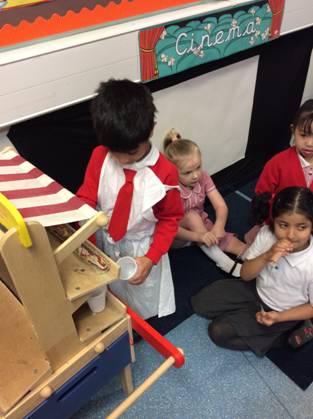 Literacy
The children have chosen a traditional tale this half term; Goldilocks and the Three Bears.


We will be doing lots of writing activities, including describing the characters and eventually changing the story ending and writing our own version. The children will be using lots of language when discussing the story and ordering pictures.
Maths
We will have a focus on numbers 1-50 this half term, ensuring that we can recognise them, count accurately and write them. We will also practice naming 2D and 3D shapes and talking about their properties, talking about time and money and practicing our adding and subtracting. We will also be learning about sharing, halving and doubling and using these in maths problems.
Our Daily Routine:

Time
9.00 
Free play
9.10 
Phonics
9.40 
Adult led/ Free flow
11.00 
Assembly/French/RE/ PSHE
11.30
Dinner time and outside play
12.30 
Massage
12.45 
Maths
1.10 
Adult led/ Free flow
2.35 
Home time routine
How to help your child

Pencil control – whenever your child is writing or drawing; please can you make sure that they are holding their pencil correctly (you may need to show them). This will help to develop their writing. Thank you.
Ask your child what they have done each day. Talk to your child regularly; encourage them to listen and make eye contact with the person that is talking.
Read with your child daily
Model how to turn the pages correctly and encourage your child to predict what might happen next, asking questions about what they have read. Allow the children to sound out (segment) words and then blend them back together. Encourage discussion about what they have read and ask simple questions, e.g. how was … feeling? Can you find…?
Continue to practice recognising and writing letter sounds and quick words.
Help them to practice letter and number formation and writing their name. Please make sure they are using the correct letters, e.g. not using capitals in the middle of words or sentences.
Where ever you go count!
Count how many cars you see or how many birds are in the sky? Talk about what numbers you can see when you go to the supermarket/ house door numbers that you might pass/numbers on the remote control or telephone etc. Also talk about different shapes you might see in the environment and discuss how many sides and corners they have.
---
Our Class Information Book for Parents/Carers
Class: R2
Staff: Miss K Lovatt
Mrs C Scott/Mr O Swindail
Summer Term 2017
Topics
We are now letting the children choose their own topics based on their own interests. The children will be more interested and keen to learn if they learning about something they are interested in and have chosen themselves. So after a few days in school and some class discussions we will send out a letter to inform you on what topic the children have chosen.
 
 
Content
Key Words
Literacy
–

–

–

Phonics (Phase 2/3/4)

Letter formation

Stories

alphabet, phoneme, sounds, letters, words, quick words
Mathematics
–

–

–

Adding and subtracting

Shapes

Measuring

number, counting, shapes, time, measure, add,

subtract, pattern, doubling, halving, sharing

Understanding the World
–

Growing, materials, living things,
 Plants, animals, mini beasts, hard, soft, smooth, rough, waterproof
Expressive Arts and Design
–

Music, using imagination, mixing colours, use of textures, model making
model, colour, create, make, build, explore
PE
–

Athletics: running, jumping, throwing and control
space, walk, run, stop, move, throw, catch, jump
Our Daily Routine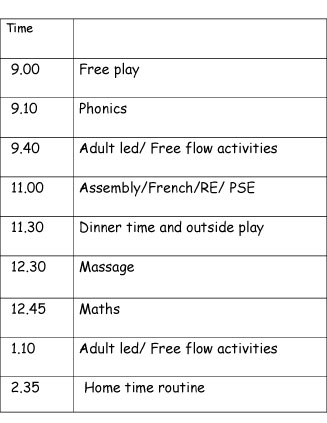 Our Homework
Reading
Phonics
Activity books
Special things to remember
PE is on Wednesday.
Reading books are changed Monday and Thursday.
Homework is given out on a Wednesday and returned on a Monday.
Our class rules
Stay Safe
Always listen.
Have kind hands, feet and mouths.
Put our hands up.
Look after our resources.
Things you can do to help your child:
Regular reading, letter sounds and number work.
Practising to write their name, letters and numbers.
Talk to your child about their day.