Welcome to Lollipop Class!
Our aim in Lollipop Class is to provide a warm, happy and stimulating environment where all children are encouraged to be independent learners. We plan to provide a wide-range of enjoyable and stimulating activities, through which children can explore the world around them, make discoveries and solve problems. The Spring term was very busy – we had lots of exciting things ahead of us in preparation for Easter, we particularly enjoyed the Easter bonnet parade.
We also really enjoyed our visit to Amerton Farm, we fed animals, went on a tractor ride and explored the play barn.
Summer Term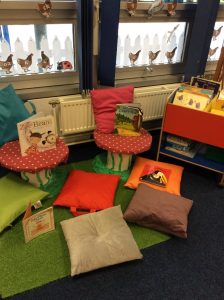 We provide many opportunities to support the development of reading and writing skills. Our story for this half term is 'Little Red Riding hood'. We have already been busy creating a story map to help up retell the story. Our writing table provides the opportunity for children to choose what they want to write about – lots of children love to share their independent writing with the class. The reading area has had a new addition – the children helped paint our mushroom seats – we think they look fab! The book corner has a range of books other reading materials which the children can access independently.
We have begun the summer term by practising addition in maths, we have looked at the vocabulary and are writing our own number sentences. We will soon be moving onto subtraction.
The children have asked to have a cafe role play in the classroom this half term. We are very thankful to the parents who have let us use real chef clothing and equipment – this has given it a real – life element. We have already had lots of happy customers!
Our outdoor learning environment is just as important as our indoor environment. Throughout the week the children get the chance to play outside. This offers safe and supervised opportunities for children to experience new challenges.
You can help your child at home by reading at home with them and helping them with their homework.
Thank you for reading,
Miss Butter and Mrs Scott