Year 1
Science
We have just been on a 'Spring' walk where we reflected on God's creation. We looked at physical and human features in our school grounds and enjoyed exploring the grounds at this particular time of year. We have been on 'Autumn' and 'Winter' walks and will go on our 'Summer' walk in July. We will compare what we could see and what the temperature was like during each of our walks.
Here we are enjoying making shadow puppets in the sunshine.
Potteries museum
At the end of last term, Y1 had an exciting trip to the Potteries Museum where we got creative with clay. As a link to our topic on art where we had studied the works of artists Piet Mondrian and Mackenzie Thorpe, we were guided through the process of making a clay face. The children listened really well to instructions, enjoyed modelling the different clay shapes and were very pleased with 3D faces they made.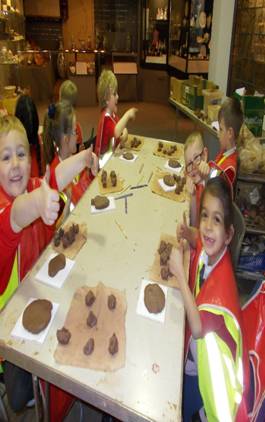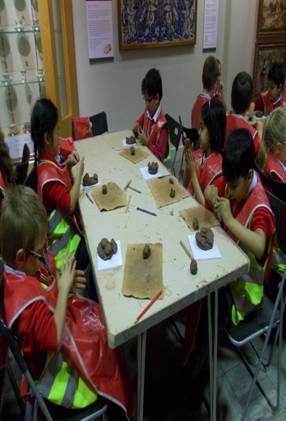 Music
In our music lessons last half term, Y1 were finding out about different composers. The children listened to music from different times and styles, talking about the instruments they could hear, how the music made them feel or what it made them think of. We chose and played percussion instruments to match the music, learnt terms such as orchestra and conductor, and the names of some famous composers too.
SUMMER TERM
Learning Challenge Curriculum
This half term our Learning Challenge Curriculum question is 'How has Saturday night entertainment changed?' We will be making maths links by recording our favourite TV programmes in bar chart and pictograms. We will also use our knowledge of time to work out how long a programme lasts.
The children want to know what their parents watched on TV when they were younger. We'll look at the similarities and differences between entertainment programmes, answering these key questions:
Were TV shows more fun now or in the past? How have prizes changed? What makes them family friendly? Are there more voting shows today?
We'll be planning our own gameshow at the end of the topic.
---
Our Class Information Book for Parents/Carers
Class: Y1
Staff:  Mrs Brown and Miss Chapman
Summer Term 2017
Our Topics

 
 
Content

 

English
–

–

Character descriptions

Stories

Maths
–

–

–

–

Time

Multiplication

Division

Fractions

R.E.
–

How should we care for others and the world, and why does it matter?
Science
–

–

Trees and Seasons

Famous Scientists

Creative Curriculum
–

Where would you prefer to live: England or Canada?
PE
–
Athletics and Games
PSHE
–

Relationships
Computing
–

–

'We are storytellers'

'We are celebrating'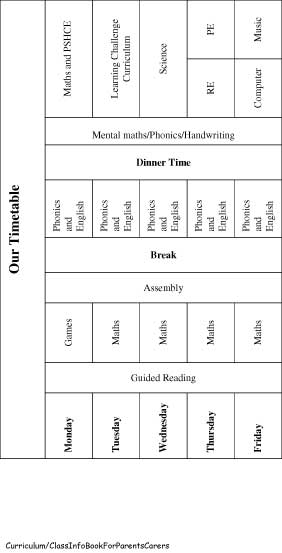 Our Homework
English/Maths – Wednesday to be back on Monday
Special things to remember
PE is on Monday and Thursday
Phonics booklets and reading books are needed in school every day in red school book bags
Please practise spellings and read with your child at home.
Our class rules
Listen when others are talking.
Always put our hand up.
Sit nicely.
Look after each other and each other's feelings.
Share and look after our equipment.
Keep hands and feet to ourselves.