Dear Year 4/5 Parents/Carers,
We had the pleasure of having the 'Zoolab' into school where we looked at different animals and learnt about their habitats. We thoroughly enjoyed this session and all the children completed a write-up about each animal to include the information they had learnt.
Last term, we enjoyed learning about 'What makes the earth angry?' We looked at earthquakes, tsunamis, tornadoes and even had a creative class project to erupt volcanoes.
We really enjoyed this topic, especially completing the volcano project in our small groups to make, design and erupt the volcanoes. We looked at the different heights for volcanoes and compared the dates of when they had last erupted. We also had to think about what we would put into our survival kit for if an earthquake were to occur.
Our new topic for this term is 'Who first lived in Britain?' We will be looking at the prehistoric times and will be completing work based on the ages: Stone, Bronze and Iron. We will compare animals from the past, complete timeline work and think about the types of settlements they had in the past.
In Maths, we will be completing work on time and building our knowledge of converting between 24hour and 12hour time. We will be solving word problems using different calculations to find the important information to answer the question.
We will focus, in English, on Autobiographies and Biographies and looking at Poetic devices to write our own poems. We will be writing our own autobiographies and also we will write biographies of each other.
We have moved on in our Science lessons to focus on 'Electricity'. We will learn all about how circuits are made up, about hazards and how to be safe when learning about electricity. We will complete practical investigations to learn more about circuits and how to spot if a circuit will work.
As we are moving into the summer term, we have an upcoming visit to Stanley Head to complete a river study, the summer concert and sports day planned, so we have a busy term ahead. I'm sure all the children will be looking forward to this term with all the exciting activities planned to enhance their learning.
Miss Edwards
---
Our Class Information Book for Parents/Carers
Class: Y4/5
Staff: Miss Edwards
Summer Term 2018
Our Topics
Subject
Topic
Key Words
Home Activities
English
Autobiographies and Biographies

Non-Chronological Reports

Traditional Tales

Poetry

Non-Fiction

Features

Character & Setting descriptions

Descriptive writing – use interesting adjectives to describe items around the house
Maths
Calculations

Place value

Measure

Time

Multiplication and division

Cm/m/km

g/kg

ml/L

Practise measuring different items around the house
Science
Electricity

States of Matter

Circuits

Solids, Liquids, Gases

Think about any items that need electricity to work
RE
What do Christians learn from the creation story?

God

Bible

Humans/Nature/ Animals

Retell the creation story in your own words
Learning Challenge Curriculum
Who first lived in Britain
Prehistoric

Stone Ages

Research different settlements from the Ages
PSHCE
Relationships
Memories

Celebrations

PE
Games/ Athletics

Teamwork

Throwing

Running

Jumping

Practise throwing and catching accurately
Computing
Logo
 Commands

Repeat function

Give clear instructions to follow to show direction
Timetable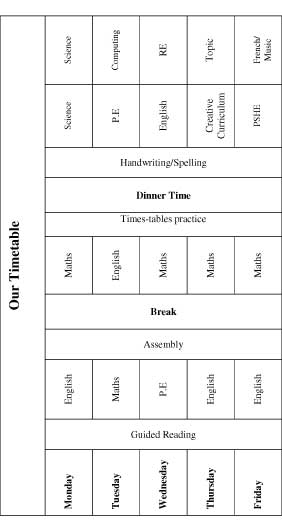 Our Homework
English – Wednesday to be back on Monday
Maths – Wednesday to be back on Monday
Special things to remember
PE is on Tuesdays and Wednesdays
Our class rules
Always try your best
Be nice and polite to each other
Always listen carefully and respect the teachers and other children
Always help others and your friends
Keep your hand and your feet to yourself
Tuck your chairs under the table