Dear Year 4/5 parents/carers,
We have settled nicely into our spring term already and are looking forward to another exciting term.
We had a trip to Stanley Head last half term and we practiced our archery techniques and shelter building skills.

Last term, we enjoyed learning about the Ancient Greeks and we were lucky enough to have a Greek WOW day. We completed food tasting, sketching a Greek fruit bowl and work on the Greek Gods and Goddesses. To share all of the learning we completed last term, our class assembly this half term is based on the Ancient Greeks.

Our new topic for this term is 'What makes the Earth angry?' We will be looking at different types of extreme weather and in particular base our learning on volcanoes. The children will have the opportunity to locate volcanoes around the world and even make their own volcanoes in groups.
In Maths, we will be continuing our number work and quick recall of our times tables. We are going to build our knowledge of fractions and understand equivalent fractions. We will focus, in English, on explanation texts and use the information we have learnt about in a topic lessons to explain extreme types of weather. We will apply the knowledge learnt in Topic and write a formal letter using the information.
We have moved on in our Science lessons to focus on 'Sound'. We will experiment with different sounds and discuss how different sounds are made. We will complete practical investigations to learn more about sound and how they can be affected them.
We have a busy term ahead and I'm sure all the children will be looking forward to this term with all the exciting activities planned to enhance their learning.
Miss Edwards
---
Our Class Information Book for Parents/Carers
Class: Y4/5
Staff: Miss Edwards
Spring Term 2018
Our Topics
Subject
Topic
Key Words
Home Activities
English
Letters

Explanation Texts

Traditional Tales Information Texts

Shape poems

Formal and Informal

Non-Fiction

Features

Headings/ Sub-headings

Practise writing a letter to a friend

Ask children to share some facts about a topic they like

Maths
Calculations

Fractions

Time

Data Handling

Addition and Subtraction

Multiplication and division

Half, Quarter

Pictograms and Bar charts

Times table practise

Quick recall of number facts

Practise reading the time for everyday activities

Science
Sound

States of Matter

Vibrations

Solids, Liquids, Gases

Identify the state of different household materials
RE
What can we learn from religions about right and wrong?

Easter

Prayers,

Morals,

Choices

Discuss the story of Easter and the resurrection
Learning Challenge Curriculum
What makes the Earth angry?
Weather, Volcano,

Eruption,

Tsunami

Discuss any natural disasters that have occurred in the past
PSHCE
Feelings
Emotions
How can we express ourselves?
PE
Gymnastics

Pathways

Teamwork skills

Working together

Computing
Spreadsheets
Formula

Formatting cells

Data

Graphs
Timetable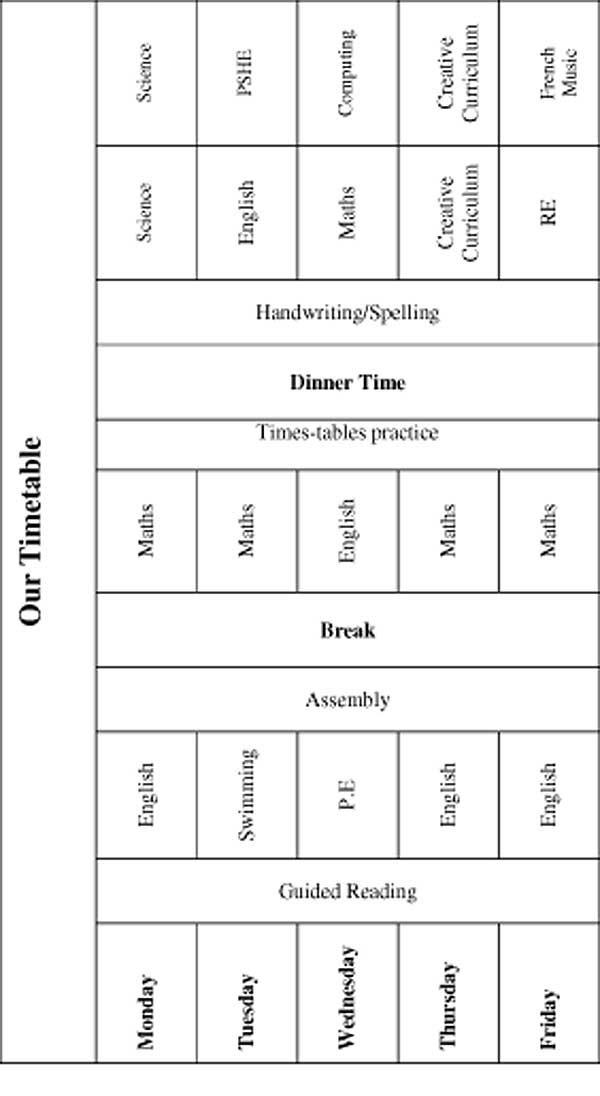 Our Homework
English – Wednesday to be back on Monday
Maths – Wednesday to be back on Monday
Special things to remember
PE is on Wednesdays and swimming is on a Tuesday
Our class rules
Always try your best
Be nice and polite to each other
Always listen carefully and respect the teachers and other children
Always help others and your friends
Keep your hand and your feet to yourself
Tuck your chairs under the table