Autumn 1 Where do the leaves go in winter?

This half term we will be looking at the changing seasons and learning to say the months of the year. We will be making sure we know our birthday and we will learn what season it is in. We will be listening to 'The Four Seasons' by Antonio Vivaldi and making our own seasonal music. We will also be looking at the patterns of William Morris and using leaves to make leaf prints of our own. This topic has a Science, Music, Art and Geography focus.
Do you know what tree this leaf is from? (Look at the clues in the picture.)
English.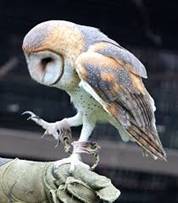 This term we will be reading owl stories. We will be writing owl poetry, writing owl stories and learning how to write an information page all about owls. We will be finding out about what they eat, where they live and how they catch their prey. We will also be learning some special vocabulary to name the different parts of the owl.
Do you know what a talon is? (Look at the clues in the picture.)
Check back in a few weeks to see some examples of our writing. Listen out for owls at dusk (when it is going dark). Oleg is also very excited at coming home with one of the children. When will it be you?
How can you help at home?
Our families can support our learning by:
encouraging your child to complete their daily phonics homework, to read regularly (at least four times a week) and to sign their diaries.
talking to the pupils about their learning (seasons, months, owls)
trips to the library can also be a great help and we always welcome information brought in from home to aid our learning.